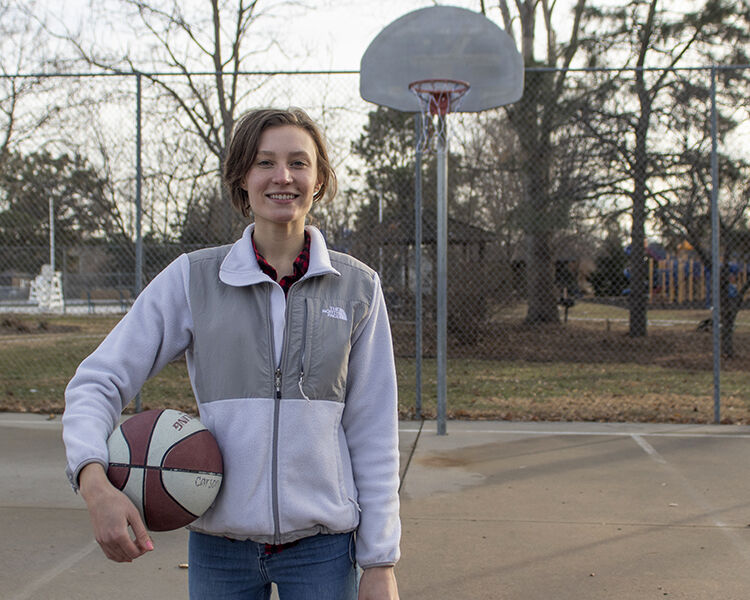 WAVERLY – Growing up in a predominantly basketball-obsessed family, 22-year-old Sarah Allick is used to living, breathing basketball. 
But, while modeling in New York in 2018 Allick finally found some time to reconnect with her sport. She found herself at Tiger Playground at Evergreen Middle School in Brooklyn ready to get back to her roots, but she was lacking one thing – a net.
"It's the most satisfying part of the entire game," Allick said. 
Allick, who now lives in Waverly, found herself in a similar position at Wayne Park. 
"I'm always shooting hoops and so then I went to Wayne and I saw one of the nets was a bit rusty," Allick said.
The difference between now and 2018, is that during that time Allick's business Freedom Swish manufactured an indestructible net made from bendable galvanized steel aircraft cable called a Freedom Net with the help of her two business partners, Tim Roach, located in Puerto Rico, and Lionel LaLonde, located in Canada. 
The company released the red, white and blue nets over the summer, which are now being sold at Scheels and on Amazon for around $50. On Dec. 22, Allick and Waverly's Parks and Recreation Director Noah Dea installed one of the nets at Wayne Park, which Allick donated to the city. 
"I had an extra net and I was like, you know, I think they'd love it," Allick said.
About three years ago, Dea remembers noticing how rusty the metal chains had gotten on the hoops in Waverly. He experimented with a few different options including a cable wire net similar to the Freedom Net which did not last very long. Dea said they ended up going back to metal chain nets.
When Allick contacted Dea about the net in Wayne Park, she also told him her story and the story behind the net's creation. 
"It sounded like something I definitely would be interested in," Dea said. 
Allick said after finding there was no net on the hoops in Brooklyn, she soon learned that the local school was unable to afford nets. This resulted in Allick just wanting to raise some money to purchase the basketball necessity. 
But after experimenting with other nets like metal chains with no success, Allick said she looked into more alternative options. 
She said she eventually found a vinyl and steel version similar to the current version of Freedom Nets. However, when she tried to attach them to the metal hoop, they didn't fit. At this point Allick said purchasing these nets had become a community project so she was determined to find a solution.
Around the same time, Allick was introduced to her current business partner and sports equipment manufacturer, Roach, who was able to help her adjust the vinyl nets to fit on basketball hoops everywhere and make the hoops totally indestructible. 
Allick said prior to this, these nets would have to be purchased wholesale in a large amount instead of having the option to purchase just one.
Since Freedom Nets' release this year, the company has sold about 20 nets to cities like Omaha and Lincoln, and soon Waverly. 
While Allick and Dea only put up one net, Allick plans to donate another net to the park. Dea also said he would be interested in purchasing nets for the one other hoop in Wayne Park and the one in Sharp Park as well. 
Allick hopes customers begin purchasing it more for households too. 
"You don't have to replace the net every year," she said. "They're literally perfect for things like households and stuff."  
In fact, on Scheels website it says the nets can provide up to 10 years of play instead of only lasting one year. 
As for the future of the nets and Allick's business, she said she hopes to one day put nets up on hoops throughout all of New York, her home away from home. 
With about 2,000 nets in New York, Allick has a lot of work to do, but her business partner Roach has gotten her one step closer. Roach donated 400 nets for installation in New York, which Allick plans to use for hoops starting in Brooklyn. 
While Allick is busy putting a net on hoops all over the country, she can't up but feel the experience has tied together her love for basketball and her love for helping communities.  
"I like the idea that I get to see an impact that I make in my communities and communities all over the US," Allick said. "It's really inspiring and it's really given me the confidence to keep wanting to make impacts in my community."