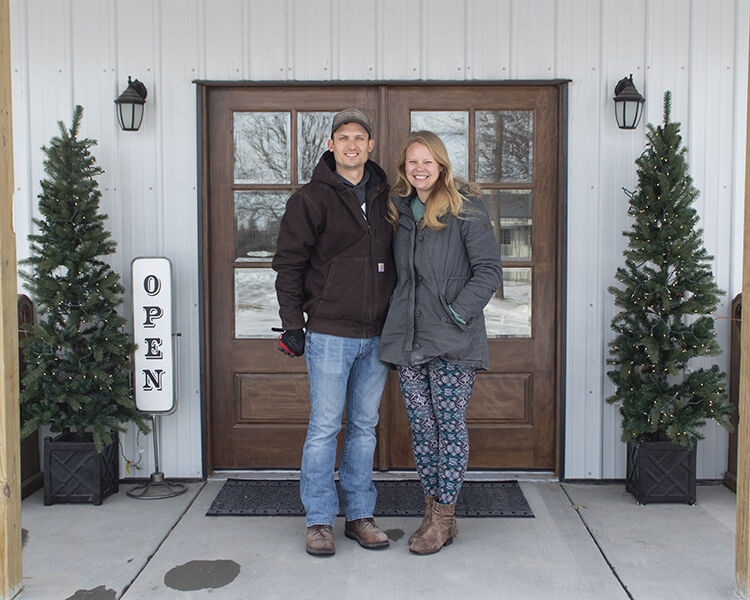 RAYMOND – Not a lot of people can say 2020 was a great year. 
For Becca and Tom Monroe, 2020 was a significant year for their 3-year-old business West Mill Flowers. But it didn't come without a bit of hard work. 
Between the shop they opened on their 5-acre property along West Mill Road where they hosted an open shop every Friday throughout the summer along with wreath making workshops, Becca said they had to re-strategize almost every aspect of the business. 
Prior to COVID-19, the Monroes had plans to start a bouquet subscription and wanted to revitalize their look for farmers markets with an "Instagrammable" school bus named Betty White because of its white color. They also had begun construction on their shop in December 2019. 
"We like new," Becca said. 
While most other Nebraskans were stuck at home, the Monroe home was business as usual. Becca and Tom had just begun the most labor intensive part of flower season – field preparation and planting – when the pandemic started to affect Nebraska in March. 
At the time, Becca and Tom didn't even know if the Haymarket Farmers Market would be held.  
"I just turned to him (Tom) every single day and I'm like I don't even know if we're going to sell any flowers but I worked my tail off to plant all this stuff that I already had," Becca said. "I told him, 'Yeah I'm planting it.'" 
Tom also owns his own business, West Mill Design Co., a custom furniture design company, which thrived this year as well. 
"This year was awesome for both of our businesses," Becca said. "Our advice to anybody: if you're a small business is that during a pandemic you have to get outside of your comfort zone."
And that's just what the Monroes did once restrictions were lifted in May.  
The Haymarket Farmers Market began its season on May 16. Armed with flowers and Betty White, Becca and Tom headed to Lincoln for their first market in the middle of June 2020 where they experienced a lot of loyalty from their customers. 
"There was a lot of support at the farmers market," Tom said. "Lots of people came down every week."
In mid-July, when the shop was completed, West Mill Flowers began to host open shop on Fridays for those that not only wanted to see the Monroe property, but also wanted to stay away from the crowds in Lincoln. These Fridays also helped to advertise West Mill Flowers in the area. 
"We want people in the local area to know hey we have flowers, and we're willing to deliver," Becca said. "It was a lot of fun." 
The shop also includes a walk in freezer where bouquets for the market can be stored. Before the shop, Becca would have to cut the bouquets in her basement the night before the market. Tom described it as similar to the game Tetris. 
West Mill Flowers also offered more workshops in 2020, including bouquet making workshops and four wreath making workshops during the holidays. In the past, Becca said they have just sold wreaths, but with the pandemic they have learned that their customers are looking to acquire new skills.  
"People are hungry for entertainment," Becca said. 
Becca said they hope to potentially host a charcuterie board class with the help of Tom's business because so many customers have asked for something to do during winter. 
West Mill Flowers has been collaborating with other small businesses to do more retail things. 
"We have this space that we didn't want exclusively for flowers," Becca said. "We want it more for the public."
Becca and Tom are currently resting and reconfiguring for the 2021 season. Becca said she recently purchased seeds and bulbs and will be starting with certain plants in a few weeks. With all the success and progress last year, Becca said she's looking forward to 2021. 
"At the end of 2020, we were exhausted," Becca said. "I'm like, OK, I'm ready to just walk away from it. Now it's like, OK, rested and recovering and now I'm getting antsy to do it again."
This year, West Mill Flowers plans to have bouquet subscriptions, "You Pick" deals where customers can select a small plot and the flowers that grow there. They have also added an unheated greenhouse with a grant from USDA for those flowers that need a certain environment. They'll also begin taking plants to the farmers market this year along with flowers. 
Since the couple moved to Raymond six years ago, Becca said they have followed a quote from a classic movie, Field of Dreams. 
"'If you build it they will come,'" Becca said. "I don't think at first we really even knew ourselves, but we always knew that we wanted something. We have that entrepreneur in us."