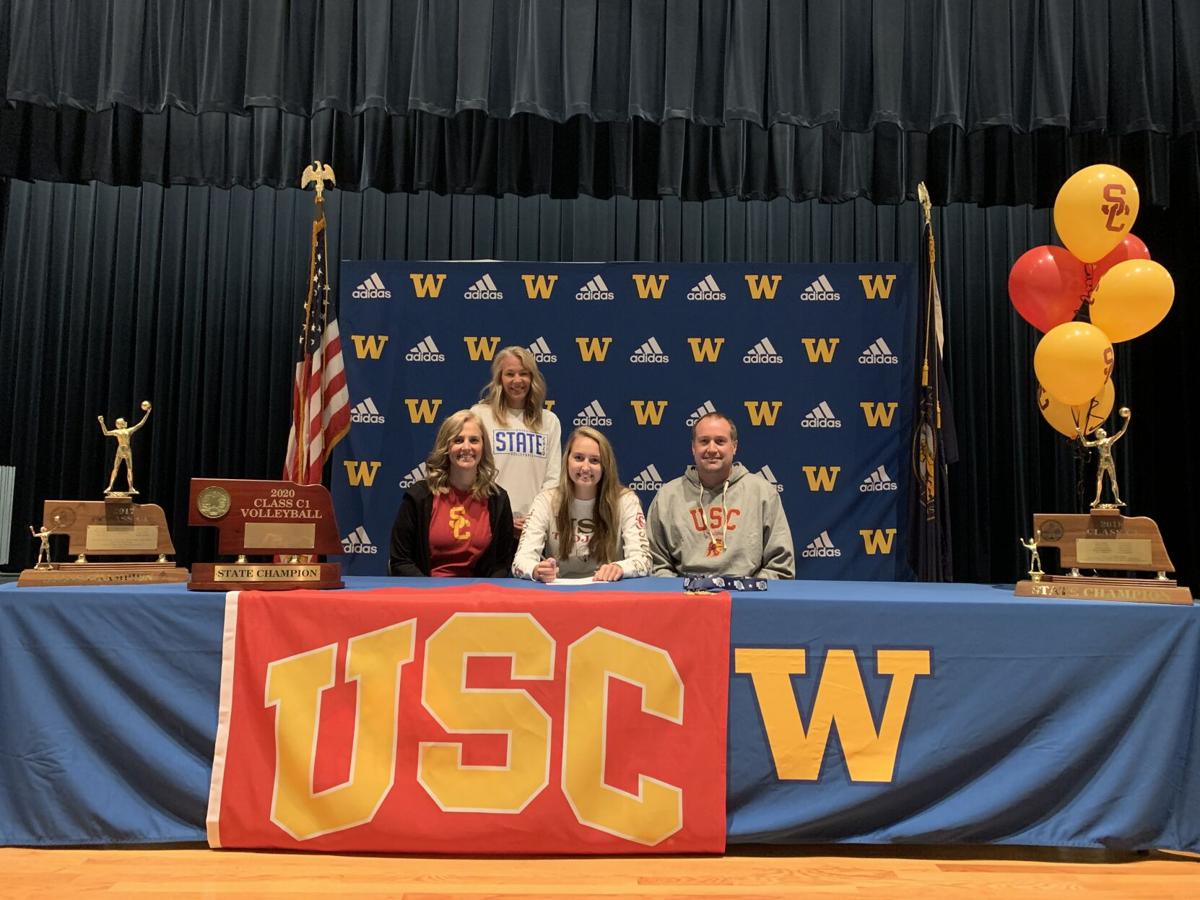 WAHOO – Wahoo senior Elle Glock made it official last week. With her family and coach present, Glock signed on the dotted line, ending one era and starting another.
Glock will graduate in May and will leave as one of the most decorated and successful volleyball players in school history.
As one chapter ends, a new one begins. Glock will leave Wahoo and travel more than 1,500 miles to the University of Southern California to become a member of the Trojan volleyball team.
"Wahoo volleyball has given me everything and I'm just so lucky to be a part of it," Glock said. "I'm just so grateful for these past four years."
Glock committed to the Trojans prior to her sophomore year, less than six months after helping the Warriors capture the school's first ever state championship.
Glock played outside hitter as a freshman on the state title squad and piled up 213 kills while adding 54 ace serves and 183 digs.
The 6-1 hitter moved to setter her sophomore season and piloted a Wahoo team to a second consecutive title while handing out a Class C-1 record 1,167 set assists.
Glock and the Warriors finished third in Class C-1 after a junior season which saw Glock hand out 1,016 set assists.
After tireless work over the spring and summer, Glock and her teammates returned to the court in August just happy to the have the opportunity to compete amidst a global pandemic.
The Warriors opened the season with wins over Aurora and Norris in Aurora on Aug. 27 and did not let up the entire season while recording 35 straight victories and a third state championship in a four year stretch.
Glock established herself as one of the top setter's in the nation and finished the 2020 campaign with 1,018 set assists, pushing her career total to 3,235 in just three seasons.
Glock handed out 62 assists in the Warriors five-set victory over St. Paul in the Class C-1 state championship.
After the match her Coach Trish Larson lauded the play of her senior setter when the pressure was on.
"We were out of system a lot and scrambling, but Elle can just take ball halfway across the gym and put it right on the money," Wahoo coach Trish Larson said. "She's a difference-maker."
The Pac-12 has postponed the start of the 2020-2021 volleyball season until Jan. 1, 2021.
The Trojans finished 18-14 last season and have compiled a record of 83-49 over the last four seasons.
Head Coach Brad Keller was hired in February of 2020 after Brent Crouch left the USC to become the head coach at Auburn University.
Be the first to know
Get local news delivered to your inbox!