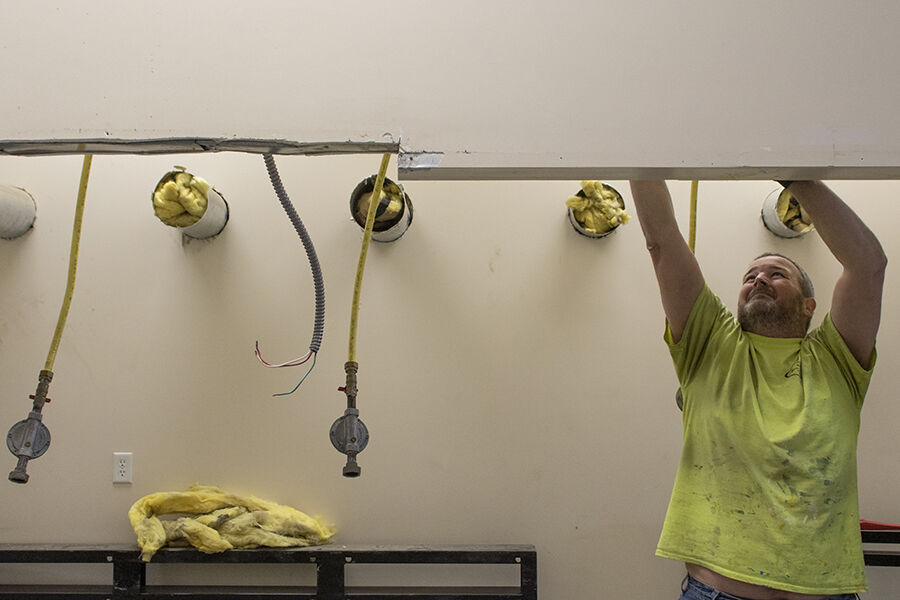 WAHOO – Chris Kober has big plans for Wahoo. 
Since he purchased what was formerly known as D & D Coin Laundry in April 2020, he's purchased over $230,000 in new equipment, including the cost to remove old equipment and install the new equipment. Ultimately, these machines will be able to support larger loads of laundry, lower the costs for customers and make the laundromat more environmentally efficient.  
On Dec. 28, he received 20 new washers and 12 machines with 24 dryers. When he purchased the building, Kober said it was with the understanding that it needed new equipment.   
"The old equipment required a lot of maintenance," he said. "During the last six months, I've been constantly trying to continue to fix equipment and keep equipment running but it is old enough that literally, you could fix something on it today, and the same piece of equipment would quit working tomorrow." 
With the machines, Kober said he won't have to deal with as many maintenance issues which will be a cost saving aspect as well as with the washers' ability to measure how much water should be utilized by how much each load weighs. 
Technology is a big factor with the equipment, Kober said. Along with its ability to measure water, the washers can spin out at a high rate meaning that more water is rung out before going into the dryer. 
With the laundry being less saturated, it will spend less time in the dryers resulting in a more efficient, cost effective process. 
"From an environmental standpoint, it will be much more efficient on water usage, gas usage, electricity usage," Kober said.
Kober also purchased four machines that will be able to accommodate and wash king size comforters instead of just queen size comforters with the previous equipment. 
Kober said he originally planned to have the new equipment up and running by the end of the summer, but because of the pandemic he experienced delays. 
"I've been really working hard to try and get everything done," he said. "In the middle of the COVID pandemic and everything else you know everything just took longer to do than what I had hoped."
Along with the new equipment, Kober also hopes to add a laundry attendant to be present a few days a week for a couple of hours, depending on how business goes. Long term, he would like to have an attendant who would be in the shop Monday through Sunday from 9 a.m. to 5 p.m. and provide a laundry drop off service, which is similar to his current business in Omaha.  
Kober first started in the laundry business about five years ago with his laundromat, dry cleaner and laundry pick up and drop off business in Omaha called The Clothes Hamper. He said the laundromat has pick ups and drop offs from both residential and commercial customers in the Omaha metro area as well as Lincoln which he added about a year ago. 
As Lincoln business grows, he said he may transition his pick-up customers from Lincoln to the Wahoo location. 
While Kober's original intent was to solely have residential customers, he soon learned that small businesses like coffee shops or bars don't have the hundreds of pounds of laundry each week that many large commercial laundromats accept.     
"I learned that small businesses were a good fit for my service as well so we expanded and started doing small businesses," Kober said.
Kober has hopes to provide the same services in Wahoo and surrounding areas, but knows he will have to play it by ear. 
"It's dependent obviously upon business picking up and is the business recovering and growing," Kober said. And I think it will."