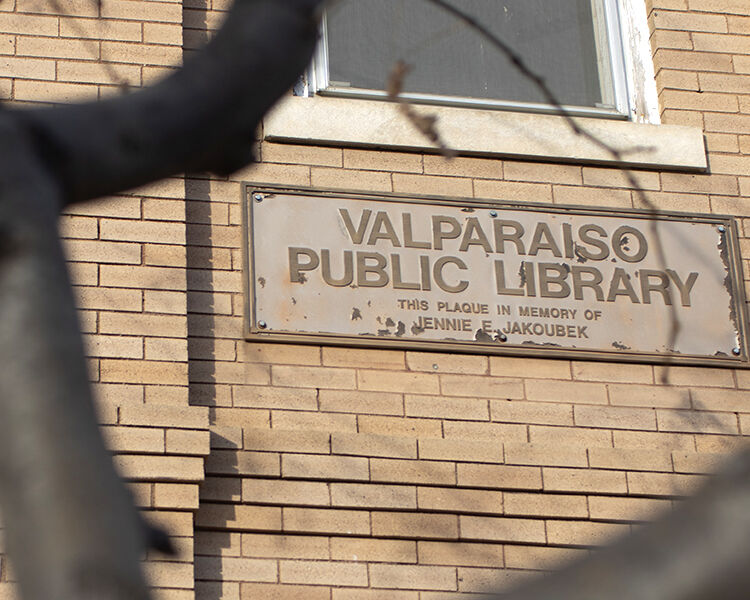 VALPARAISO – The Village of Valparaiso Board of Trustees opened its regularly scheduled meeting on April 13 by appointing a temporary chairperson and accepting former chairperson Jim Rezac's resignation.
Rezac submitted his resignation on March 16. He had been on the board since his election in 2000 and was the chairperson for a number of years. His resignation came after a board meeting on March 9 that led to scrutiny on some of the actions he has made related to village business and the Valparaiso Public Library. The library has been closed since Jan. 27 while undergoing an audit. 
After the board accepted Rezac's resignation, trustee Dan Holmes was appointed as temporary chairperson and declared there would be a vacancy on the board until they can appoint a new trustee. 
The village board also heard from the new library board which was appointed during the March 9 meeting. Library Board Member Carrie Trutna informed the trustees that they have been going through policies, set up a new library email and have taken authority over the library website. 
"We've just been established, so there's a lot to go through," Trutna said. 
The library board, including Jill Tran, Julie Mueller, Kim Turnwall, Jennifer Potter and Trutna, was established after it was found that the previous library board's terms had expired in light of issues with the library's expenditures.  
Trustee Jeff Draper said he had gone to the library board's first meeting and reported that the members went right to work.  
"I think the library is in real good hands right now," Draper said. 
Trutna said it will take at least a month to get someone hired in place of current Library Director Lori Springer. On April 9, the Nebraska Auditor of Public Accounts (APA) released the results of the investigation State Auditor Charlie Janssen conducted on the library.
This audit found that the village board's concerns about the library's Amazon.com expenditures were factual. The APA's report cites 35 questionable purchases totaling $1,894.34 since Springer started as director in 2016.
These purchases range from 18 college textbooks for her son who attends Nebraska Wesleyan University, cook books, Hydroflasks and other suspicious expenditures between the end of 2018 and July 13, 2020. 
It is also suspected that Springer utilized library funds via Amazon to purchase cleaning supplies, over $1,000 in ink cartridges and over $400 in air fresheners and scented oil as well. A Dell laptop which was purchased by the library is also allegedly missing.  
"The information presented herein points to the possible unauthorized expenditure of public funds for Ms. Springer's own personal benefit, giving rise to serious statutory concerns," the report said. 
The auditor listed several possible Nebraska State Statutes that Springer, who is also a member of the Raymond Central School Board of Education, may have broken. There is currently an active investigation being conducted by the Nebraska State Patrol which is inhibiting the library board from reopening the library. 
Trutna said they aren't sure if they can replace the library director at this point since Springer hasn't been fired and no charges have been filed. Trustee Mike Blazek suggested that the library board move forward with hiring despite Trutna's concern about going to court and finding Springer potentially innocent. 
"If this isn't a perfect case of subordination on so many levels," Blazek said. "We should visit with him (the village attorney)...but I cannot imagine we cannot move forward with that." 
In June 2020, the village board began requesting full Amazon invoices from Springer after concern about what was being purchased and why some statement pages were missing. 
After about six months of requesting the full statements and still not receiving them from Springer, Blazek made a motion to suspend the library funds until the board received the full library statements. While the motion did not carry, it stirred up issues and disparity within the community accusing the village board of trying to "defund the library." 
By the Jan. 12 meeting, the board still had not received the full statements so they agreed to get the library's password to the Amazon account. Shortly after the library was closed for a pending audit. 
Since the library has been closed, Springer has filed for unemployment and had a hearing in regards to her filing. Blazek was in attendance, but Springer did not appear on the Zoom call.
Springer did not make herself available for an interview with The Waverly News. Raymond Central School District Superintendent Dr. Derrick Joel also said the district had no comment as of Monday. 
With no real end in sight, the library remains in limbo until Nebraska State Patrol can complete the investigation and until a new library director can be hired.