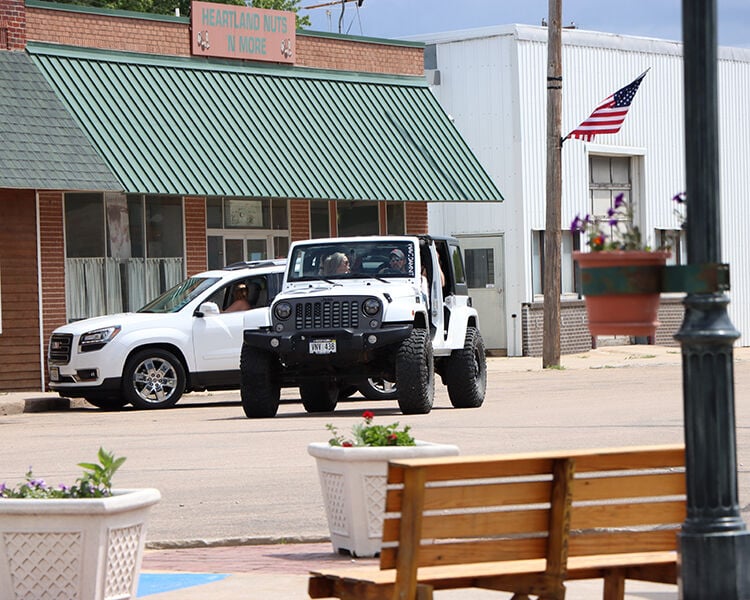 VALPARAISO – As mask mandates and Directed Health Measures become more lax, Valparaiso is gearing up for Val Days, one of the first community celebrations to occur in the area this summer. It will take place on June 5 and 6.
Val Days committee member Dan Homes said last year, the village was able to host a one-day Val Days experience where community members gathered for the traditional fireworks show and car cruise that occur regularly at this celebration. 
This year's Val Days will look similar to the celebration pre-COVID. When the committee began planning the event at the beginning of 2021, they planned as if the pandemic would be somewhat behind everyone by the beginning of June. 
"We just went into it like it (COVID) wasn't there at all," Homes said. "We are going to be practicing safety, but at the same time trying to get back to normal."
Homes said they have been working under Three Rivers Health Department guidelines. While masks will not be required at the 19-year-old event, Homes said, certain aspects of the celebration were altered or cancelled for social distancing purposes and other precautions.
One long-time tradition that was cancelled was the vintage baseball game, which is normally played each year with old rules and antiquated equipment, Homes said. Instead, on the evening of June 4 younger teams from the Val Ball Association will scrimmage from 6 p.m. to 9 p.m. 
The ball games will be followed by the MoJo Filter Band starting at 8:30 p.m. at Tuffy's Bar in Touhy and the fireworks show starting at 9:30 p.m. back at the ballfield Valparaiso.  
Garage sales also kickoff on June 4 and will occur all weekend throughout Valparaiso as well as the road rally scheduled to start at 5:30 p.m. at Harry's Tavern on Main Street. 
Another tradition removed from the docket was the annual barbeque contest which has turned into a barbeque feed scheduled to happen on June 5 at 5 p.m. across from the Senior Center. Following the meal, cruise night will occur at 7:30 p.m. and the street dance at 9 p.m. featuring Hard Knox performing at Harry's Tavern. 
"We normally buy the meat when it's on sale and put it in the freezer but with COVID stuff we weren't sure what we're going to be able to get away with," Homes said. "We will just have a feed this year so we got some volunteers and some smokers that we're going to smoke a bunch of pork butts in."
On June 5, Val Days attendees will also be able to participate in a sand volleyball tournament starting at 9 a.m., geocaching from 12 p.m. to 3 p.m., a silent auction at 2 p.m. to 6 p.m. at the fire station and wine and beer tastings hosted by the Knights of Columbus 8625 from 5 p.m. to 8 p.m. at 2760 Main Road. 
In previous years, the Knights of Columbus have hosted the wine and beer tastings in a large tent located across from Harry's Tavern. Homes said this year they were hoping to have enough money raised to build a large gazebo in the park in time for Val Days, but that was unable to happen. Because of that, there will be no tent at this year's celebration. 
Community members can enjoy breakfast at the Valparaiso Fire Hall from 7:30 a.m. until 10 a.m., lunch at the Lunch Stand sponsored by the Val Days Committee and of course a barbeque dinner across from the Senior Center at 7:30 p.m., all on June 5. 
Bright and early on June 6, Val Days attendees can start their jam-packed day with breakfast at Val Tavern from 8 a.m. to 10 a.m. featuring an optional traditional Czech jaternice breakfast. Trapshooting at Ohnoutka's Golf Course will begin at 9 a.m. The craft and vendor fair will also be at 9 a.m. and last until 3 p.m. with the St. Vitus Altar Society's bake sale starting at 12 p.m. 
The annual horseshoes tournament hosted by Coulters Creations will start at 9:30 a.m. followed by chainsaw carvings by Papa Bear at 10 a.m. Homes said some of Papa Bear's creations will be up for sale and will be part of the silent auction. 
At 11 a.m., bingo will start at the park on Main Street as well as lunch sponsored by Touhy Livestock. Also at the park will be polkas starting at 12 p.m. until 3 p.m. 
The kids zone will start off at noon with train rides, a petting zoo, a balloon art performance from Shade the Clown, fire truck rides and registration for the pedal tractor pull and the punt, pass and kick contest. 
Following these events scheduled in the early afternoon, duck races will start at 2 p.m., Czech dancers will perform by the Senior Center at 3 p.m. and the live auction sponsored by the American Legion will begin at 4 p.m.  
The "Back to Paradise" themed parade will start at 5 p.m. on June 6 with the grand marshals of the parade being the Lawrence Rezac family businesses. Val Days will come to a close with a "traditional meal" of steakettes starting at 6 p.m. at the Valparaiso Legion Hall.  
The full Val Days schedule can be found in the June 1 Market Weekly. 
"We just look forward to getting all the people back and trying to get this town back to a normal level," Homes said. "We just want to have some fun."