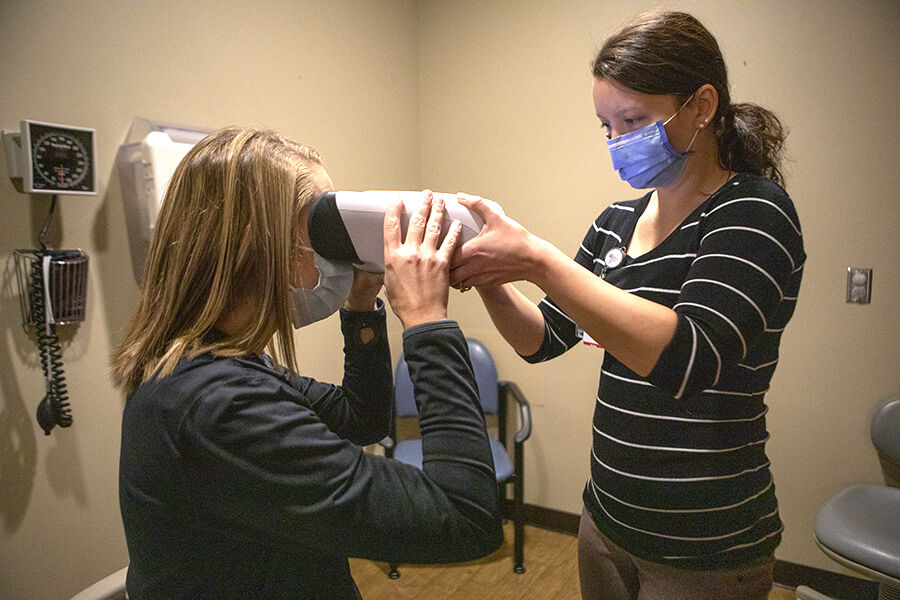 WAHOO – After over a year of keeping an eye on it, Stacie Sabatka said Saunders Medical Center finally has its own RetinaVue device which provides eye checks for diabetic patients. 
The family care clinic director said they began implementing the device at the beginning of October. Costing $8,300, the RetinaVue device will help to prevent retinopathy, a common complication among diabetics, for SMC's patients, which make up about 12% of the hospital's patients. 
Sabatka said diabetic retinopathy is caused by damage to blood vessels in the retina and 80% of diabetics can develop it. With 404 total diabetic patients at SMC, this means about 323 of these patients could generate retinopathy. 
But 95% of vision loss due to diabetic retinopathy can be prevented with early detection. This is where RetinaVue comes in, Sabatka said. 
The device is a hand-held white box with a screen on one end and a retina scanner on the other. After the patient has been in a dark room for a few minutes so their eyes adjust to the light, a healthcare provider would hold the device up to the patient's eyes.
The patient then lines up their retinas as directed by the device. Once it is focused, the patient will see a big flash, which takes an image of the retina. After the first eye is scanned, the device will move to the other eye and direct the patient to line up the retina again. 
Once both eyes have been scanned, the device will produce images of the retinas that can be sent to the ophthalmologist, or eye doctor, who will read it and assess the eyes for retinopathy. 
The ophthalmologist will then send the results back and the providers will inform the patient of the results. 
The device was purchased by an anonymous donor and since SMC has received it, all nurses and providers have been trained on how to use the device. 
  "They've been really excited," Sabatka said.
Sabatka said RetinaVue can provide a service to diabetics that not only improves their lives, but also makes things a little more convenient for patients. 
"That was one of the things that drew us to this was the convenience and the ease of use," Sabatka said.
Diabetics are supposed to have an annual check-up on their eyes to prevent retinopathy, Sabatka said, but only 40% of diabetic patients at SMC actually do go get these check-ups.
SMC is assessed on quality of care and how many of their diabetic patients get an annual eye exam. When the patient doesn't get an eye exam, it reflects negatively on SMC. RetinaVue will help improve those ratings, according to Sabatka. 
With RetinaVue, a patient can have the scan done while they are at their normal appointments so they do not have to schedule another appointment with an eye doctor. 
"If you leave it up to them, sometimes they›re just not going to do it," Sabatka said. "We just take that little piece out of there where there›s that, 'No, I don't want to do it.'" 
Because diabetics use more services, they tend to be higher costing patients, Sabatka said. RetinaVue provides SMC the opportunity to prevent retinopathy and is just one more thing SMC can do to keep diabetic patients healthy and at lower levels of care. 
"The more we can do preventative things with them to keep them at lower levels of care and out of the big places having big problems, it›s better for the insurance, better for the patient and better for us," Sabatka said.