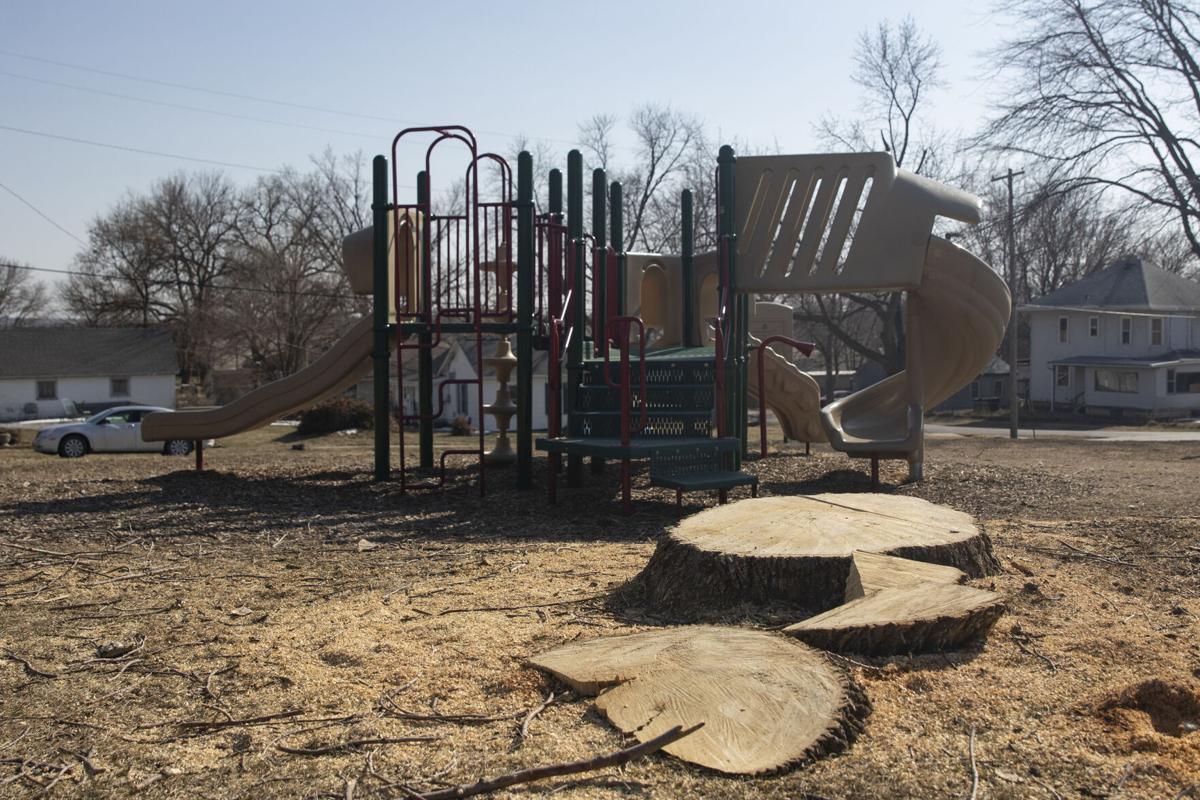 RAYMOND — It's the little things that make a big difference. 
The Raymond Parks and Rec group has been making an effort to improve Raymond's park, also known as Old School Park, through different fundraisers and events. Most recently, they have added 10 new trees to the park after losing a few ash trees this past spring. 
The group's dreams go farther than adding just a couple of trees. 
Member Molly Trumble said they hope to continue bettering the play equipment to also include play areas for older kids and teens along with the pickleball and basketball court already at the park on Third and Nickols streets. When adding this equipment, it will be while they are gaining funds.
"It's not going to be like a total overhaul," Trumble said. "It's not like we're going to bulldoze it down and build something totally massive brand new because that's a $30,000 project." 
On July 16, the park-focused group will be hosting the first movie night at Old School Park at 8:45 p.m. With all the movie necessities – pop, water, candies and popcorn – Raymond residents can enjoy the movie "The Sandlot" while simultaneously appreciating the park. 
The free movie night, sponsored by the Raymond Woman's Club, Living Doors Real Estate, Weed Man and Adorn Constance Cookies, will act as a fundraiser where attendees can make free will contributions as well as donate by purchasing snacks and beverages. 
Trumble has been working with other members of the Parks and Rec group including Kayli Starr. Trumble said events like the movie night are in place to make residents of the area aware of the park and the importance of taking care of the facility. 
"When we do have something, a bigger fundraiser or something, people have experienced the park, have been over there and it›s something that they want to invest in," Trumble said.
While they are still trying to work out certain kinks like there being no electricity at the park or the high cost of licensing, Trumble expects to have movie nights monthly into the fall until the weather turns and then start again in the spring. 
Like Raymond Woman's Club and other sponsors, the Parks and Rec group will continue to ask for sponsors for events. Sponsors would pay the licensing fee for the movie and in return be included on the event fliers. If interested in sponsoring a movie night or donating, reach out to Trumble at mtrumble1@gmail.com.
The next project Trumble said the Parks and Rec group will be focusing on is bettering the play equipment. She said they have begun looking into what kind of equipment they would want, but have not finalized anything. 
"That's kind of where we're at now just kind of getting our ducks in a row, figuring out what our plan is so then we can have a picture available of, 'Hey this is our next hope, this is what we›re shooting for.'"
While they focus on smaller projects as they fundraise, Trumble acknowledged how supportive the community has been toward fundraising and improving the park. 
"Our community has just stepped up and shown up and they have just been great," Trumble said. "Knowing that these movies are coming, we were just talking about having these little small events. People are really on board for it, so it's super exciting."