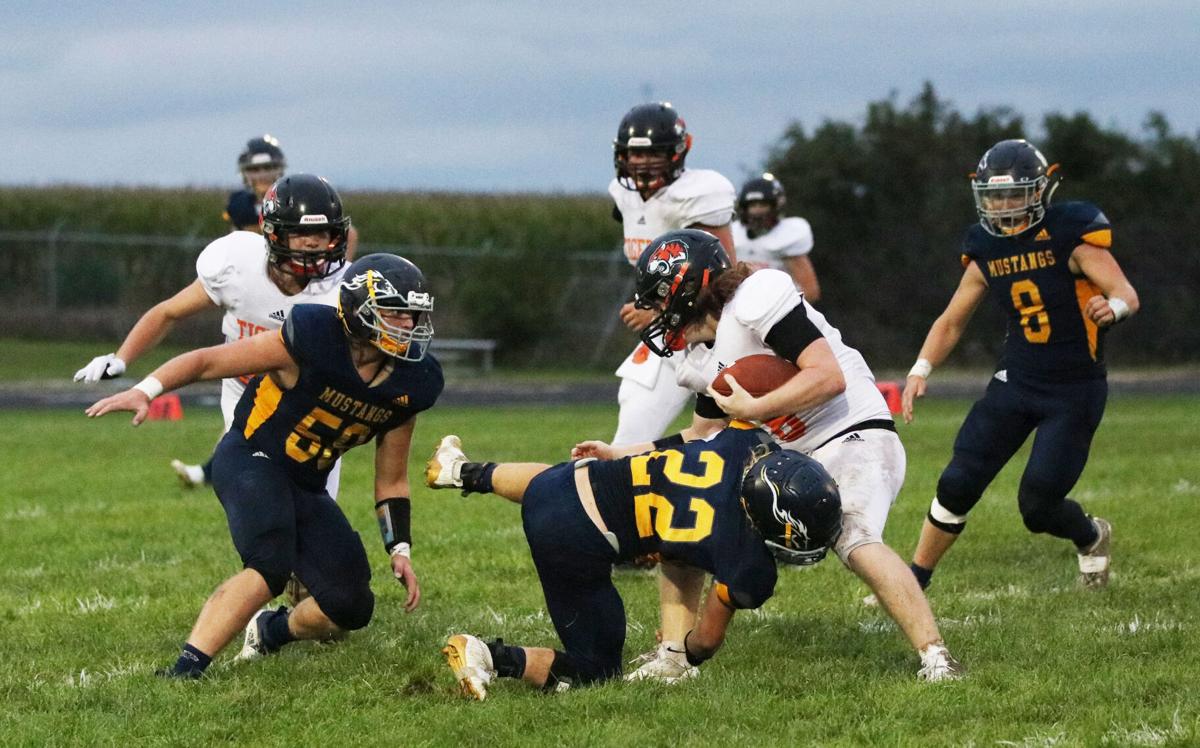 RAYMOND – In their home opener for 2021, the Raymond Central football team took down Falls City 42-16. The win for the Mustangs moved them 2-0 for the second straight season.
"We're bending plenty, but we are really athletic," Raymond Central Coach Wade Houchin said. "Falls City imposed their size on us for a while and we were getting nervous about that. At the end of the day, they keep making plays, causing turnovers, and getting us out of jams. I like the identity, I like the second half we played, and we are starting to become a good team here."
Out of the gates, it was the Tigers who were able to score first on their opening possession of the game.
Rayce Farmer was able to connect with Carson Simon for a 58-yard completion that resulted in a score. The two-point conversion by Thomas Fields up the middle was good giving Falls City an 8-0 lead.
Raymond Central was not to be outdone and was able to put together a sustained drive next time out.
On the Tigers 16-yard line, Ryland Stover completed a pass to Travis Nelson for a score. The extra point attempt was no good, cutting Falls City's lead to 8-6 at the end of one.
The Mustangs took control of the game in the second with another touchdown pass, this time it was Stover finding Conner Kreikemeier for 69 yards. The two-point conversion was successful as Logan Bryce ran into the end zone to put Raymond Central up 14-8.
Late in the half, the Mustangs found the end zone one more time when Stover hit Conner Kreikemeier streaking downfield for a 47-yard completion. The extra point by Conner Kreikemeier was through the uprights putting Raymond Central ahead by two possessions at 21-8 at the half.
"Our execution in the passing game was big for us," Houchin said. "We knew we were going to have to throw against them because of their size. We saw some things on film we liked to expose and for the large part I thought we did that,"
On the opening kickoff of the second half, Travis Nelson was able to break free for the Mustangs and went 45 yards for a score. After the made extra point, it was 28-8 Raymond Central.
After a stop by the Mustang defense, Raymond Central moved the ball deep into the Tiger's territory. Near the goal line, they had trouble getting their offense to connect and found themselves in a third and 13 situation.
Instead of trying to make things too complicated, Raymond Central went back to a play that worked for them several times earlier in the game. Stover completed a pass to Conner Kreikemeier for an 18-yard score that put the Mustangs up 35-8 after three.
After struggling to move the ball for three quarters, Falls City finally put a drive together to start the fourth. It was capped off by a 3-yard touchdown run by Fields making it 35-16.
Raymond Central finished the game off with one more touchdown from inside their 10-yard line. On fourth and four, Stover hit Nelson with a pass over the middle for five yards.
Finishing with five touchdown passes on 17 of 19 attempts for 298 yards was Stover.
In the receiving category, Conner Kreikemeier hauled in eight passes for 197 yards and three scores, while Nelson had six catches for 67 yards and two touchdowns. Andrew Otto caught two passes in the game for 34 yards, with a long of 23.
Defensively, Noah Thornburg had had 13 tackles and Colby DenHartog and Mason Kreikemeier had 12. Both Jack Henry and Brock Skeahan recovered one fumble in the game.
Next week Raymond Central plays at 7 p.m. at Schuyler. The Warriors are currently 0-3 and lost to DC West 56-0 in their last outing.
"We are in no position to take anybody lightly," Houchin said. "They have a new coach and they run a complicated offense with a quarterback who is a heck of an athlete. We are still learning to win football games and need to continue to focus on what we can do to win games."