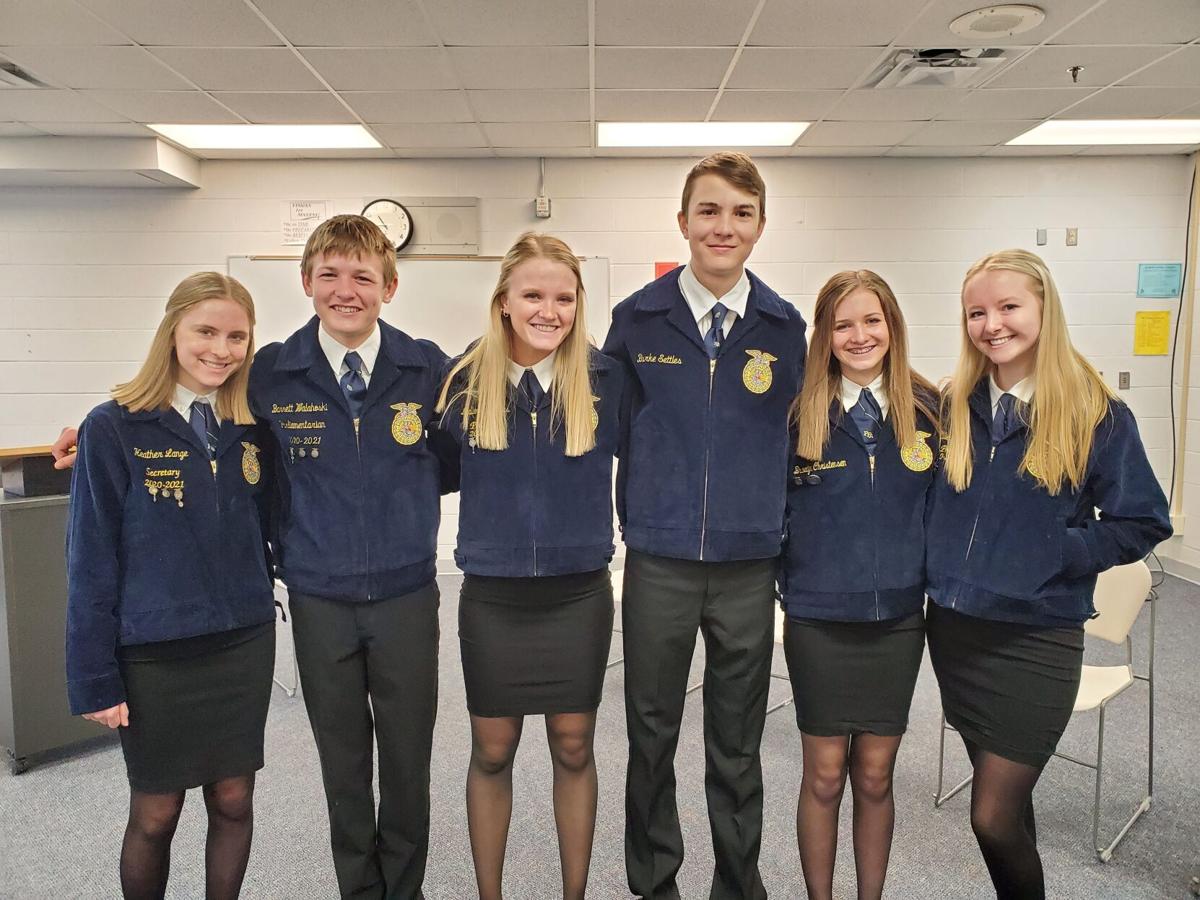 RAYMOND – Raymond Central FFA was all about meeting goals, persistence and dedication this year, FFA Advisor Whitney Lehn said. 
The COVID-19 pandemic created a complicated landscape for FFA competitions that resulted in a state convention that lasted about two weeks. Because of the pandemic, Central FFA dealt with several obstacles including online competitions, complicated scheduling and other challenges the team overcame, Lehn said. 
The team learned of their state results on April 9 during the annual Alumni Article and Labor Auction at the high school. Central FFA had 16 members qualify for state and did not sign up for any non-qualifying competitions.
For individual prizes, eighth grader Sarah Lange was announced as the state champion in the Discovery Speaker competition and a blue ribbon in the Middle School Quiz Bowl, freshman Burke Settles received a blue ribbon in Ag Technology and Mechanics and freshman Ben Kliment was awarded a red ribbon in Junior Livestock Evaluation. 
For team competitions, the Parliamentary Procedure team made up of senior Mallory Hughes, senior Ellie Hula, sophomore Heather Lange, sophomore Barrett Walahoski, freshman Braelyn Christensen and freshman Burke Settles received second place in state. 
The food science team received eighth place and Lange was awarded a blue ribbon and freshman Leslie Bos received a red ribbon for the competition. The chapter also received a Governor's Excellence award which will result in a new banner hung in the hallway near their room. 
Heather Lange was president for parliamentary procedure and it was her first year in this event. Lange said this win has motivated her and the team to do better next year. 
"It makes me want to do even better next year because being virtual we don't really get to experience the entire state convention – an actual state convention," Lange said. "Since we did make finals, it would be in front of a lot of people. That's something that I want and so it's going to force me to work even harder next year and hopefully shoot for like first place." 
If they do make first place in 2022, they would qualify for the national convention and compete against FFA chapters across the state. Seniors Mallory Hughes and Ellie Hula also competed on the parliamentary procedure team and found it was difficult to even practice and compete due to being online. 
Despite these challenges, Hula and Hughes both gained a lot from the experience.
"I feel like it benefited because it taught me how to overcome challenges," Hula said.
"I think it's made me a lot more grateful for FFA and like being able to do these things like compete," Hughes said. 
Lehn said Central FFA hadn't been up in the top two in awhile so it was great to see the success for her students to make the finals. Their goal was to win gold, but instead they made finals which meant realigning their goals for the finals. 
Initially, Lehn said the team wanted to shoot for third place. Lehn had other thoughts. 
"You just made top two in your room," Lehn said. "Set your goals a little bit higher. Each goal you guys have made you have accomplished and surpassed. Let's go for it."
They then changed the goals to the top two in finals which they achieved. 
Between learning about dedication and goal-making, Lehn said the chapter learned a lot about perseverance. 
"There's a lot of people that probably would have quit before we got to where we did," Lehn said. These guys just kept persevering and they kept making harder goals for themselves and pushing themselves." 
While Lehn won't be returning as the FFA advisor to spend more time with her family, she recognizes that the team, mostly made up of freshmen and sophomores, has a bright future ahead of them.