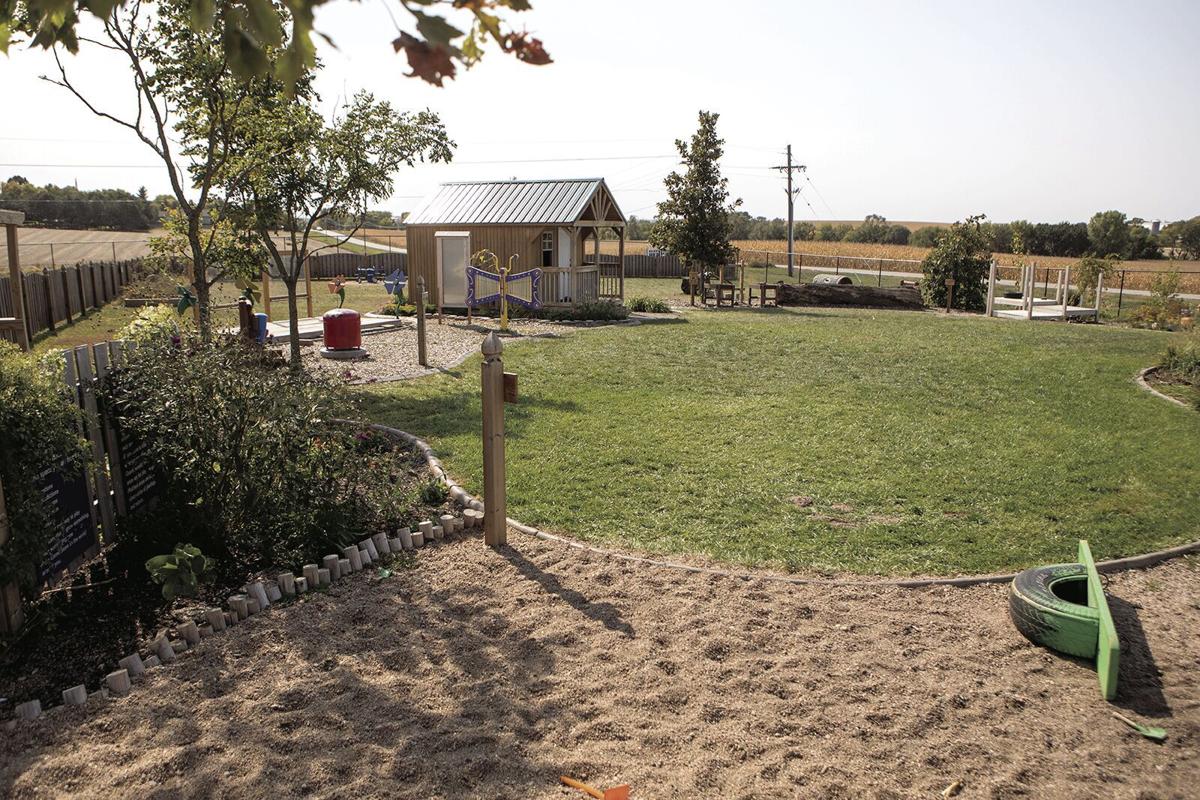 WAHOO – Wahoo Elementary School Principal Ben Kreifels describes the outdoor classroom as an example of when teachers do something beneficial for students without being asked. 
When kindergarten teacher Judy Stukenholtz and fellow teachers attended a conference for kindergarten teachers in 2013, they learned about what an outdoor classroom is. This turned into a seven year project that all started with an idea and a tree. 
"It started as a teacher who had a creative idea, and it's evolved now into lots of people having lots of different kinds of creative ideas," Kreifels said. "I think it's just a tribute to our staff and that they're committed to doing things above and beyond."
Since 2013, the empty field the outdoor classroom once was has become a space where students can learn through several different areas that Nature Explore recommends for certification. Nature Explore designs outdoor classrooms for schools and is conducted through the Arbor Day Farm in Nebraska City. 
"A Nature Explore classroom consists of several areas," Stukenholtz said. "A gathering area, building area, nature art area, sand, music and movement, messy materials and climbing."
In 2014, Nature Explore walked through the space and gave the school a design, which Stukenholtz and others have been working on ever since. 
Through many grants and donations from the community, Stukenholtz said that they have been able to add garden boxes for a sensory, a stage with musical instruments, a bridge, a storage shed and play house and much more. They also have purchased a greenhouse which they plan on building next year. 
The classroom has yet to be certified yet, but Stukenholtz is not concerned about not qualifying as she said they have met all requirements. While the process has been long and ever-changing, it's well worth the wait and Stukenholtz attributes this to the Wahoo community. 
"It took a lot of people and a lot of different community school volunteers to make this happen," she said.
Stukenholtz also said Kreifels was a huge part of the push since his start as principal in 2018. From the moment he learned about the teacher-led project, Kreifels loved it and soon made impactful changes like creating a committee specifically for the outdoor classroom and finding funds to add a fence.  
"He was really instrumental in kind of its finishing touches," Stukenholtz said. 
According to Stukeholtz and Kreifels the classroom has been used for not only science classes, but also creating connections between students and nature. It is also used for team building exercises led by the principal. 
"It does transition back into the classroom when it's time to go inside," Kreifels said. "It just provides the opportunity for just joy, and the relationship that continues between the child and the teacher as they move back into the walls of the school."
This school year, the classroom has been helpful for COVID-19 purposes and ensuring students aren't exposed to other classes during recess. 
The classroom is also open to the public. According to Kreifels, they have had boy scouts, girl scouts and a few other groups utilize the space. He's even held his child's birthday party at the classroom. 
Kreifel said that his favorite part is not only seeing students' perspectives change but also seeing the student connect what they are learning in school to real life. 
"Giving kids an opportunity to see that learning doesn't happen just in school," Kreifels said. "And that science isn't something made up in school. It's something that happens in real life and now we're just giving you a lens to see that in real world context."
Stukenholtz said that the classroom will never stop changing and to Kreifels it will never stop providing students an alternative way to receive an education. 
"We're not just trying to get them to think outside the box," Kreifels said. "We're actually trying to get them to think outside of walls and apply some different types of concepts and creative thinking."
Be the first to know
Get local news delivered to your inbox!