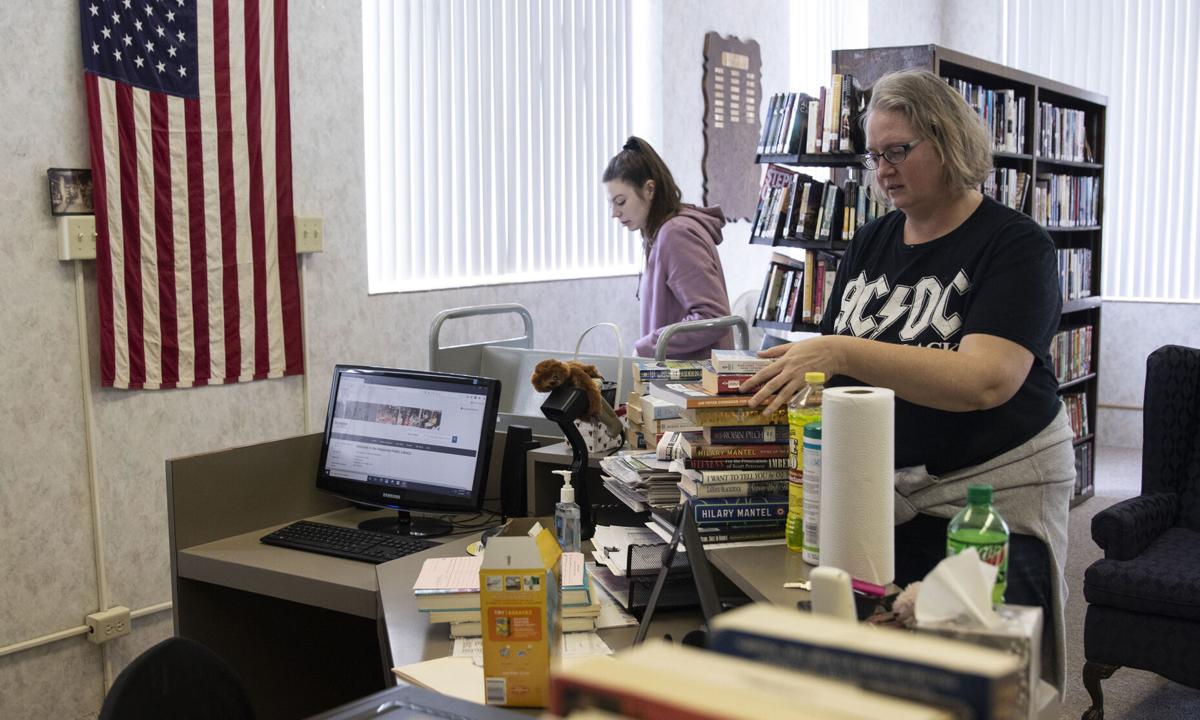 VALPARAISO – The Valparaiso Public Library has an opportunity for a fresh start. 
After all that has gone down with the library within the last year – the state audit, Nebraska State Patrol (NSP) investigation, a library board with terms fully expired and the arrest of former Library Director Lori Springer – this fresh start is somewhat like starting from scratch for the library board.
The newly-appointed library board of trustees is made up of President Carrie Trutna, Vice President Kim Turnwall, Secretary Jill Tran, board members Julie Mueller and Jennifer Potter and senior representative Denise Johnson. 
While this group doesn't have much experience on a library board, they do have the determination to move on from the library's complicated past. Which is also why many of them wanted to join the board.
"We can either sit back and complain about it or we can step up and do something about it and do it in a positive way," Kim Turnwall said. "That's what we're going to do. Forget the past, go on with the future." 
At the forefront of the Valparaiso Public Library board's to-do list was to get the library up and running after being closed since Jan. 27 for an audit by the state and the NSP investigation. 
During the library board's meeting on May 4, the board made the decision to open the library doors to the community on May 15 from 10 a.m. to 2 p.m. The library will be open at that time each Saturday for the month of May until they are able to hire a new library director. 
Trutna said in an interview after the meeting that they hope to have a new director hired at the beginning of June. The board will be accepting applications until May 21. Applications can be emailed to ValNELibrary@yahoo.com or mailed to Village of Valparaiso PO Box 147, Valparaiso, Nebraska, 68065.
The library board terminated Springer's position on April 26 after her arrest on April 22. Springer was arrested for theft by unlawful taking, unlawful acts – depriving or obtaining property or services and official misconduct. She was lodged in Saunders County Jail, but immediately bailed out by paying 10% of her $10,000 bond.
Her court date is set for May 20 at 9 a.m. at the Saunders County Courthouse. Springer is being represented by Matthew J. Knipe of Berry Law Firm in Omaha. 
So far the library board has received two applications via email. Trutna, who is on the hiring committee with Potter, said personality and leadership will be two important traits for the new library director. Someone who can not only be able to handle the financial aspects of the position, but also the welcoming parts of the position is what the library board is looking for. 
"We want someone who is going to be able to be cheerful and communicative, and just friendly in general," Trutna said. "Very welcoming when people come in, you know, smile on their face."
Turnwall said another aspect that will be required of the new director is a focus on accountability. 
"There's going to ultimately have to be more accountability, not only from our director but from our board and from our town board as well," Turnwall said. "There's going to have to be new ways of doing things to ensure that nothing like that happens again."
The library board has also been focused on going through and updating its policies. During the library board's meeting on May 4, the board voted to waive all fines and fees due to the library until May 2022. This includes the cost to have a Valparaiso library card when it is not your closest library. 
At the meeting the board also scheduled an open house during Val Days on June 6 from 1 p.m. to 3 p.m. The board also discussed having a summer reading program, but until a library director is hired, nothing can be confirmed or scheduled. 
Trutna mentioned the library is currently accepting donations including craft supplies, potting soil and pollinator seeds, small prizes or gift cards to local businesses. 
One thing that has been difficult for the library board, is having this position while not having a lot of experience, Tran said. Despite this, looking through policies with fresh eyes can work to improve what the library has.  
"Looking at it with a fresh brain saying, what else can we add to it? What can we do to make it even better than it was when it was really good?" Tran said.
While educating themselves on how libraries operate has been difficult, Trutna said the group works well together. 
"I'm very lucky to work with a great bunch of people," she said. 
The library board also all has different traits they bring to the table. 
"We all have different skill sets which is perfect," Potter said. 
Being able to open the library, hiring a new director and bringing out the positives will all be a part of moving on and forgiving the past. 
"It does really have to be forgiving the past, and to help the community, move on from that," Tran said. "Bringing all the positive stuff out is going to be the way to make it better, to get people to move on from what happened in the past and say, 'Okay, we're here let's get this open.' You can't change the past."