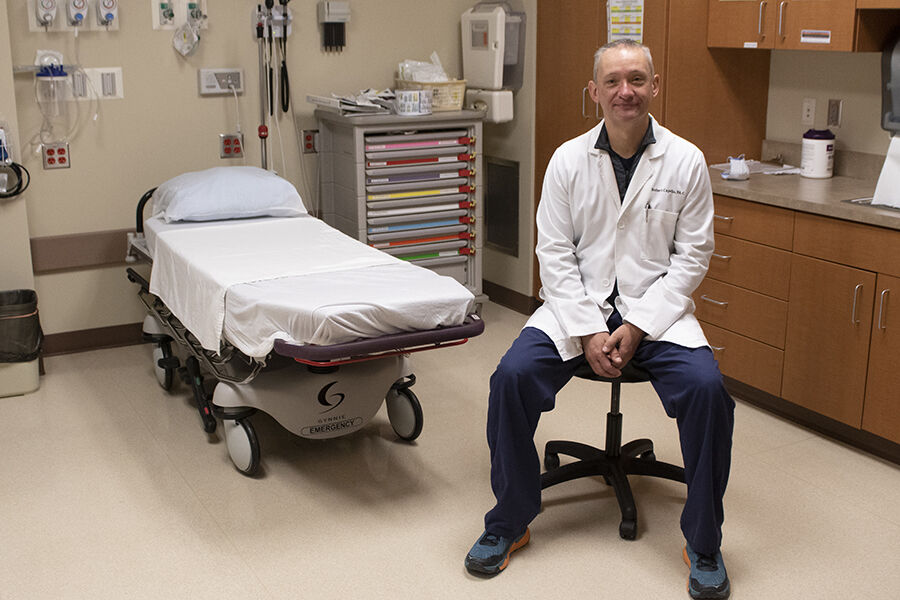 WAHOO – They say when you hear hoof beats, think horses, not unicorns. 
In the emergency room, it's the same, Robert Capello said. Most patients are horses, coming to the ER with something as simple as back pain that could just be a case of sciatica. Other patients come in with that same back pain and it's not so simple. 
Say this patient gets some scans done and soon the doctor comes to find this patient has metastatic cancer in their spine. Instead of asking what the patient was lifting or pushing like one would question with a case of back pain, now the provider is trying to connect the patient with their primary doctor or down to oncology. It is unexpected. 
That would be a unicorn, Capello said.
"It's one of those things that you're not thinking about because it doesn't happen very often," he said. "You never see a unicorn. You see horses, not a unicorn."
For Capello, finding unicorns keeps the job interesting, which is why he's stuck with emergency rooms for 15 years. 
On Jan. 4, Capello began a new chapter of his career as the newest physicians assistant in Saunders Medical Center emergency room. 
Capello first came to Nebraska a little over three years ago as a traveling healthcare provider for Bellevue Medical Center. He lived in Bellevue for about a year and then moved to Waverly and lives there presently. 
When his contract in Bellevue came close to an end he began applying for other jobs including his current position at SMC. The position became available after the previous provider moved to SMC's multiple sclerosis team. 
"Everyone here has been very open, very welcoming," Capello said. "It's been a nice transition." 
Capello was born in Wisconsin, but raised in Chicago. He attended Midwestern University in Glendale, Ariz. where he received his degree in June 2006. He started his career in Chattanooga, Tenn. at Erlanger Medical Center where he tried his hand at orthopedics for a year. 
Erlanger was a trauma center that saw 90,000 patients per year, Capello worked in the ER Friday, Saturday and Sunday and spent the remainder of his week in orthopedics doing joint injections, splinting and casting. 
"After a year of that, I realized that the emergency room still had still had my heart," Capello said.
Capello spent three years at Erlanger. From Erlanger, Capello moved to St. John's Hospital in Springfield, Ill. where the ER sees 70,000 to 75,000 patients per year. At St. John's, he also gained the experience of pediatric emergency medicine and orthopedics as well as some administrative experience being promoted to a lead position. 
He stayed at St. John's for about four years and then moved to Aurora BayCare Medical Center ER in Green Bay, Wis. where he stayed for three more years. 
From Wisconsin, he moved to Dayton, Ohio to work at Kettering Medical Center for about two and a half years before moving to Bellevue. 
While Capello currently lives in Waverly, he said he could move his family closer to SMC in the near future. 
Capello said he's always thought about trying his hand at rural emergency medicine after his years working in much larger area hospitals. Previously, at other hospitals he said he would have eight to 10 patients at a time, but at SMC he can provide more concentrated medicine to the patients of SMC. 
When treating horses and unicorns, SMC gives providers like Capello the opportunity to utilize the skills they have honed over the years in a more personal and focused manner. He hopes to capitalize on the experiences he and many of his coworkers have to improve the emergency room at SMC. 
"We're not just a band aid station," Capello said.