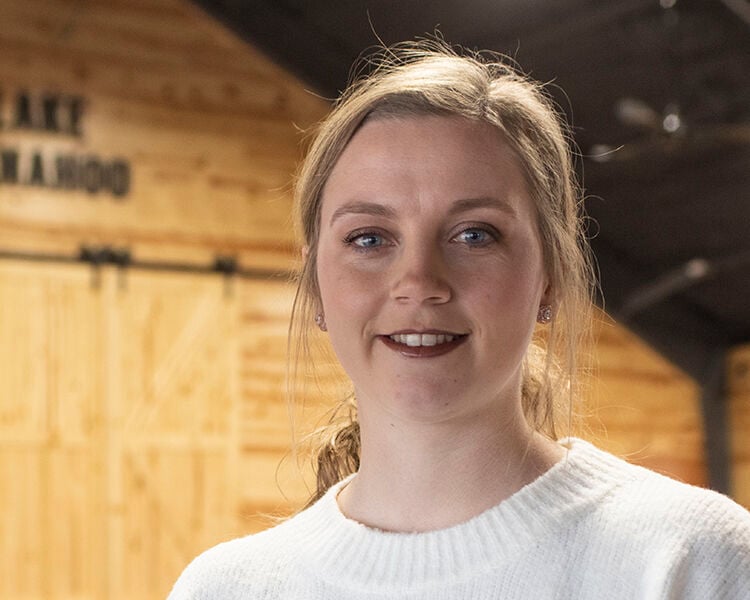 WAHOO – Growing up in Wahoo, Sydney Abbott has always had a special spot in her heart for wildlife. 
Her grandpa, Bill "Doc" Hancock, was a veterinarian and was her go-to for any injured bird that flew into her family's window or any peculiar animal she could find growing up on a farm. 
"I was just drawn to animals in general so wildlife has always been a big one for me," Abbott said. 
Now, she can combine her love for Nebraska's flora and fauna and teaching others as the new education coordinator for the Lower Platte North Natural Resources District. Abbott started the position on Dec. 7. 
Abbott was selected from 21 applicants and six interviews. LPNNRD General Manager Eric Gottschalk said while it was a tough decision Abbott's education, experience and passion for natural resources put her on top. 
"Her background, not only in education but her background in natural resources, her ability to communicate what she knows, and her passion (for) individuals in our district just really kind of brought her to the top," Gottschalk said. 
Abbott graduated from Wahoo Public High School in 2012 and attended University of South Dakota for her bachelor of science degree in sustainability until her graduation in 2016. She then pursued a degree certificate for floriculture and nursery production management from University of Nebraska-Lincoln until 2017. 
Abbott said she is now working on her master of science degree in natural resource sciences specializing in human dimensions at UNL and plans to finish her thesis for graduation this spring.  
Abbott said she loved that with this position she would be able to work in town not too far from where her and her husband Jon and their 9-month-old daughter Kennedy live. 
Abbott also has worked for Natural Resources Conservation Service, Pheasants Forever and JEO Consulting in Wahoo. In those positions, teaching others was an aspect she grew to love, and is something that attracted her to the LPNNRD job. 
"When you want to make a difference for any kind of natural resource, whether it's soil, wildlife, whatever, you have to reach the people that own the ground," Abbott said. 
Gottschalk said prior to Abbott being hired, Lacey Sabatka held both the information coordinator and education coordinator positions. Because of LPNNRD's growth in the education department, Gottschalk said it had become too much for one person. LPNNRD split the responsibilities to encourage the development of both the education and information sectors. 
Gottschalk said the goal is to expand the district's outreach through informing and educating everyone in the district from ages two to 92 which will be Abbott's focus. 
"Sydney is going to lead that charge for us," Gottschalk said. 
And Abbott aspires to do just that. She already has plans for a presentation for the Wahoo Public Survival Club about edible foods in nature and hopes to expand outreach to more individual adults and families with events like a movie night at Lake Wanahoo or partnering with businesses in town.
"That's my hope is that in the next year, as I get my feet wet and get them kind of moving underneath me, we can start to plan some of those types of events for the community and not just for kids," Abbott said.