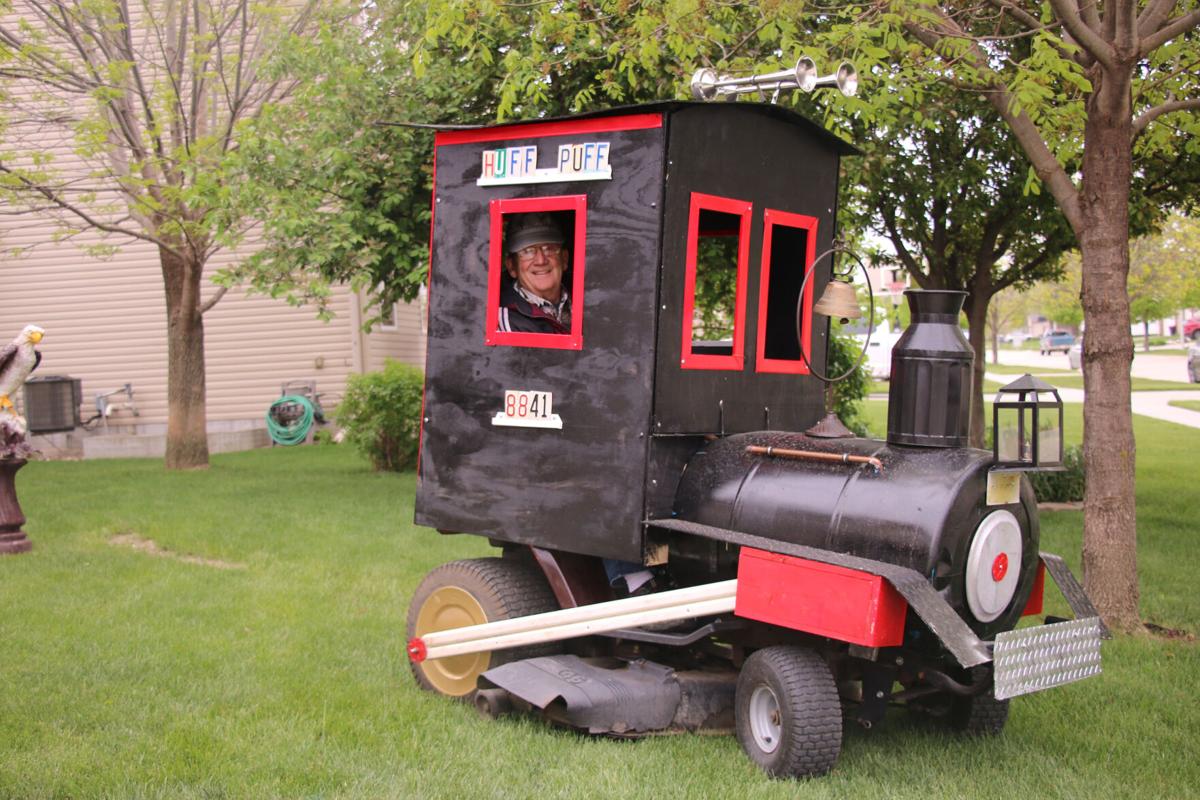 WAVERLY — Don Tapp was getting antsy. 
The Waverly resident of 16 years had volunteered to help update an all-wooden engine donated by the Burlington Railroad to Camp Creek Threshers last summer and had purchased several gallons of black paint for the cause. He grew tired of twiddling his thumbs as the engine remained in storage. 
"So I made my own," Tapp said. 
Using a riding lawn mower he operated for his former rental properties, a small portion of the black paint he bought for the Camp Creek engine, some pool noodles and other various items from his home, Tapp created his own train engine this past winter. 
The 15-horsepower mower now is a sleek train engine called Huff Puff No. 8841. The numbers signify Tapp's birthday on Aug. 8, 1941. Tapp said it took him about three weeks to put together the engine. 
Tapp built a metal frame for the cab portion of the engine and added a door to enter and exit the vehicle. The engine has a light on the front and he added an old cow bell mounted on top as well as electric air horns. 
Tapp used a milk jug he purchased from Hobby Lobby for the chimney on top and red paint for the accents on the black engine. 
Plates were added over the wheels with an arm connecting the wheels. He removed the mower deck. 
Tapp said he included a two-wheel trailer for passengers. On the trailer are two barrels with cutouts on the sides. He added benches inside the barrels for passengers to sit on and used pool noodles all the way around the outside. 
Tapp even has a train conductor hat and overalls to sport while driving engine No. 8841. 
Now that it's up and running, Tapp has taken it to the Camp Creek swap meet that occurred on May 22 and has had neighborhood kids ride in the train as well. So far, the train has been received well by the community. 
"They like it," Tapp said. 
Tapp said he plans to bring it with him to the Camp Creek Threshers' Machinery and Threshing Show on July 17 and 18 and the Fourth of July parade in Waverly that Sunday at 1 p.m. He's also had others reach out about coming to birthday parties and other community events. 
For those interested in having Huff Puff No. 8841 visit, call Tapp at 402-450-9947. 
"They've not seen another one like it," Tapp said.