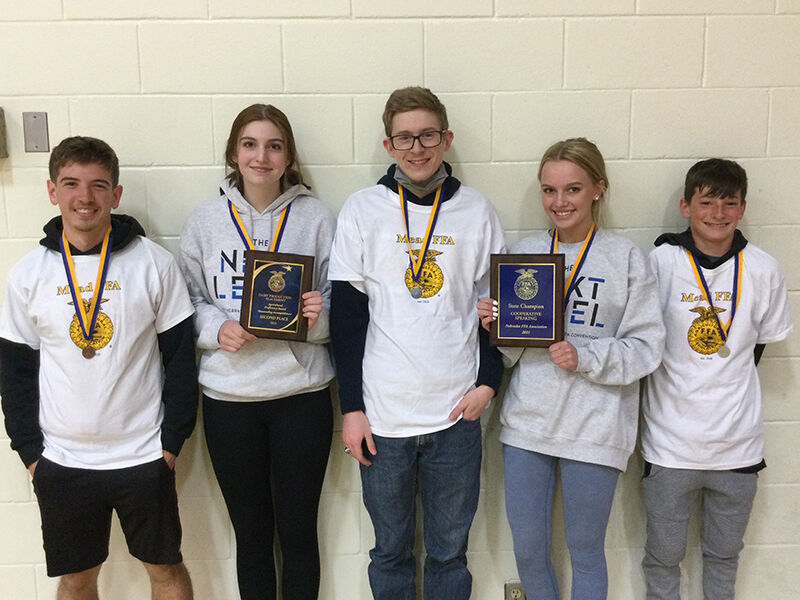 MEAD – Mead Ag Teacher and FFA Advisor Cole Blomendahl said in a normal year Mead FFA chapter would take 20 to 30 students to the FFA state convention. 
With some students competing in state and some just there to learn, he said there is always an opportunity for education. After all it is a convention, not just a competition. 
Looking forward to next year, he hopes students can have access to that opportunity again and to go back to a sense of normalcy after a year filled with masks and Zoom fatigue. 
"It's obviously been very different than how it would have been," senior Grace Popken said.
Despite some obstacles that stemmed from COVID-19, the chapter still brought home awards from the state competition including Popken's state champion medal in cooperative speaking. Popken's speech was about electric cooperatives and implementing broadband in rural parts of the state. 
Blomendahl said in his 13 years with Mead, Popken is his first state champion in speaking competitions as well as the first state champion in the category. 
"I've had kids get goals before, be finalists before, but Grace getting state champion was awesome," Blomendahl said. 
Popken also received her State FFA Degree along with Lauren Holloway and Lexi Johnson as well as a purple ribbon for her individual work in the floriculture team competition. 
The floriculture team made up of Holloway, Popken, Laura Kuhr and Lily Brestel placed fourth overall with a purple ribbon. Holloway placed ninth individually in this competition with Kuhr gained a blue ribbon and Brestel a red ribbon. 
Emily Hanson brought home another state championship in fiber and/or oil crop placement and Kaitlyn Hanson was state runner-up in dairy production placement. Hanson also received third place in cooperative speaking. 
Kelly Richards got a red ribbon in ag sales, Mason Coyle got silver in discovery speaking, Jack Munter got silver in natural resources speaking and Blaine Nicola received bronze in senior public speaking. 
After graduation, Popken will be taking a gap year to go on mission trips with Youth With a Mission (YWAM) and her first stop will be three months in Hawaii. She said one thing she has taken away from this complicated school year was being flexible after dealing with different delays for FFA. 
"Eventually I kind of learned that I'm just going to go with the flow – whatever happens, happens," Popken said.
Blomendahl said Popken is an example of where other chapter members can go with FFA. 
"She just worked hard and she's just done it year after year," he said. "I think they just see what's possible if you put in time and put in the effort."