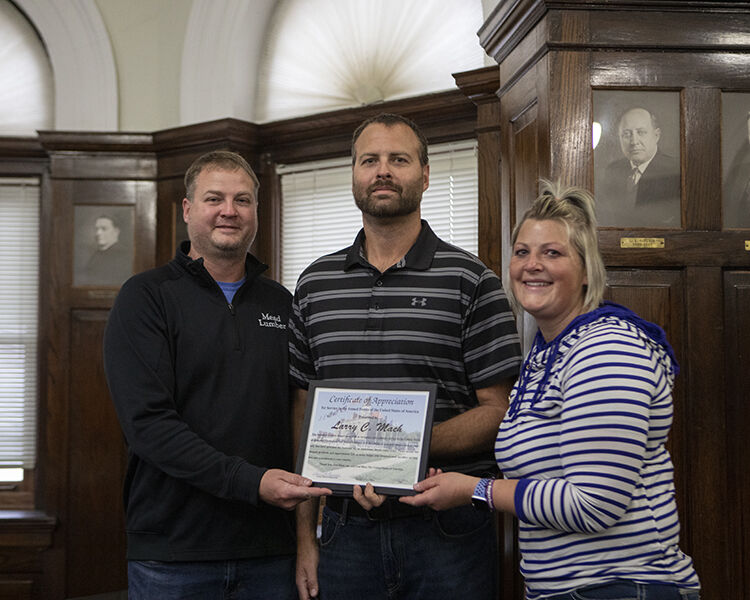 WAHOO – The man who helped organized the Saunders County Veteran of the Month program was recognized posthumously for his military service during the Nov. 10 meeting of the Saunders County Board of Supervisors.
Larry Mach, who died Sept. 25 in a car accident near Wahoo, was nominated for the honor by the Saunders County Board of Supervisors and Dan Benes, Nebraska American Legion District 7 commander.
"Larry was a big supporter of this program recognizing veterans and it is a tragedy that he is not here today to receive this, but instead his daughter and sons; Wendy, Ross, and Ryan will accept this Certificate of Appreciation," Saunders County Veterans Service Officer Mary Pace told the board as she awarded the certificate.
Mach was drafted into the Navy in 1970. His draft number was 2 when President Richard M. Nixon enacted the draft lottery in 1969.
But there was no doubt that Mach was going to join the military because of his attitude of giving. He asked to be deployed to Vietnam, but ended up at Coronado Island in San Diego, Calif.
Mach's job in the Navy was to type up orders and flights for others to go to Vietnam. It was not an easy task, Mach had said, because it put him in a difficult position, where he knew his fellow sailors were going overseas but couldn't tell them because it was classified information.
Mach was sent to Instanbul, Turkey for two weeks for military exercises with countries involved with the North Atlantic Treaty Organization (NATO) pact. During those exercises, Mach got the opportunity to work with military from other countries.
Mach was discharged in April 1972, but his involvement with the military did not end.
"I got the impression everything he did was for his family and veterans," Pace told the county board. "I felt he never wanted the recognition but to make sure the other veterans not matter what branch they served in, he wanted to make sure they were taken care of."
That included making sure the veterans of Saunders County had their needs met by sending them to Pace's office.
"'Take good care of them Mary,' he would always tell me," said Pace.
He was also Pace's "go-to guy" to represent veterans during County Government Day, she added.
After the service Mach married his sweetheart, Margaret, who was also known as "Marty." She also died in the accident that killed Mach.
Mach retired from Goodyear after 40 years. He was elected to the Saunders County Board of Supervisors to represent District 5 in 2014 and re-elected in 2018.
He was also very active in the American Legion, serving as commander and in many other positions for Post 254. He was also the senior vice commander for the State of Nebraska American Legion and was in line to become the department commander at the time of his death. He also had numerous memberships in other organizations tied to veterans, agriculture and his church.
"Larry had such an amazing amount of energy and community involvement I challenge others to become active in their communities," Pace said.
The certificate, signed by Pace and County Board Chairperson Doris Karloff, was presented to Mach's children, Ross Mach, Ryan Mach and Wendy Mach. It read: "The Saunders County Supervisors wish to recognize your military service to the United States of America. Throughout our nation's history, it is the efforts of men and women such as yourself that have provided the freedoms we, as Americans, dearly enjoy today. Please accept our deepest gratitude and appreciation. Let us never forget your demonstrated sacrifice, service, love and commitment to your county."
Be the first to know
Get local news delivered to your inbox!