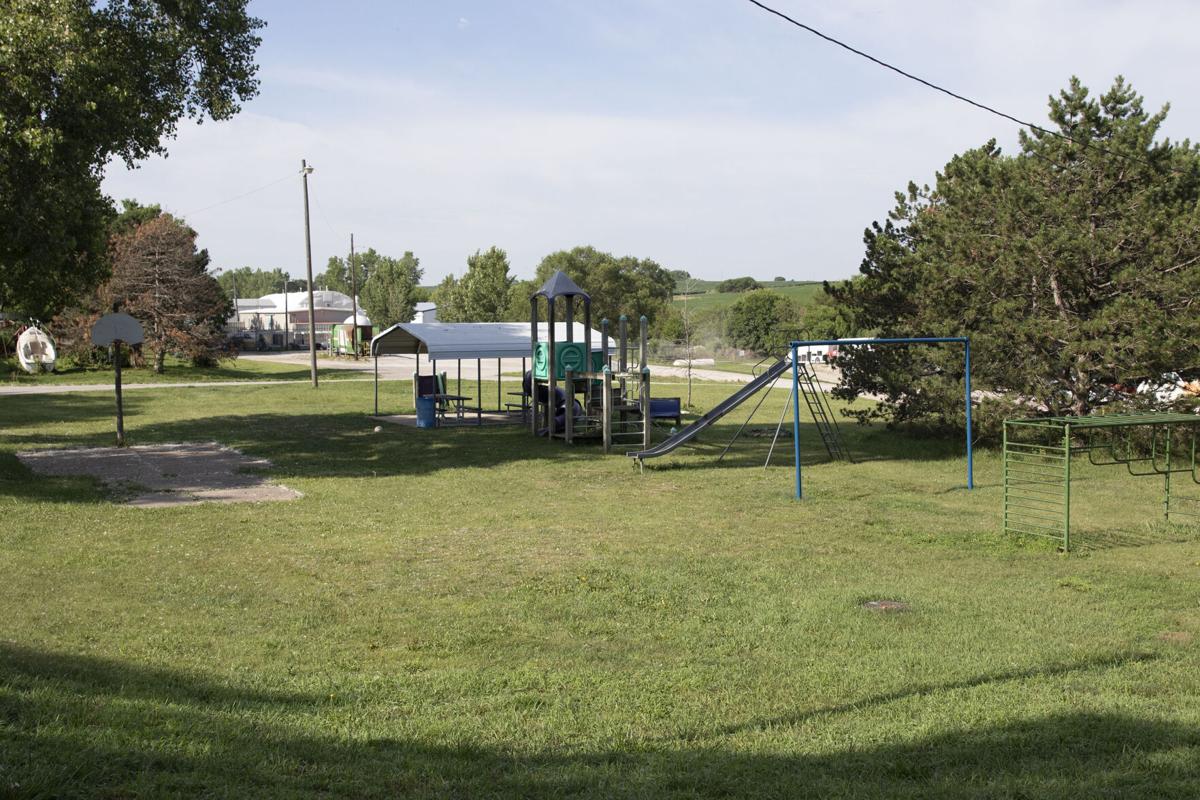 DAVEY – The Davey Park has been in need of repair much longer than Sheri Verkamp has been living in the village. 
Verkamp, who moved here from Dwight in 2017, approached her friend Ali Shull about updating the park so their young families could enjoy it for years to come. This was shortly after Shull moved from Lincoln to the town of about 160 people in 2019. 
After Shull and her family were a little more settled, the she and Verkamp started the Davey Park Renovation Committee at the end of 2019. They started planning meetings and consulting with the Davey Village Board of Trustees until COVID-19 halted all organizing. 
Despite this delay, Verkamp, Shull and several of the other members of the committee who have lived in Davey for multiple generations have been able to raise approximately a fourth of their goal. Through events including a craft fair, pasta feed and, most recently, pancake feed on June 26, the group has fundraised over $20,000 of the $80,000 goal. 
With the park upgrade, Shull said they hope to improve not only the park, but the town itself.
"I would just say, just bringing back the like the small town feel of being able to send our kids down to the park and knowing that it's a safe environment for them to play," Shull said. 
Verkamp said the goal is likely to change when they get updated bids for some of the upgrades they'd like to make. 
"Now that we know how fundraising's going and kind of how excited the community is with the growth of this new park, we might be exploring some different options on some different things," Verkamp said.  
Some of the upgrades they have discussed include a new basketball court, play structure and merry-go-round. They have also considered changing the ground cover, but the decision has not been finalized and could result in an added expense. 
They estimate some of the equipment has been around since the 1960s when Davey had a kindergarten through eighth grade school before becoming a part of the Raymond Central Public Schools District. 
The committee is currently selling Davey t-shirts in green, blue and black that can also come as sweatshirts. For those interested in donating this way, t-shirts are $20 and sweatshirts are $30 and can be ordered by emailing davey.ne.park@gmail.com or messaging the Davey Park Renovation Facebook page.
This merchandise can also be purchased at upcoming events hosted by the committee. On Aug. 1, there will be a back to school craft fair at Davey Park from 10 a.m. to 3 p.m. There also will be a sand volleyball tournament at Spikes Beach Bar and Grill in Lincoln.  
Registration for the tournament is $120 per team. Teams can register at www.eventbrite.com after searching for the Davey Park Renovation Sand Volleyball Tournament.
Donations can also be made through check, by contacting davey.ne.park@gmail.com or messaging the Davey Park Renovation Facebook page.
"We have so much appreciation towards the volunteers that have stepped up and then people that come to our events and then the support that we received from the community," Verkamp said. "We couldn't do this without them and that's for sure."