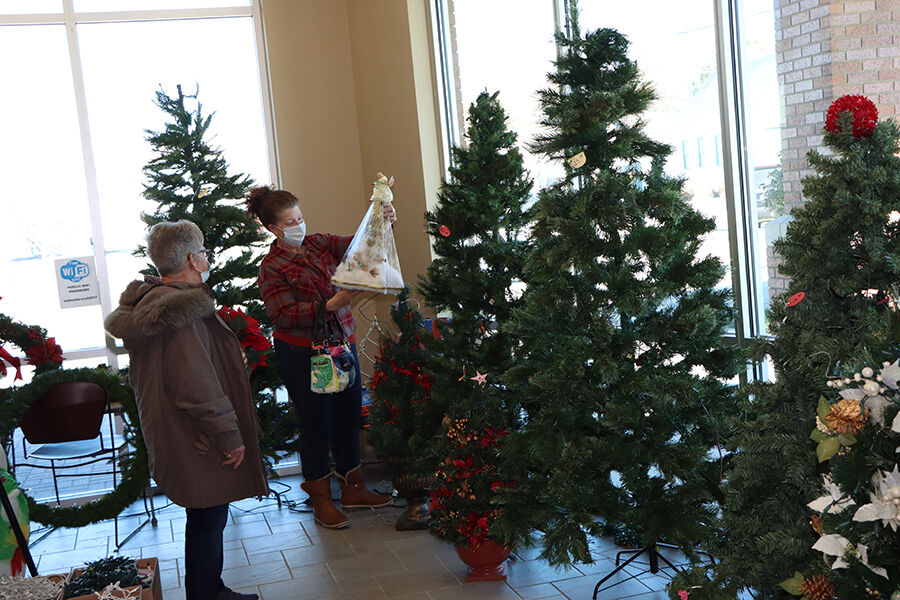 WAHOO – Before the Halloween candy has been eaten, the Wahoo Public Library has opened its annual Christmas store.
On Monday, the treasure trove of holiday decorations went on sale to the public. For over two decades, the library has been offering gently used trees, wreaths, ornaments, garland, centerpieces and other Christmas-themed items for sale as a fundraiser. Library Director Denise Lawver and the Friends of the Library organization came up with the creative way to pay for the new holiday decorations at the facility without spending taxpayers' dollars.
"It started 21 years ago as a small fundraiser to buy new decorations for the library," said Lawver.
The effort was immediately successful and gained steam each subsequent year.
"It's just grown every year," said Lawver.
The funds raised now are used to pay for things like the summer reading program, equipment and programming.
Decorations are gathered all year long and stored with the items that didn't sell in previous years. Although there isn't much left over at the end of the sale, according to Lawver.
"We had one box left last year," she said. "It's amazing how much stuff goes."
In August, volunteer Mary Specht begins sorting, spending hours going through the various decorations to make sure they are in working order. Another volunteer, Paula Stone, is assigned as the light tester.
"We're not going to sell something if it's not working," said Assistant Librarian Janet Maly.
Lawver is always in awe of the Christmas items that people donate.
"We have had beautiful stuff donated through the years," she said.
But she's even more impressed by the new items Maly fashions from the donated pieces. A former employee of a local greenhouse, Maly's creates centerpieces and other original decorations from greenery, pine cones, ornaments and other bits and bobs.
"She kind of jazzes them up and we sell them," said Lawver.
The unveiling of Maly's many unique creations was on Monday, as the sale opened. Until then, they were kept under wraps from curious library patrons and early shoppers.
The library staff and volunteers feel that they are providing a much-needed service to people who can't travel out of Wahoo to buy Christmas decorations or gifts for loved ones.
"There's a large group in the community who can't afford to or can't get out of town," Lawver said.
The sale used to start after Thanksgiving, but a few years ago Lawver said they opened the sale before turkey day because they had so much to sell. She predicts shoppers will take advantage of the opportunity to spruce up their homes by shopping early.
"I think every house in Wahoo is going to be decorated by Thanksgiving," she said with a laugh.
The library will also participate in the Merry Market, a two-day shopping event in Wahoo that will take place on Friday, Nov. 13 from 4 to 8 p.m. and Saturday, Nov. 14 from 9 a.m. to 4 p.m.
The library is also an active participant in the upcoming Hometown Holidays event, which takes place on Dec. 2.
"The library is very much a community place so we want to participate in those community events," said Lawver.
Be the first to know
Get local news delivered to your inbox!