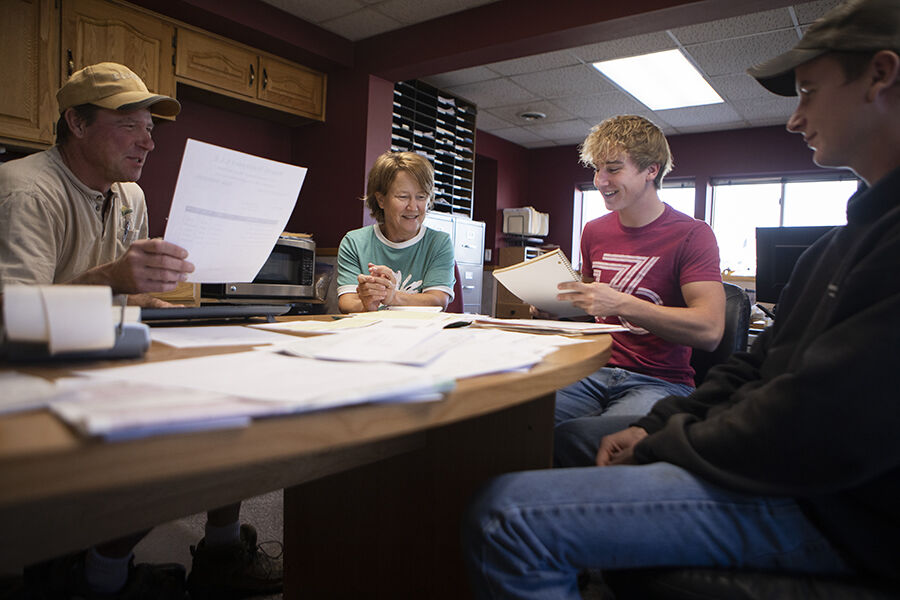 EDITOR'S NOTE: This story is a preview of the winter edition of "Backbone," an Eastern Nebraska publication exploring the people in agriculture that is jointly produced by The Columbus Telegram. The Fremont Tribune, Schuyler Sun, David City-Banner-Press, York News-Times, Wahoo Newspaper, The Ashland Gazette and The News/Waverly. The publication will release in the Dec. 17 issue of the Wahoo Newspaper.
MEAD – Angela Knuth would not call herself a "farm wife." 
Angela is also a business partner. She's an agronomist, data analyst and marketer rolled into one. 
Angela brings something new to the table with ideas and changes to increase profits. 
She also knows her way around a tractor pretty well. 
Like any farmer, Angela lives and breathes farming.
"We may wash (our husband's) underwear, but we're out here in the tractor as well," Angela said.
When Angela and her husband Kerry were initially married, Angela had a local role model she aspired to be like. This person would spend her days working hard out in the fields, yet on Sundays she'd arrive at church adorning a dress, and was beautiful, she recalled. 
"She was female, but she was also strong and smart," Angela said. "When I saw her I was like I want to be like that." 
Her husband Kerry likes to jokingly say she "butted her head" into the family farm. Angela said it's more like she "bullied (her) way in." 
Knuth Farms is a four-generational row crop farm in Mead with fields throughout the Saunders County area. Angela and Kerry's two sons, Gregory and Garrison, will be the fifth generation. 
Prior to contributing to the farm, Angela owned a desktop publishing and video editing company with a friend, but she realized if she wanted to spend more time with Kerry she would need to start working with him in the fields. 
Angela started off tendering, which is driving water and chemicals in large trucks out to Kerry for his custom spraying business. After that, she began helping Kerry and his father with harvest. 
Being an outsider, Angela said as she looked into her husband's family farm operation she initially saw changes that could help the business, which is how she decided she'd be able to contribute. 
One aspect of the farm that Angela thought needed to change was the agronomy portion. The farm would have an agronomist come in each week to assess the fields and write up a short report. Angela thought, "I could do that." Despite the lack of educational background, Angela began taking soil samples and scouting their fields.    
"This was where I thought I fit," Angela said. 
Initially, Angela received some push back with the alterations she was determined to make, but eventually Kerry said they realized that Angela's changes would help them get ahead.  
Kerry said Angela began focusing on the technological side, but also did a lot of fieldwork. Angela is marketing-focused and likes to analyze data to better understand their yields. 
"It's not like I think I can run it better," Angela said. "I just think I have something I can bring to the table and I think we just complement each other and make a good balance."
More recently, Angela said they have been working on diversifying their row crop portfolio by growing different crops and becoming certified for organic crops. She said a majority of this is so that the farm is profitable in the future when Gregory, 23, and Garrison, 21, take over.
Along with Angela's roles, Kerry, Gregory and Garrison all have individual roles as well. 
Kerry focuses on running the equipment as well as crunching the numbers of the business side of the farm, which adds Angela's ability to market the farm.
With Gregory's education as a mechanic, he largely focuses on the equipment repairs and maintenance. He also recently received his CDL (Commercial Driver's License) so he can drive the grain truck from the fields to the grain bins. 
Garrison works a lot in the fields on the tractor or combine when punches out from his job at a local bank. Kerry said Garrison is also helpful with the data entry and the day-to-day business side of the operation. 
"We don't step on each other's toes but yet we all come together and talk about the operation as a whole," Kerry said. 
The family currently all lives together on the Knuth family farm 
Angela described it as "gratifying" to see their sons contributing to the farm as business partners instead of tag-alongs like when they were younger.  
"When we became ready and willing to work, we took on more and started to understand the farm's operation," Garrison said. "We're more involved and started having more discussions together."
"It's just nice to kind of feel like I have a say now," Gregory said.
When asked what makes a good farmer, Angela said "a woman" because "she's not trying to be one of the guys." 
Angela's role is an integral part of the everyday operation of Knuth Farms. Much like her role model, she is be both a farmer and a woman.
"I can go out and drive a tractor and do the manual stuff but I can still put a dress on and be a woman that way too," Angela said.