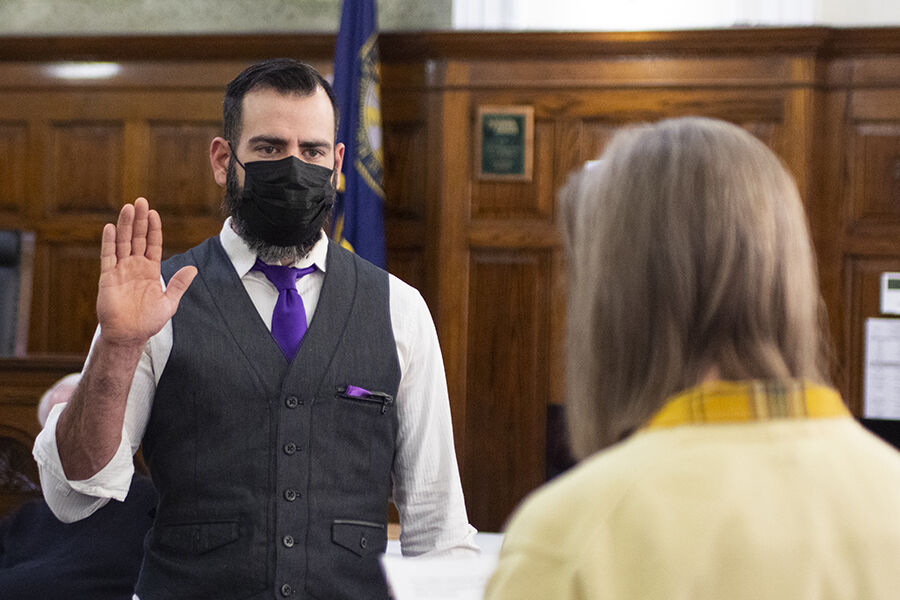 WAHOO – The Saunders County Board of Supervisors welcomed newest District 5 Supervisor John Smaus and appointed Mitch Polacek as zoning administrator during the meeting on Dec. 8.
Smaus was sworn in by Saunders County Clerk Patti Lindgren, County Attorney Joe Dobesh and County Treasurer Amber Scanlon on Dec. 2. 
Smaus, originally from the Prague area, looks forward to taking up the responsibility of the supervisor seat.
"I love Saunders County," Smaus said previously. "This is where I grew up. This is home. So, I want to help as much as I can. If this is something I can do to help people and people in the community, that's the big thing for me."
Smaus will be taking the seat of the late Larry Mach, who died in an accident on Sept. 25. 
"I have utmost respect for Larry and what he did and I just hope I can do my part to fill those shoes," Smaus said prior to the meeting. 
Along with Smaus being sworn in, former Zoning Manager Polacek was appointed to zoning administrator after George Borreson announced his retirement on Sept. 25. 
With Borreson's last day being Oct. 9, Polacek said he is excited to take on the new position, which is something he said he's been hoping for since he started as zoning manager in March of 2016. 
  "I›m looking forward to the challenge," Polacek said. "When I started here that was kind of one of the things I was hoping for. And it eventually worked out."
The board also heard an update from Saunders County Highway Superintendent Steve Mika who said they have finalized the most recent One and Six Year Plan for Saunders County projects. 
In other action, the board approved, with District 1 Supervisor Dave Lutton abstaining, the tabling of a public hearing related to the Estate Provence housing development expansion. The public hearing will occur at the Dec. 22 county board meeting. 
The board also approved a new liquor license for The Sand Bucket Food and Spirits out of Ashland.