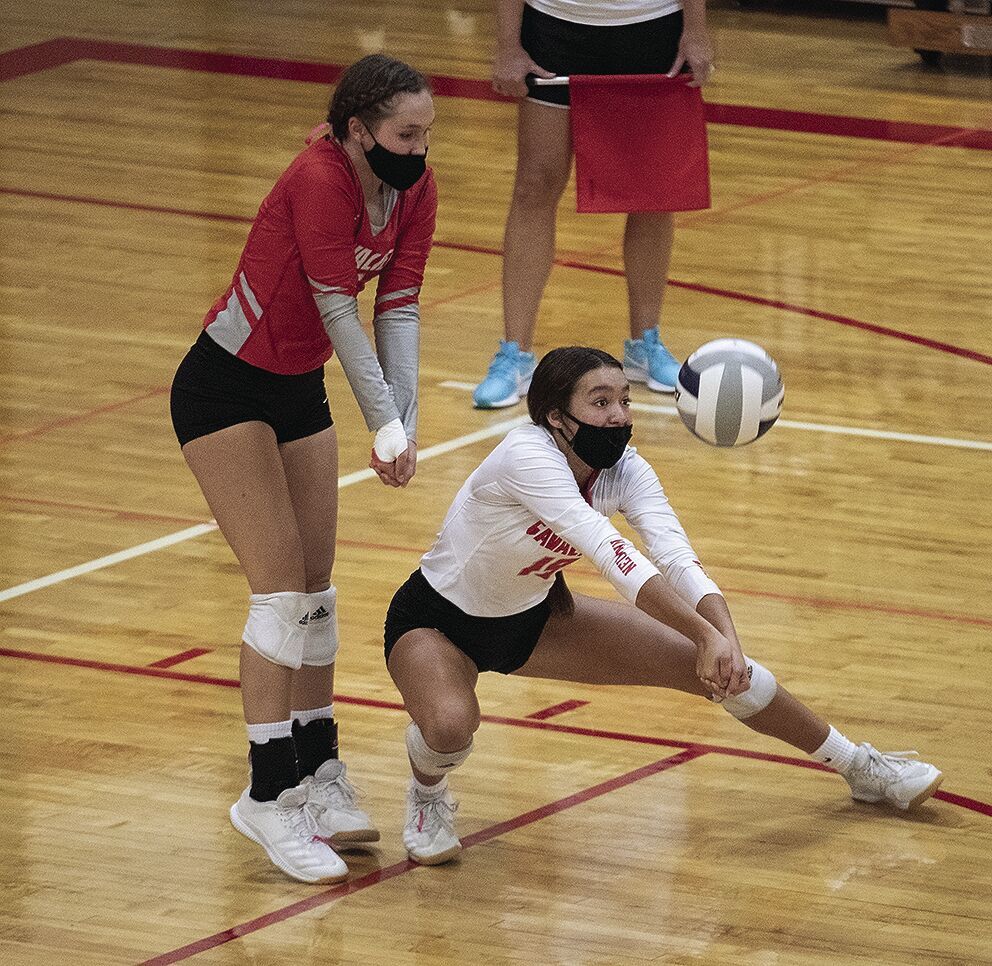 GRAND ISLAND – The Bishop Neumann volleyball team finished with a 2-2 record after competing in the Centennial Conference Volleyball Tournament last week in Grand Island.
Prior to competing in the conference tournament, the Cavaliers welcomed a pair of Class B teams to town for a triangular on Oct. 6.
The Cavaliers were defeated in three sets by the Elkhorn Antlers 20-25, 25-17 and 15-25.
Neumann connected on 95 percent of their serves and finished with nine aces.
Freshman Paisley Douglas and sophomore Julia Ingwersen combined for seven of the nine Cavalier aces from behind the service line. Douglas also led the team in serve receive and in digs with 12.
Junior Kali Jurgensmeier led the team with 10 kills and teammate Lauren Thiele came through with seven more.
Thiele handed out 15 set assists while freshman Lily Bolden dished out five more.
The Cavaliers were able to bounce back with a straight set 25-18 and 25-14 victory over Elkhorn North in the nightcap.
The Cavaliers hit .373 against North and were led at the net by Jurgensmeier who hit .500 while leading the team with 10 kills. Thiele and Bolden combined for 11 more.
Jurgensmeier and sophomore Erin Raabe combined for five aces from behind the service line.
Jurgensmeier added four blocks and led the Cavaliers along the back row with 10 digs.
Neumann returned to the court for matches against Kearney Catholic and Columbus Scotus in Centennial Conference Tournament play on Oct. 8.
The Cavaliers played well against the Stars before falling in three sets 25-17, 22-25 and 19-25.
Jurgensmeier hit .268 and finished with a team high 14 kills against KC.
Senior Anna Toline was also strong at the net for the Cavaliers finishing with six kills and a block.
Junior Cassidy Most and Ingwersen each added five kills offensively. Ingwersen also led the Cavaliers with three aces from behind the service line.
Douglas piled up 19 digs defensively while Thiele added 13 more.
Thiele and Bolden combined for 29 set assists.
The Cavaliers were defeated by Scotus in straight sets 20-25 and 20-25 in their final match of the night on Oct. 8.
Jurgensmeier was limited to just six kills. Bolden added five more.
Ingwersen and Raabe played well along the back row while finishing with 11 and 10 digs respectively.
Thiele led the team with nine set assists.
After taking Friday off the Cavaliers returned to Grand Island on Oct. 10 and notched two wins over Archbishop Bergan and Omaha Concordia.
Neumann defeated the Knights 25-18, 20-25 and 25-12.
Neumann hit .266 against Bergan and was led offensively by Jurgensmeier who piled up a game-high 17 kills. Toline, Most and Thiele added six apiece.
Thiele and Bolden combined to hand out 35 set assists against Bergan.
Jurgensmeier and Douglas were tough along the back row while finishing with 17 and 16 digs respectively.
The Cavaliers dominated Omaha Concordia, winning in straight sets 25-9, 25-14.
The Cavaliers controlled the match from behind the service line while piling up 15 aces and serving at 95.9 percent.
Douglas and Raabe combined for nine of the Cavaliers 15 aces and combined to score 17 points from behind the line.
Jurgensmeier and Thiele combined for 10 kills to lead the offense.
Douglas, Bolden and Thiele each had five assists against OC.
The 3-3 finish last week moved the Cavalier record to 9-10 on the season.
Neumann played Norfolk Catholic at home on Tuesday night. Results will appear in next week's newspaper.
Be the first to know
Get local news delivered to your inbox!