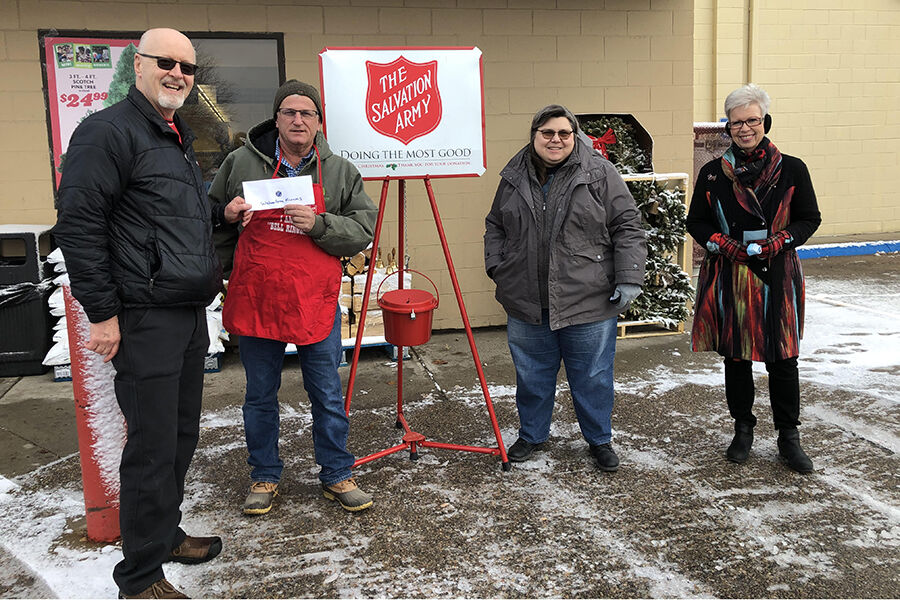 WAHOO – As the annual bell ringing campaign for the Saunders County Salvation Army extension unit continues to draw attention to the needs of others, the Wahoo Area Kiwanis Club once again wanted to make sure it did its part to help meet those needs.
Club members signed up to ring the bells Dec. 12 for the Annual Red Kettle Campaign in front of SunMart grocery store. But this year, the members wanted to do a little something extra. The day started with a $700 check presentation to Don White, coordinator for the Saunders County unit.
The money was raised through a $300 contribution from the club's coffers and also from individual donations from several members.
Immediate Past President Denise Lawver said this has been a tough year for a lot of people. So, doing something a little extra this year just seemed to be appropriate. President Todd Hornung agreed.
"It's important to us to do what we can," he added.
Bell ringing for the Salvation Army Saunders County Unit got underway the first weekend in December. It continues this Friday from 4 p.m. to 7 p.m. and Saturday from 9 a.m. to 4 p.m.
Normally, bell ringers start their jingle for funds to be used for individuals and families in emergency situations the weekend right after Thanksgiving.
This year that didn't happen. White said getting volunteers was a bit harder because of COVID-19 for some people as well as busy schedules for others.
Still, he said he is very appreciative for all those who are volunteering their time to ring the bells. He also gave gratitude for all the monetary donations.
According to White, the biggest needs for these funds in past years have been utilities and rent assistance.
For those unable to get to the red kettles to make a donation, the Saunders County Salvation Army extension unit has an account at Wahoo State Bank and contributions may be given there throughout the year.
White reminded donors that 90% of the funds given stay in Saunders County, while only the remaining 10% go to the Salvation Army in Omaha for administrative costs.
For more information about the Saunders County Salvation Army extension unit, contact White at Wahoo Community Church, 402-443-3940.
For more information about Wahoo Area Kiwanis, contact Lawver, Hornung or Club Secretary Lisa Brichacek at WahooKiwanis19@yahoo.com.