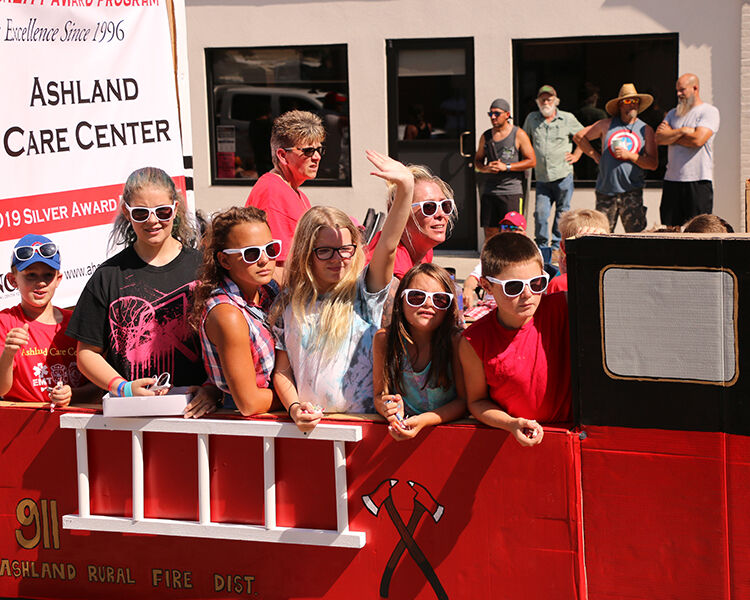 ASHLAND – Stir-Up is always a special time of year, but this year the celebration is reaching for the stars as the theme of the annual community festival has taken a turn towards the supernatural.
Stir-Up will take place this weekend, starting on Friday, July 16 and running through Sunday, July 18.
"Alien Encounter" highlights the story of the abduction by aliens of an Ashland police officer over 50 years ago.
The theme was decided in 2020 by the Ashland Area Chamber of Commerce, which organizes the three-day event. However, the COVID-19 pandemic canceled the annual celebration last year, so the theme was held over until this year. The extra time gave the organizers, headed up by Shelley Pfeiffer, Cindy Walsh and Bradley Pfeiffer, more time to add unique events to Stir-Up.
Bradley Pfeiffer said they are expecting big crowds to show up this year for the more than 100 activities that are scheduled.
"We've had a lot of people make reference (to Stir-Up) on our Chamber Facebook page," said Bradley Pfeiffer.
Bradley Pfeiffer said there are not many alien-related events in the region, which may be why so many people are interested in coming to Ashland this weekend.
"Nobody in the Midwest does anything on aliens," he said.
If the event goes well, the Chamber may choose to add an alien-themed happening to its calendar and make it an annual event, outside of Stir-Up, Pfeiffer added.
The theme is based on the story relayed by Officer Herbert Schirmer. While on patrol Dec. 3, 1967 when he encountered what he said was an alien ship near the junction of Highways 6 and 63 (now known as Highway 66). He saw flashing lights at 2:30 a.m. and pulled off of the road to check on what he thought was a stranded truck
What Schirmer found was a football-shaped, shiny metal ship that rose off the ground about 40 feet. The craft somehow pulled the patrol car with Schirmer towards it. The object landed and two humanoids emerged who beckoned Schirmer to come with him. Schirmer said he entered the ship, where the alien explained that they were on Earth to gather electricity.
After the aliens deposited Schirmer back on the ground, he returned to the police station, writing in his logbook: "Saw a UFO at Junction 6 and 63. Believe it or not!"
The police department investigated Schirmer's report, even subjecting the officer to a polygraph. Schirmer stuck by his story, even though he was taunted and ridiculed by the public and later terminated as a law enforcement officer.
Schirmer continued to recite his encounter publicly for years. He made several public appearances where he spoke of the alien encounter.
Special activities have been lined up to highlight Ashland's alien abduction theme. One of the most significant is a panel discussion of the incident that will include Don Schirmer, Herbert Schirmer's brother, along with members of the Mutual UFO Network (MUFON). The event will begin at 3 p.m. at Glacial Till Cider House and Tasting Room and will include a presentation using slides, video and other visual aids.
California artist Michael Jasorka will also be a part of the panel discussion. In 2012, Jasorka created a graphic novel of the encounter that used Herbert Schirmer's own words, called "December 3rd, 1967, an Alien Encounter." He visited Ashland at the time to promote his novel and will return this year for Stir-Up, where he will also sign copies of his graphic novel starting at noon at 15th and Silver on Saturday. He will also hold a book signing on Sunday at 4 p.m. at Glacial Till.
Jasorka and the MUFON members return on Sunday for another presentation at Glacial Till at 1 p.m. He will also host an art class for children at Ashland Public Library on Sunday starting at 10 a.m.
Two years ago Kinkaider Brewing Co. of Broken Bow created a special brew in honor of Schirmer's story, and at the Chamber's request, is bringing it back just for Stir-Up. It is called Star Snake Dank IPA and it will be served along with a special concoction created by Glacial Till during an "alien" beer and wine tasting event at Glacial Till starting at 1 p.m. on Saturday and Sunday.
Two Friday night events have also embraced the "alien" theme. The FBLA will show the classic movie "E.T." outdoors on the north side of Ashland-Greenwood High School. Movie-goers can remain in their cars or bring lawn chairs or blankets to watch the show. Concessions will be available.
Also at the high school, there will be a balloon glow, hosted by the Nebraska Balloon Club on the south side of the track and field complex. As the sun is setting, four hot air balloons will be inflated and remain tethered to the ground. The burners will be ignited to create a glow effect.
The folks at American Legion Post 129 have also hopped on the alien bandwagon, adding what they call the "Alien Encounter of the Third Kind" at 11 p.m. on Saturday in the Legion beer garden, located at 16th and Silver. A life-sized UFO will be lifted up at the time, to create a unique atmosphere in downtown Ashland.
For more information on Stir-Up events, go to page 4 of this week's issue.