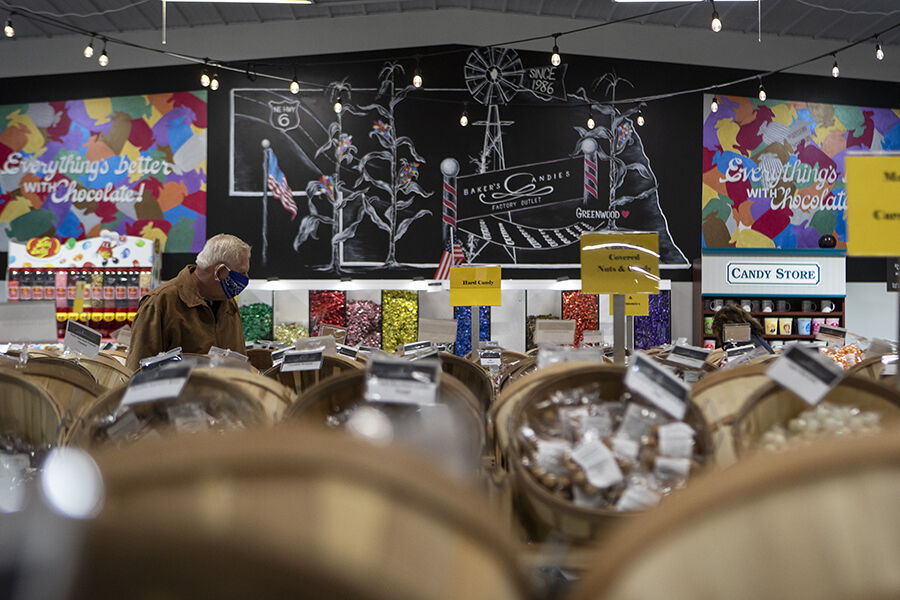 GREENWOOD – Baker's Candies owner Todd Baker wasn't looking for the 25-second-long spot on a Good Morning America segment called "How Nebraska is bouncing back after the pandemic" which premiered on June 29. 
Baker and his business also weren't looking for the estimated 7,000% spike in online sales after the piece launched. 
"We're just your average small town business," Baker said. "The attention was crazy. It wasn't something we asked for, to be honest, and it isn't even something that we were pursuing. We're not looking to grow our national business. We are quite content making Nebraska's chocolate – that's our brand."
After receiving a call from a producer two days before GMA wanted to stop by, the television show spent four hours in the bustling shop along Highway 6 in Greenwood on Friday, June 25. 
Baker said GMA was doing a segment on how businesses in different states overcame the pandemic and had asked the Nebraska Department of Commerce for a list of iconic, family-owned Nebraska businesses. The chocolate factory was selected from the list. Baker believes the decision was based on how well a site would film. 
Baker received confirmation for the shoot on the evening before it took place on Friday, June 25. Baker said he felt that the piece might have been "already written" before television cameras arrived in the village of 529. 
"The story was 'COVID was so horrible. We all almost died, barely survived. But now there's hope and things are starting to turn around.' I think they were honestly disappointed that our story didn't fit the narrative of the piece that was already written," Baker said. "Our story was the opposite." 
Baker's Candies thrived duringthe pandemic, Baker said, which may not have been the story GMA wanted to portray. The business was able to host a major sale in September 2020 not only celebrating the one year anniversary of their retail store, but also as a thank you to their customers who supported them throughout the pandemic. 
"Our fans have really lifted us up," Baker said last year.
Still, Baker recognizes that there were businesses that didn't thrive as much. 
"It (COVID) was so sinister because it picked winners and losers," Baker said. "And we know that there were businesses that were devastated and we have a lot of businesses that we've been partners with for decades that didn't survive."
Not only did the chocolate factory not fit into GMA's narrative, but the spot also had some inaccuracies. 
"We were on there for such a short time and then they were here for four hours (and) made up half the piece," Baker said. 
The Baker's spot followed a story about Waterloo's Tubing and Adventures business and opened at 1 minute and 47 seconds with Baker stating: "Our chocolate is Nebraska's thing." 
The narrator was ABC News' Kaylee Hartung, who did not actually step foot in the store. She claimed that Baker's started selling online for the first time in response to the pandemic. 
"When the pandemic shut down the state's largest candy outlet, Todd Baker and his family started selling their gourmet chocolate online for the first time," Hartung said. 
However, the chocolate factory has been selling its products online for the last 15 years, according to Baker. 
At 2 minutes and 12 seconds, the television spot closed with Baker saying that being able to send the chocolate directly to customers resulted in a record year for the business despite the pandemic. 
Despite some of the issues with the piece, Baker said the business did experience an approximate 7,000% increase in online sales from all over the country for about 48 hours after the segment's premiere at the end of June. 
"Then it returned back to normal," he said. "It literally was 15 minutes of fame and we're done."
But, that's OK with Baker. Having such a high increase was a major challenge for him and his employees to keep up with. When he and his employees were finally able to view the piece, his thought that Baker's didn't fit the narrative came true. 
"We felt a little bit funny when we watched the piece because they actually put words in our mouth that weren't true," Baker said. "They kind of did their best to make our story fit in their story and probably wasn't totally accurate."