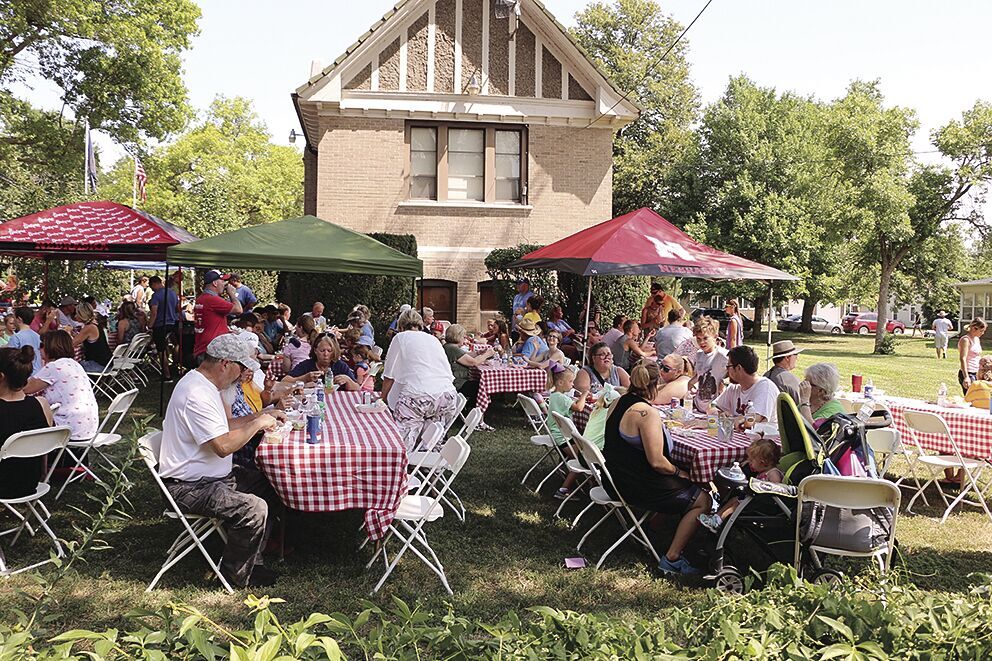 ASHLAND – Food has always been a part of Stir-Up, but this year the variety of offerings has exploded to include a food court and many more options throughout the community celebration.
The food fest begins Friday night with the Ashland-Greenwood High School Spirit Squad's Swine and Dine meal offered in the commons area prior to the coronation ceremony. High schoolers will continue to feed the famished during the FBLA's outdoor movie on the north side of the high school, where they will sell candy and popcorn to movie goers.
Saturday dawns bright and early with a breakfast of biscuits and sausage gravy and scrambled eggs by Boy Scout Troop 34 at i3bank (formerly Bank of Ashland). To satisfy your craving for sweets, head to Willow Point Gallery at 9 a.m. for the Hightshoe Family Bake Sale, where the talented bakers have created more tempting tidbits than you can imagine.
Following the Grand Parade on Saturday morning, there are numerous choices for lunch. The Ashland Historical Society is again hosting the popular Lunch on the Lawn at the Ashland History Museum (the former public library), where delicious creations made by Pat Yardley will be ready for consumption.
The St. Mary Youth Group will serve sloppy joes and brats at the church's educational center on 17th and Silver, while Raikes Beef at 1408 Silver has added a new and unique menu item that goes with the alien encounter theme. They call it the "Close EnCOWnter Burger with Flying Sauce(r)," which is served with pasta salad or chips.
A food court set up on Silver Street between 14th and 15th streets will be filled with food trucks offering kettle corn, funnel cakes, tacos, burritos, Cajun specialties and cupcakes and desserts. The downtown eateries will also be open for business throughout the day, so be sure to stop in at Breadeaux Pizza, BW's Pub and Grill, Cheri O's, Glacial Till and Casey's or grab a beverage at Postscript. Casey's will also offer goodie bags for kids while supplies last.
The Ashland Fire Department will be handing out watermelon slices during their kiddie water fights at 16th and Silver, and Cheri O's will have cotton candy in the afternoon as well, both starting at noon.
Starting at 2 p.m., the American Legion will serve pulled pork sandwiches and hot dogs at their beer garden on 16th and Silver. At 3 p.m., the good folks at United Methodist Church are hosting their annual ice cream social, with homemade ice cream, cakes and pies.
For supper options, there is the Steak and Hamburger Fry at the VFW Hall, located at 24th and Silver.
On Sunday the food fest continues with breakfast burritos served by the Azria Health (formerly Ashland Care Center) at 17th and Silver. A block to the east the American Legion Auxiliary will offer rolls and coffee at 8 a.m. followed by pancakes, scrambled eggs, hashbrowns and biscuits and gravy at 10 a.m.
Closer to lunch time, the Ashland Rescue Department will serve hot dogs, while the AGHS Post Prom group will have walking tacos and desserts. Hot dogs are also on the menu at 17th and Silver, where Azria Health will also have a stand. The Sons of the American Legion's stand will have pulled pork sandwiches along with hot dogs as well.
For those who would like to imbibe in adult beverages during Stir-Up, there will be a special tasting of Kinkaider Brewing's special alien-themed dark beer along with a new concoction created by Glacial Till. The tastings will begin at 1 p.m. on Saturday and Sunday at Glacial Till.
The Ashland Area Chamber of Commerce will hold a beer garden at 15th and Silver that goes from 2 to 9 p.m.
The American Legion beer garden, located at 16th and Silver, opens at 2 p.m. as well and closes at 1 a.m. on Saturday. There will be two bands playing – Delaney Jackson Band at 4 p.m. and Bucka
Ruse at 9 p.m. The Sons of the American Legion will host a beer garden in the same area on Sunday from 11 a.m. to 2 p.m.