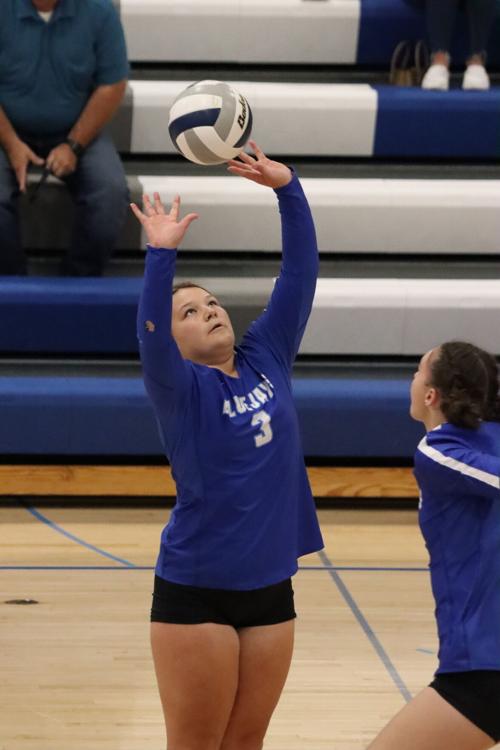 ASHLAND- The Ashland-Greenwood Volleyball team hosted their annual tournament on Sept.30-Oct. 2. There were ups and downs for the Bluejays during the tournament, finishing with a 2-3 mark.
During the opening round on Sept. 30, A-G took on Ralston. The Rams who are currently 1-16 on the season, were no match for an improving Bluejays squad who won 25-9 and 25-18.
It was an entire team effort in the victory, with Brynn Glock and Presley Harms picking up five kills apiece. Lauren Gerdes had three kills in the match, and Alivia Pike ended up with two.
A-G finished the match with four aces. They were by Glock, Pike, Gerdes, and freshman Reaghan Craven.
Craven led the team with ten assists while Emma Keith had one. Earning 10 digs was Zandi Kern, Craven had eight digs, and both Keith and Glock had four.
With the win, the Bluejays were rewarded with a match against Class C-1 No. 1 Lincoln Lutheran. From the get-go, A-G was overmatched against a much more experienced Warrior squad, who won 25-7 and 25-10.
Registering six kills was Glock and Leah Levin and Harms had two kills. Picking up one kill during the match was Pike.
At the net, the Bluejays were able to earn two blocks. They were by Levin and Pike.
Defensively, Glock had eight digs, Craven had five, Kern finished with four, and Harms had three. Leading A-G with nine assists was Craven.
The loss matched A-G up against Omaha Roncalli Catholic to start off Saturday. It turned out to be an exciting match that went three sets, with the Bluejays prevailing in the end, 22-25, 25-17, and 25-15.
Helping mount the comeback and leading the Bluejays in kills for the third straight match was Glock with ten. Levin, Harms, and Pike all had six kills, and Gerdes recorded four.
At the service line, Keith had five aces, Gerdes had four, and Harms had three. Glock, Pike, and Craven all had one ace serve.
Earning 25 assists and 11 digs in the match was Craven, while Glock had 15 digs.
Another win meant another matchup against a rated team for A-G. This time it was Class C-1 No. 6 Wahoo. Similar to their first match of the season, it was too much Mya Larson who had 11 kills for the Bluejays, who lost 25-12 and 25-17.
Glock did her best to help her team out with eight kills. Coming up with four kills was Harms, Gerdes had two, and Pike had one.
At the net, A-G had six blocks. Pike had two of them, and Levin, Glock, Harms, and Gerdes each had one.
Craven paced the defense with 12 assists and eight digs, while Glock finished with nine digs.
The final match of the tournament for the Bluejays was against Plattsmouth. With both teams exhausted from all the matches played over the last three days, it was the Bluedevils who prevailed in two close sets by identical scores of 25-23.
Before their tournament on Thursday, A-G had one other match against Conestoga at home on Sept. 28. They were able to knockoff the Cougars with a sweep, 25-23, 25-22, and 25-18.
Harms had the hot hand in the match with 16 kills, while Glock recorded ten. Finishing with 23 digs was Craven and Zandi Kern had 13 digs.
The Bluejays had a road match with Class C-2 No. 8 Yutan on Oct. 5. They will be in Springfield on Oct. 7 taking on Platteview at 7 p.m.