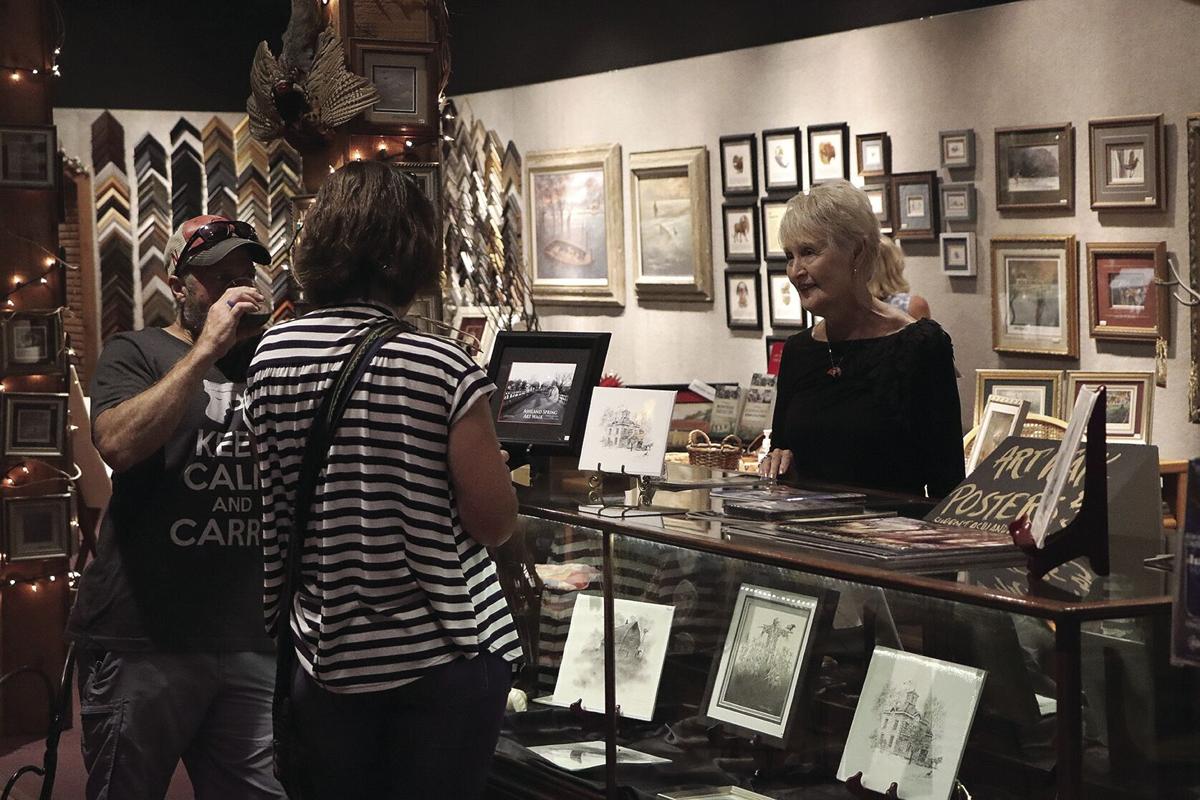 ASHLAND – The streets of downtown Ashland were populated by art lovers as the Ashland Art Walk made its return last Saturday night.
The art walk, which is held three times a year by the Ashland Arts Council, was not held during 2020 because of the COVID-19 pandemic. However, organizers felt it was time to bring back the event which includes local art galleries and shops.
This art walk was special, as it was a tribute to the late Gene Roncka, who passed away at the age of 92 on July 11.
"It was nice gesture on the part of the Arts Council to honor Gene," said Mary Roncka, his wife.
Roncka opened Willow Point Gallery in downtown Ashland in 1996. Prior to that, he worked as an artist all over the country, creating art for corporate giants like Chrysler, General Motors and Northwestern Bell. His work has also appeared in publications and documentaries. While he was a freelance artist in the mid-1960s he created 12 prints of paintings that Roncka created for the television show "Mutual of Omaha's Wild Kingdom."
Roncka received numerous awards throughout his career and was honored to have a Christmas ornament included on the White House Christmas tree. His art was selected to grace the cover of a book about Nebraska agriculture and in 2018, the painting "Friends" was loaned to the U.S. Embassy in Hanoi, Vietnam for display while Daniel Kritenbrink, a native of Ashland, serves as ambassador to the country.
Roncka also spearheaded an effort to honor the area's history with a monument placed near the Salt Creek. He designed several versions of the monument, which he called the "Towers of History." While the project has not been completed, his wife, Mary, is continuing the effort.
Mary Roncka said many visitors who came to Willow Point Gallery for the art walk stopped to share memories of Gene.
"It was really nice," she said.
Over 100 guests came to the gallery. Many entered a drawing for a framed print called "Nebraska Spirit," which shows Memorial Stadium on game day. Jay L. McLaughlin won the drawing, Mary added.
The first Ashland Art Walk was held in 2015 and has been a success from the start, with an average of nearly 150 visitors coming in to the various galleries and shops. The goal of every art walk is for the artists to show off their work, but also to bring new art lovers to Ashland. In 2017, the Ashland Arts Council took over organization of the event, which is held three times a year.
When the first art walk debuted in August 2015, it was a huge success, despite a summer storm that fell on the community at the beginning of the evening. This year, the heat and humidity made their presence known during the event, but despite the conditions, the turnout was successful.