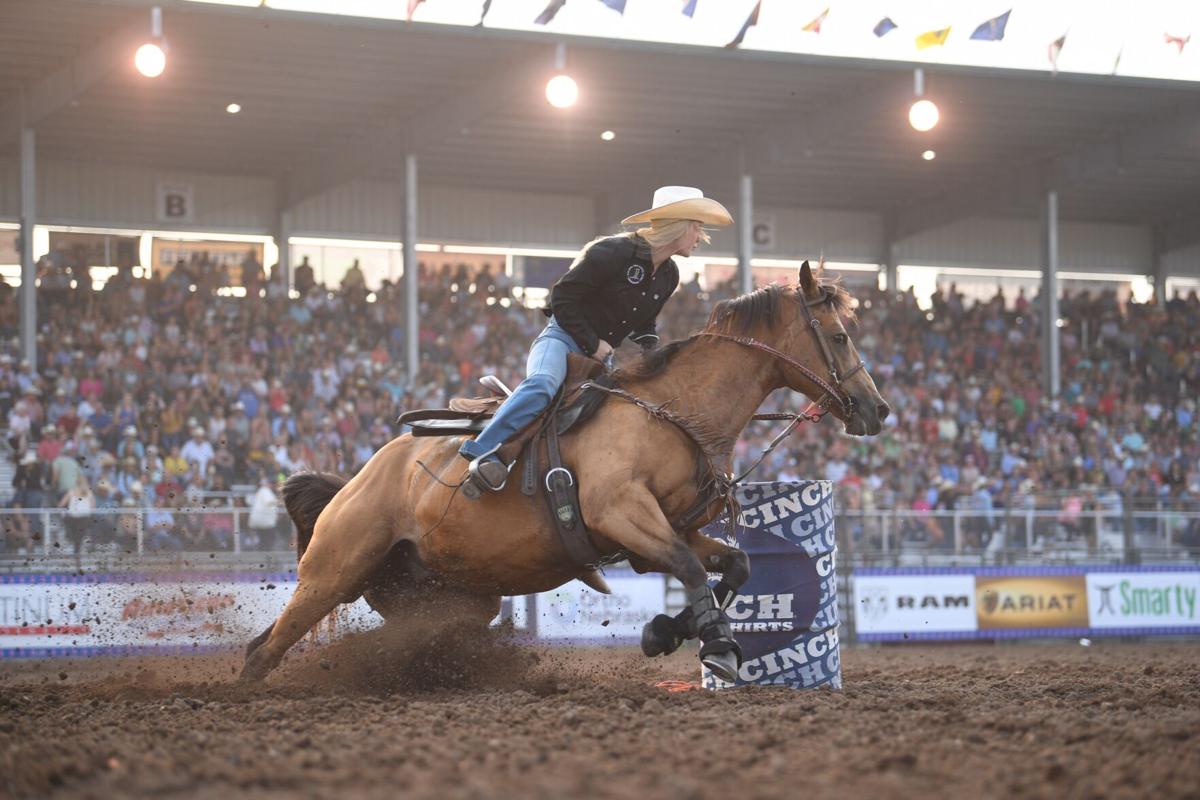 LINCOLN – Ellie Hula's National High School Rodeo Finals (NHSRF) barrel racing performances on July 20 and 22 didn't go as planned. 
In the first go-round, Ellie and her family horse Sonny finished in 38th place out of 181 competitors from all over the country. The second go-round was another story. 
After knocking over a barrel, the Raymond Central 2021 graduate got bumped to 165th place out of 184 racers. 
In 2019, Ellie also qualified for the NHSRF barrel racing competition and finished 51st overall. In light of her previous success, Ellie said her goal was to finish in the top 30 competitors. Instead, she finished 138th overall.
"It didn't go as planned, but I still made the best of it," she said. 
Ellie said the experience was a huge honor for her and fun because she was able to meet so many people from different states and countries. Throughout the opportunity she said she learned the importance of hard work as well as finding the silver lining. 
"Even though I didn't make my goal, I still looked at the bright side of everything," Ellie said. "I still made it to nationals." 
In order to make it to nationals, Ellie recognized that her family was a huge part of the endeavor. 
"It really takes a village," Ellie said. 
Her parents Mike and Nancy and siblings Travis and Hailey were all in support of Ellie's success. According to Hailey, the whole family rallies around rodeo, especially Ellie's competitions.  
"It's really nice that we all can connect on something like that," she said. 
Hailey said she was "proud" and "in awe of her (Ellie's) abilities." 
"I'm really proud of her because I would say that she rides my horse a lot better than I ever have," Hailey said.
Hailey, who is three and a half years older than Ellie, said the family grew up around rodeo. She recalls Ellie starting the extracurricular activity when she was in sixth grade. Hailey also reminisced about passing down her horse Sonny to Ellie when she graduated from high school. 
Sonny will now be passed down to a fellow cowgirl who will hopefully have a bright future with NHSRF. For Ellie, she said her future in rodeo may be put on pause except for Mid-States Rodeo Association competitions while she pursues a degree in biology with an emphasis in pre-dentistry at Doane University in Crete where she will also be on the cheer team.
"It felt good because I mean, I put in so much time and work with my horse and then it finally felt like it just paid off to make it to nationals," Ellie said.