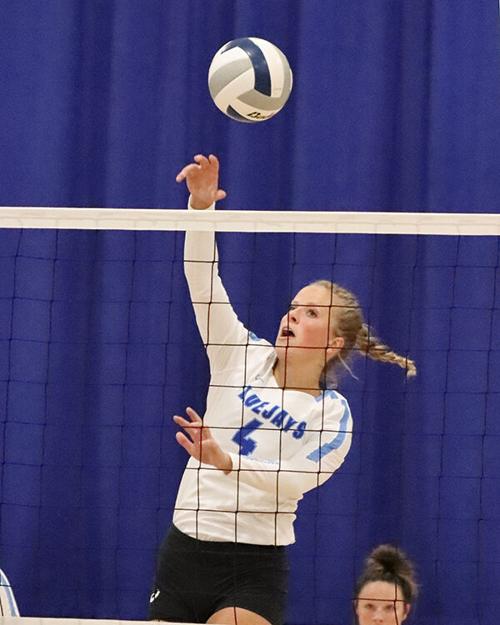 ASHLAND – The Ashland-Greenwood volleyball team picked up their first win of the 2021 season with a thrilling come-from-behind victory over Logan View/Scribner-Snyder on Sept. 7. After trailing 2-1, the Bluejays won sets four and five to win the match 3-2.
"The girls needed this win," A-G Coach Meagan Rossell said. "We have played some stiff competition to start the season and a lot of ranked teams. They were more confident in themselves and never gave up. We easily could have caved after being down 2-1 but even being behind in the fourth set I just saw some great leadership and determination."
In the first set, A-G was able to find a way to distance themselves from the Patriots on the scoreboard. This resulted in them winning the first set by a final of 25-16.
LV/SS answered back by putting up respectable performances in both the third and fourth games of the match. They ended up winning both sets by a final of 25-20.
Set four was the closest set of the match between the Patriots and Bluejays. The game was anybody's to be had deep into the set, but it was A-G who was able to go on a run and win 25-22.
During the fifth set, it's always important to jump out to an early lead with the games only going to 15. The Bluejays did just that, getting up by as much as six points at 10-4
That early cushion helped propel them to a 15-10 set and match win.
"We are a very young team this year, but our goal is to trust each other and trust the process," Rossell said. "It's not always going to be easy or go the way you planned but it's all about how you respond that matters. Every victory and loss is a learning opportunity for us to grow as a team and see what we can do to get better and better. I feel this group has a lot of grit to show as we get more comfortable with each other and get better as the season progresses. This was a great confidence boost for our team."
Leading the team with 15 kills apiece were Brynn Glock and Presley Harms. Alivia Pike had eight kills and Emma Keith finished with five.
Tallying 31 assists in the match was Raeghan Craven and Zandi Kerna had 22 digs.
Following the victory over the Patriots, the Bluejays traveled to participate in the Malcolm Tournament starting on Sept. 9. In the first round, A-G drew a matchup with Malcolm.
In the first set against the Clippers, the Bluejays struggled to keep the match close and fell by a final of 25-16. Despite losing, A-G was much more competitive in the second, losing 25-21.
Glock led the team with 12 serves receives, 13 digs, four kills and two aces. Tying for the lead in kills on the team was Presley Harms with four.
From the libero position, Zandi Kerns had nine digs and Raeghan Craven had 12 assists.
On Saturday, the Bluejays had two more games against Elmwood-Murdock and Centennial. A-G would drop the opening match against the Knights 25-16 and 25-22 but rebounded to knock off the Broncos 25-18 and 25-22
In the loss against E-M, Glock had a team-high nine kills and Harms finished with three. Lauren Gerdes had two kills in the match, while Craven, Keith and Pike had one.
Coming through with a team high six digs was Keith and Craven; Gerdes and Glock had four. Craven also had 15 assists.
Against Centennial, Glock recorded nine kills for the second time on the day and Harms had three. Craven finished with 15 assists and Keith had six digs.
The Bluejays had a game at home against Arlington on Sept. 14. They will take on Louisville on Sept. 16 on the road.