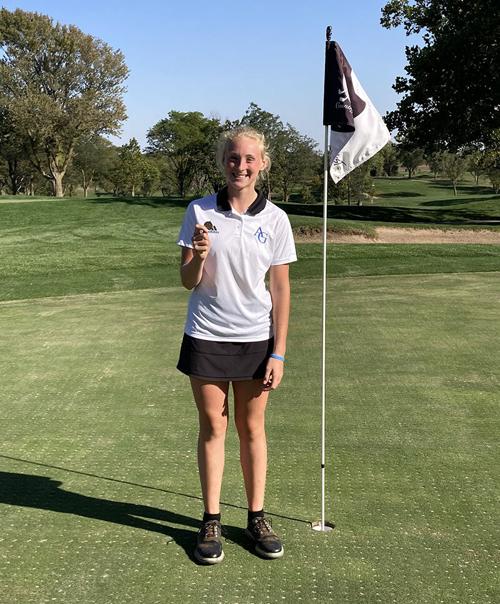 BEATRICE – Going into the B-1 District Golf Tournament at the Beatrice Country Club on Oct. 4, Annalise Ptacek had never broken 100 during her career. The Bluejay senior picked the right time to do so, carding a 95 to get fifth place overall and qualify for the state meet.
The 95 that Ptacek shot also helped to break the school record for an 18-hole game for a girl. The previous record was from 2002, and it was held by Megan Mason who shot a 97.
  "I was extremely happy for Annalise," A-G Coach Dan Vahle said. "She has worked very hard over the past few years, competing against the boys in the spring season, and improving her game through countless hours of practice.  She and the rest of the seniors were instrumental in helping to get the program started back up after several years without a girls team, and I am honored to be their coach.  For Annalise to shoot a 95, which was the first time she had ever broken 100, break the school record for best 18-hole score, and to do it on a course as tough as Beatrice, under the pressure of a district tournament, is just a testament to her mental toughness and focus. Now she can go into the state tournament relaxed and have fun as she plays in the final tournament of her high school career."
Finishing the day eight strokes out of a medal was Ellie Whitehead, who shot a 59 on the front nine and a 51 on the back nine for a 110. Two strokes back of her was Jessie Lamp with a 112.
Lila Marzouk and Imogen Prellwitz-Aude rounded out the team for the Bluejays. Marzouk finished with a 125 for 18 holes and Prellwitz-Aude shot a 170.
In the team standing, the Bluejays were two spots back from making it to state as a team in fifth shooting a 442. Beatrice won with a 402, Norris was second with a 406 and Nebraska City got third with a score of 407 to round out the qualifiers.
"I know the girls were hoping for a better finish in the team race," Vahle said. "We knew going in that we would need four good scores in order to qualify for state as a team. Unfortunately, we weren›t able to put it all together on the same day. Annalise had a great day, shooting the best score of her career. Ellie got off to a rough start but recovered well on the back nine. Jessie started great but ran out of gas a little bit on the back nine, and Lila and Imogen both struggled, but I am proud of how they kept competing. Beatrice is a difficult course, and it can lead to some big numbers if you hit it in the wrong spots."
Ptacek made the trek out to Scottsbluff to compete in the Class B State Girls Golf Tournament at the Scottsbluff Country Club on Oct. 11 and 12. Results on how she did will be posted in the Oct. 21 edition of The Ashland Gazette.