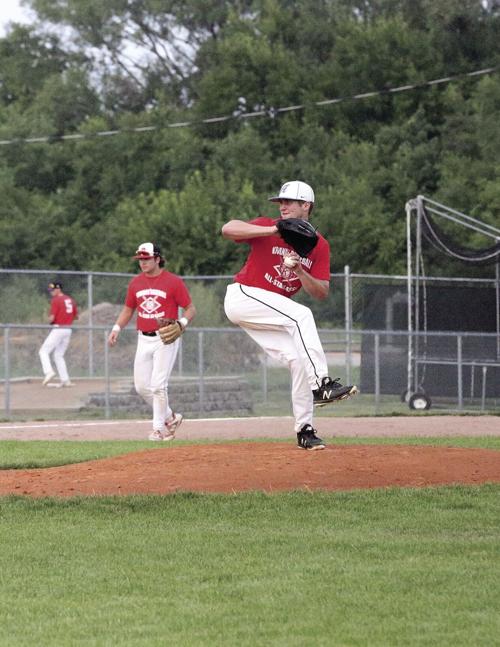 WAHOO – The 18th annual Kiwanis All-Star Game was played in front of the largest crowd in game's history at Sam Crawford Field in Wahoo on Saturday.
Players and fans from across the state converged at Sam Crawford for a day of baseball activities put on by the Wahoo Kiwanis Club.
Kiwanis Club member and all-star game committee chair Todd Hornung was pleased with the way Saturday went.
Everything went really well. We had a huge crowd and the kids were really excited to play. I think everyone I talked to was excited to get out and watch some baseball," Hornung stated.
Thirty players arrived at the field at 2:30 p.m. and were eager to get on the field despite heat index figures that approached triple digits.
Players as far away as Minden and Doniphan joined others from as close as Ashland, Bennington and Elkhorn.
Four Ashland players, Kyle vonRentzell, Lucas Ballard, Jake Rice and Hunter Washburn, all suited up for the North team. Ballard started on the mound for the North squad.
Ballard, Rice and vonRentzell all scored runs.
The South team scored three runs in the seventh inning and added two more in the eighth to rally for the 8-7 win.
Auggie Rasmussen of Blair was named the MVP for the South team. He reached base twice, scored one and hammered a double in the seventh driving in two runs.
Davis Carlson of Louisville-Weeping Water was named the MVP for the South team.
"The game ended up being a really good. It was competitive and came down to the final innings," Hornung added.
Nick Demonte of Springfield won the hitting challenge that was held before the game.
Demonte scored 60 points in two rounds of the challenge. Rice finished second with 33 points.
"A lot of people worked really hard to make this game possible, but I really want to thank Nick Milliken. He threw every ball in the hitting challenge and really deserves a lot of credit for making this year's game such a success," Hornung added.
Be the first to know
Get local news delivered to your inbox!