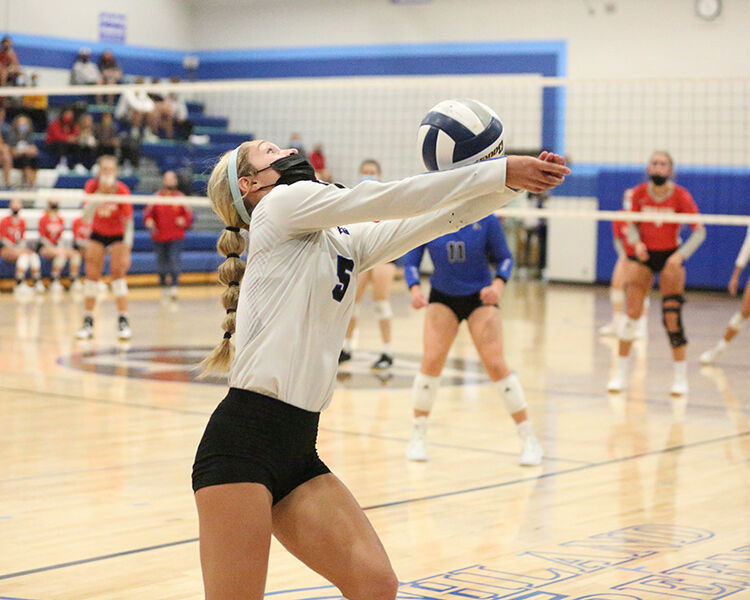 ASHLAND – The Ashland-Greenwood Bluejay volleyball team remains on a good roll.
The Jays started last week with a big three set victory over conference foe Arlington on the road Sept. 14.
The win was the seventh in the last eight matches for the Bluejays.
AGHS rolled in the three sets, winning 25-8, 25-11 and 25-13.
Seniors Carly vonRentzell and Jess Stander powered the Jay offense against the Eagles combining for 12 kills in 31 swings.
The Jays served at 90.3 percent and piled up 11 ace serves against Arlington. Senior Saige Craven led the team with four aces.
Stander and freshman Presley Harms combined for seven blocks at the net defensively.
Craven and libero Alexa Edmisten each finished with 10 digs while patrolling the back row.
Craven and junior Brynn Glock combined for 18 set assists.
The Jays returned to the court on Sept. 17 when they played host to the Louisville Lions at Ashland-Greenwood High School.
The Bluejays eased to a 22-25, 25-17, 25-12 and 25-10 win over the Lions at home on Sept. 17.
Craven and vonRentzell each finished with 12 kills and combined to hit nearly .400 against Louisville.
Stander added eight kills.
Senior Anna Vavak was a factor from behind the service line, finishing with a career-high six aces while serving at a perfect 100 percent.
Edmisten was solid defensively while leading the team with 19 digs. Craven added 12 more.
Craven (20) and Glock (18) shared the setting duties for the home team.
"Louisville was our senior night. It was fun to see everybody cheer on the seniors who have put in a lot of hard work these past four years. They are a phenomenal group of girls," said Ashland-Greenwood Coach Megan Rossell.
The Jays returned to the court on Saturday for a makeup contest with the Bishop Neumann Cavaliers.
The match was competitive, but in the end it was the Jays coming out on top by scores of 25-17, 22-25, 26-24 and 25-21.
vonRentzell had a monster game against the Cavs finishing with 12 kills, 10 digs, five ace serves and four blocks.
Not to be outdone was Craven who was all over the court while adding 10 kills, 17 digs, 17 set assists and three ace serves.
Edmisten was really good along the back row while adding a season-high 24 digs.
Senior Layne Whaley was the team's top performer in the serve receive category.
"We had very solid defense and serve receive. I felt we served aggressively and got them out of system frequently so we could execute and run our offense effectively. It was a fun and competitive game," added Rossell.
The wins last week improved the Jays record to 9-3 on the season.
Be the first to know
Get local news delivered to your inbox!