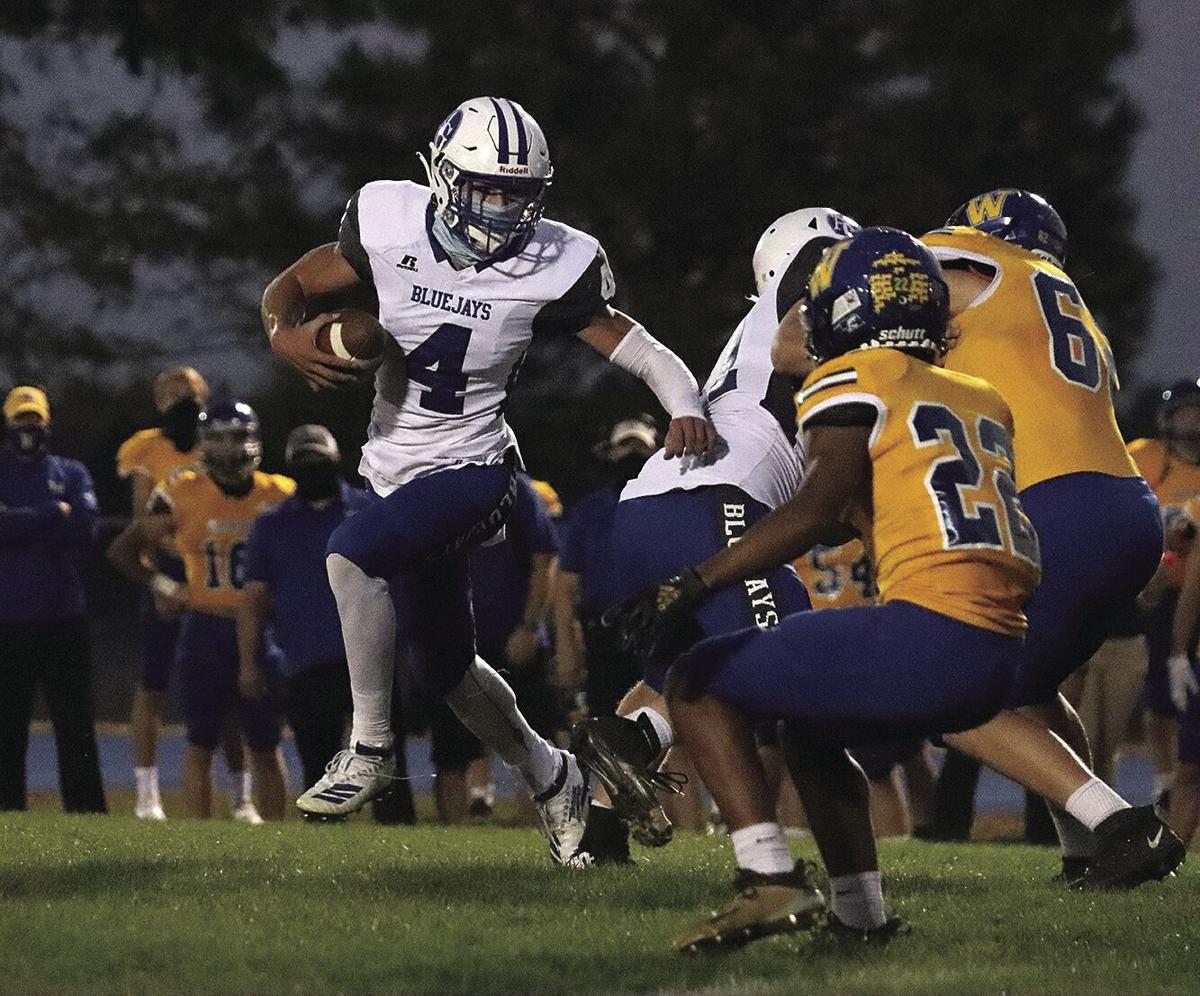 WAHOO – The third-ranked Ashland-Greenwood football team pulled away from the seventh-ranked Wahoo Warriors on Friday to pull out the 47-22 road victory.
The teams traded scores into the second quarter and the game was tied at 14 with 11:32 remaining in the second quarter.
However, the Jays used a bruising rush attack to outscore the Warriors 33-8 over the final 35 minutes and 28 seconds.
The Bluejays rushed for 424 yards on 48 carries and got another career-game from senior running back Matthew Schuster.
A week after rushing for five touchdowns against Malcolm, Schuster added four more touchdowns against the Warriors and gained 267 yards on 19 carries.
"I'm proud of all these guys. Wahoo's always been a big rival ever since I was here in eighth grade, and we knew they were going to be tough," Schuster said after the game. "I think we did a good job wearing them down. Our line started winning the point of attack for our offense, and at one point we started steamrolling. We were scoring like one, two-play drives. It was ridiculous."
Schuster scored on touchdown runs of 86 and 57 yards in the second half against the Warriors.
The game was close early and featured a number of big plays in the opening 13 minutes.
Schuster scored two first half touchdowns and senior Lane Zimmerman added a 4-yard touchdown just before halftime.
Both of the Warriors' first half touchdowns came on long touchdown runs.
Junior Collin Ludvik scored on a 58-yard touchdown run and teammate Gavin Pokorny added a 62-yard touchdown run early in the second quarter.
The Jays owned the third quarter, outscoring the home team 20-0.
Schuster scored on an 86-yard run and junior quarterback Cale Jacobsen added a pair of scores scoring on a 48-yard touchdown run and connected with Zimmerman on a 37-yard scoring pass. Jacobsen rushed for 106 yards in 13 carries. He added 65 yards passing on four completions.
A 57-yard touchdown run by Schuster stretched the AGHS lead to 47-14.
The Warriors scored the games' final eight points on a 10-yard touchdown run from junior Malachi Bordovsky with 3:37 left in the game.
Pokorny gained 101 yards on 10 carries and Ludvik added 97 yards on 12 carries.
Wahoo turned the ball over three times while the Jays played turnover free football.
Cinch Beetison led the Bluejays with nine tackles. Jacobsen added six tackles and an interception. Zimmerman came through with six tackles and a recovered fumble and Braxton Buck also recovered a fumble.
Bordovsky led the Warriors with seven tackles while senior Cooper Hancock came through with six more.
The undefeated Bluejays return home to play the 3-3 Louisville Lions on Friday night.
Wahoo (4-2) will play on the road Friday night when they travel to Raymond Central High School to take on the 5-2 Mustangs.
"Our players had a great week of practice and it showed up on the field tonight. One game doesn't define our team and we know we still have a ways to go," said Ashland-Greenwood Coach Ryan Thompson.
Be the first to know
Get local news delivered to your inbox!