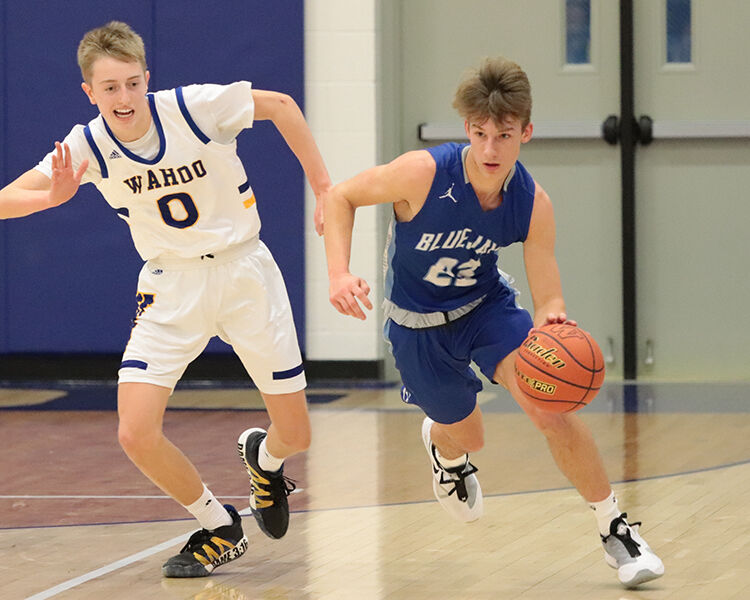 WAHOO – The fourth-ranked Warriors asserted control against the 10th-ranked Ashland-Greenwood Bluejays in the first quarter and rolled to the 69-53 home win over AGHS on Dec. 22.
Wahoo improved to 5-1 with the win while the Bluejays dropped to 3-2.
Wahoo sprinted out to a 21-6 lead after the first quarter behind eight first quarter points from sophomore Garrett Grandgenett and seven more from senior Trevor Kasischke.
Wahoo led 17-2 at one point in the first quarter.
"I thought we played a first quarter defensively. We were flying around and making things tough for Ashland defensively," said Wahoo Coach Kevin Scheef.
The Wahoo lead got to 28-11 midway through the second quarter, before the Jays were able to go on a 10-0 run to close the gap to seven.
A key three-point play from Owen Hancock allowed the Warriors to maintain a lead throughout the second quarter and the Wahoo went into the locker room ahead 35-24.
The Jays made another run at the Warriors in the third quarter and closed the gap to 49-42 going into the fourth quarter after outscoring the home team 18-14 in the third quarter.
"We knew we would have to withstand the pressure and pace of Wahoo early on and we struggled. Once we settled in, we really played some good basketball. We were able to cut the lead to six on several occasions, but we could not ever get it to a one possession game," said Ashland-Greenwood Coach Jacob Mohs.
AGHS got as close as 51-45 early in the fourth quarter, but an 8-0 run allowed the home team to put the game on ice. Wahoo outscored the Jays 20-11 in the final stanza.
"I thought in the second half, we did a good job of keeping our composure, and answering their runs," Scheef added.
Trevor Kasischke led all scorers with 22 points on 7-of-11 shooting from the field.
Hancock added 15 points and grabbed eight rebounds.
Grandgenett scored 14 points and added eight rebounds.
Senior Tristan Keeney led Wahoo with six assists.
Wahoo shot 48% from the field and knocked down 16-of-23 from the free throw line.
Wahoo also won the battle of the boards 34-25.
The Bluejays shot 39% from the field and converted on 13-of-21 from the foul stripe.
Sophomore Cougar Konzem led the Jays in scoring with 16 points and added six rebounds.
Senior guard Aiden Lindley added 15 points on 5-of-14 shooting from the field.
Senior guard Jarrod Nafzinger added 10 points, six steals, five assists and four rebounds before fouling out in the fourth quarter.
"I was extremely proud of how the kids battled back after a rough first quarter. That says a lot about this team. They kept their composure and competed. Now we need to work towards being more consistent in everything we do," said Mohs.