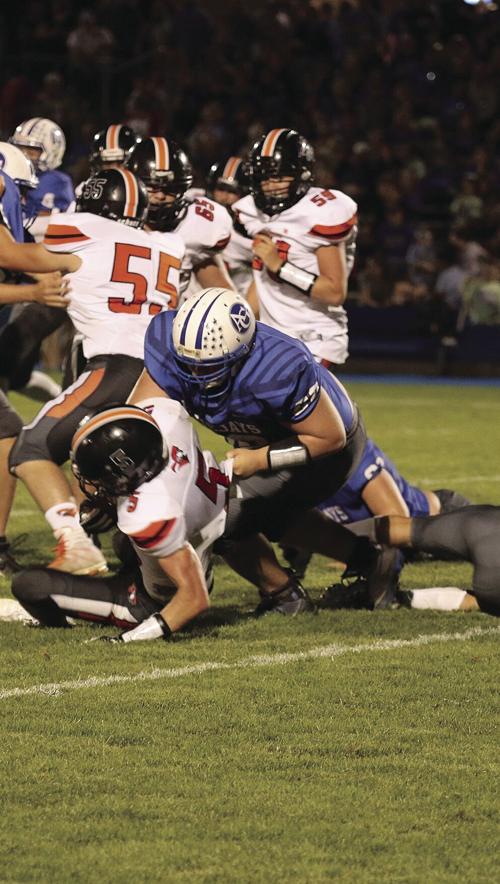 ASHLAND – The Ashland-Greenwood football team enters the 2020 campaign on the heels of back-to-back seasons which saw them compile a record of 18-4.
They won a couple of playoff games, advancing to the C-1 quarterfinals in 2018 and 2019.
Veteran Coach Ryan Thompson enters his 13th season with a relatively young and inexperienced team.
Thompson has compiled a record of 84-39 during his tenure at AGHS. He has led eight teams into the playoffs since 2009 and the Jays finished runner-up in Class C-1 in 2013 and 2014.
Only three starters return on offense for the Jays in 2020.
AGHS averaged more than 40 points a game last year, but the offense will have a different look this season after the graduation loss of two-year starter Hunter Washburn at quarterback.
This season, junior All-State athlete Cale Jacobsen is expected to take over under center.
"Hunter was such a dynamic player and he was able to keep plays alive with his scrambling ability. I think we will look a little different this season with Cale, but he has his own very unique set of skills," said Thompson.
Jacobsen has good size (6-3, 190 pounds) and has the ability to get the ball out quick and is capable of pushing the ball down the field in the passing game.
The Jays have also appeared to come up with a capable replacement for speedy I-back Bryce Kitrell. Kitrell graduated in May after rushing for nearly 3,000 yards in his Bluejay career and is now suiting up for Ohio University.
Cozad transfer Matthew Schuster will get the bulk of the carries for the Jays in 2020 after a couple of very productive years with the Haymakers. Schuster rushed for nearly 1,600 yards in two seasons at Cozad.
Schuster blends a 190-pound frame with good speed and elusiveness.
A 180-pound senior, Lane Zimmerman, takes over for Jacobsen as the team's go-to receiver in the passing game. He piled up 359 yards receiving and three touchdowns last season as a junior.
"We feel pretty good about the playmakers we have at the skill positions. I think we will be in pretty good shape," Thompson said.
The offensive line is going to have to be remade, but with starters Riley Kasuske and Braxton Buck back, two of the five slots are in capable hands.
"The offensive line will have some new faces and we are working on developing some depth, but I think we will get better and better up front throughout the season," said Thompson.
Most of the defense will also have to be rebuilt a season after allowing less than 14 points a game.
Jacobsen, Zimmerman and Braxton Mech return on defense after starting a season ago.
Jacobsen and Zimmerman will start in the back end after combining for eight interceptions last season.
Mech, at 290 pounds, will anchor what is going to be a new-look defensive line.
Schuster, seniors Shane Allington, Grant Buller and Cody Grauerholz and sophomores Logan Sobota and Jaxson Hamm are all expected to get snaps at linebacker.
"We will have a lot of new starters on defense, but a lot of the guys have been able to get quite a few snaps the last couple of years," said Thompson.
The schedule is very workable for the Jays and opens with a home against the Auburn Bulldogs who finished with a record of 3-6 a season ago.
Wayne, the team that ended the Jays playoff run a season ago, and Wahoo, the defending Class C-1 champions. are the only two playoff teams on the Jays' schedule in 2020.
The nine teams combined for a record of 45-43 last season.
"We have some new teams on the schedule this season and a few who we are pretty familiar with. We are excited for the opportunity to play Wahoo again. We have had some pretty good battles with them over the years and they are obviously the gold standard in Class C-1," Thompson added.
Be the first to know
Get local news delivered to your inbox!