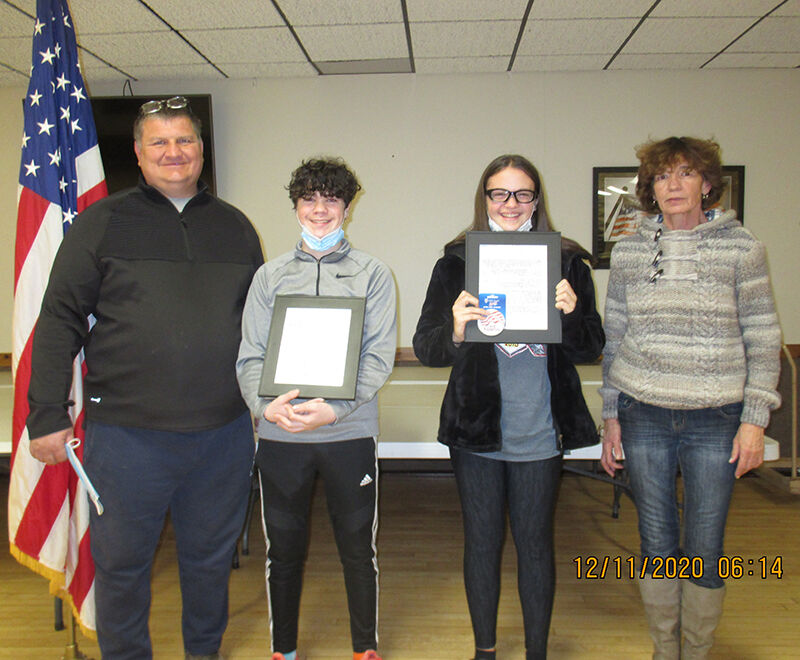 ASHLAND – The Ashland VFW recently held its patriotism essay contest. First place went to Gabriella McAdams, second place went to Alex Marzauk and third place to Michael Pinkman.
The top 3 winners were sent on for District judging. Gabriella McAdams placed second in the District and will pick up her District award in January at the Wahoo VFW Post.
What patriotism means to me
In the Merriam-Webster dictionary, patriotism means "love or devotion to one's country." When I think of patriotism, however, I think of so much more than that. To me, patriotism is showing respect and faithfulness to our county, but also to the people who live here, even when things are not as we would like them to be. I have seen so many people show patriotism and it always makes me feel very happy.
Perhaps one of the greatest examples of people showing patriotism is on September 1 2001.
When the buildings were burning down and people were dying, there were still other going in and risking their lives to help the people that were stuck in the buildings. We have seen enormous support for our county and for the many people who lost their lives that day.
Patriotism comes in many different forms. One great example is honoring the soldiers that fight for our country. They go into the military not knowing what awaits them, but they do it to protect us. And the ones who have died fighting for us deserve an enormous amount of respect. The veterans who served our country are imperative and need to be recognized. As someone whose grandpa served in the military, this is very important to me.
Some other things we can do to show patriotism is understand our basic right, responsibilities, and duties as American citizens. Some of these would include voting, respecting differences of others, and serving on a jury. To show that we care for this county we can learn information about it, like how our government works. Also it would show we care by understanding the history of the country. Respecting animals that live here also shows care for the country. I have shown patriotism in many different ways. I have flown the American flag correctly, I know the National Anthem and the Pledge of Allegiance, and I respect others for their views on government.
As you can see, there are many things that you can do to show patriotism. Patriotism is very important because it demonstrates kindness and support to our country. As American citizens we should feel proud and honored to live in such a free and safe country, when other people do not have that opportunity, We can work together and show how much we love our beautiful home.
What patriotism means to me
Patriotism is what binds Americans together. It brings us together as a union, as a family. Patriotism is very important to me and it should have the same importance to you. It is the love for your country, your willingness to fight for it. Patriotism is loyalty to your homeland, your outstanding country of America. Patriotism is important to me because I love my country and I love freedom.
My patriotism is largely made of my joy in having freedom because of my country. I have so much freedom due to soldiers fighting for our country. If I didn't have freedom, I don't know if I would be as patriotic as I am. Being free is a privilege that most all people have and it is very important. Being free can bring you more joy and help your attitude. When you can do things freely you will have so much more fun in life. With this freedom you can show your patriotism in many ways.
You and I can show patriotism in a lot of different ways. Frist of all, you can vote for your president, mayor, or senator is a great way to show your patriotism. This honors the principles of our country. Also, something as simple as flying a flag is an awesome way to show patriotism. An example of when people did this was September 11, 2001. This was the day of a terrorist attack that sent the World Trade Center into pieces. Many Americans flew their flag on this day to show patriotism and honor the lives that were lost on this tragic day. "A love for a tradition has never weakened a nation, indeed it has strengthened nations in their hour of peril." – Winston Churchill. This quote closely ties to 9/11 because a tradition that we commonly use is flying the flag and during this horrible day many Americans put up their flag. Although there are many other ways to show patriotism, these are some of the best.
Patriotism can be shown in the simplest ways. I show patriotism by putting up an American flag because patriotism means so much to me and I love my county. Patriotism is not supporting a person; it is the support of one's country. Patriotism is the pure love and devotion for the flag, your county, and your home.
What patriotism means to me
Patriotism? What is patriotism? What does patriotism mean to me? I believe patriotism is actively showing support for your country, standing up for what you believe in, and fighting for our free will and independence. Patriotism is the love and bond people possess for our county but also each other. It might be difficult to be a patriotic person because it takes loads of willingness and time to accept what our nation provides us.
But I also consider patriotism as a share of one another's country with groups of mixed people with their differences in religion, life, and treatment. And patriotism isn't exactly the acceptance of one's physical appearance, it's the acceptance of what's underneath a person's skin.
Usually, we refer to our country as our motherland. But when we speak this some people don't understand that it is the patriotism in people that hold up the statement "Mother Land." This further shows that it takes more than one person to carry all the weight of doubt in non-patriotic people, if we unite the weight will be spread out and easier to overcome. We must hold the same love for our "mother" as we have for our people even with doubters' negativity. It does that by making people work for the collective interest of the country.
Clarence Darrow once said, "True patriotism hates injustice in its own hand more than anywhere else." This quote can help people remind citizens that you can do the most beneficial things no matter the price. When everyone works for the better of the country, there would be no conflict of interest among people. Similarly, when the government becomes free of corruption, the country will develop faster.