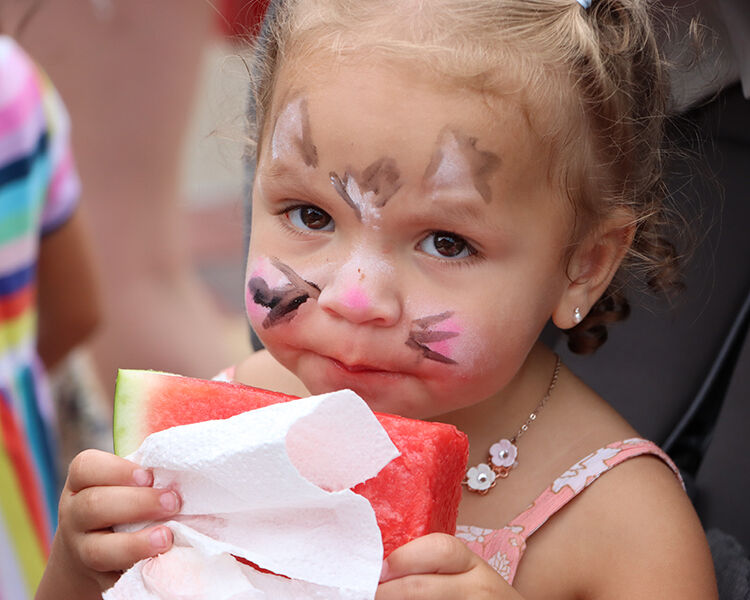 ASHLAND – After a one-year absence, Stir-Up landed back in Ashland like a triumphant space ship returning to earth.
The three-day community celebration exceeded expectations as far as attendance, weather and activities, said Cindy Walsh, who organized the event with Shelley and Bradley Pfeiffer through the Ashland Area Chamber of Commerce.
"We had a lot of people say that this was the best Stir-Up ever, and that just makes you feel good," said Walsh on Monday night.
The larger-than-normal crowds can be attributed to a number of things. Walsh said people were ready to celebrate after a year of staying home during the COVID-19 pandemic.
"Everybody made it through COVID so we had extra reason to celebrate," said Walsh.
This year's Stir-Up theme, "Alien Encounter," also drew more people to Ashland. The theme focused on the story of the abduction by aliens of an Ashland police officer over 50 years ago. Ashland Police Officer Herbert Schirmer reported an encounter with an alien ship on Dec. 3, 1967 on the outskirts of Ashland.
The alien theme was seen throughout the festivities, with many embracing the motif as they made floats and other entries for the kiddie and grand parades. There were numerous sightings of bright green alien beings making their way down Silver Street on foot or in vehicles.
The event also included two panel discussions with Michael Jasorka, an artist from California who created a graphic novel in 2011 of Herbert Schirmer's encounter using his own words. Jasorka presented information about Herbert Schirmer, his encounter, and also brought Herber Schirmer's twin brother Harvey and younger brother Don to discuss their thoughts on the incident.
Walsh said although the theme was light-hearted, this year's Stir-Up gave the community a chance to give Herbert Schirmer the acknowledgment he deserved.
"Herbert Schirmer finally got recognized by his hometown," she said.
Both Don and Harvey Schirmer believed in their brother's credibility when it came to his experience on Dec. 3, 1967.
"I will say this, he truly believed the experience that he had," said Don Schirmer on Saturday during the panel discussion. "There's no doubt that he had this experience."
They also agreed that the incident followed him for the rest of his life. Even though he left the Ashland area and moved to Washington, but everywhere he went people knew him.
"I think he embraced it, but it haunted him," Don Schirmer said.
Harvey Schirmer said his twin didn't share much about the experience.
"He tried to live a pretty common life," he said.
The Schirmer family came from out of town to attend Stir-Up and joined in many of the events and activities beyond the panel discussion. Harvey Schirmer's wife, Diane, eagerly petted a baby goat that was being raffled by the FFA as she and her husband stood at the intersection of 15th and Silver Saturday afternoon. And on Sunday morning, family members attended the art class hosted by Jasorka at Ashland Public Library.
Don Schirmer posted this on Facebook on Monday: "It was a great event and I want to say thanks to the Chamber for such a great time with fun and humor and if my brother was still around he would've gotten a kick out of it."
The Chamber was busy throughout the three-day event selling t-shirts and other souvenirs with the alien-theme, including over 200 pairs of "alien" shaped sunglasses along with space slime, alien antennas and other trinkets.
The t-shirts were extremely popular, Walsh said. With glow-in-the-dark ink, they were snatched up by eager buyers. The tie-dye version was the most popular, but all colors sold out in the most sought-after sizes.
"We could have sold so much more if we had more," Walsh added.
A number of new events caught the attention of attendees, including the balloon glow Friday night at the high school and the food court on Saturday in downtown Ashland.
Walsh said there were some concerns before the event that bringing in food trucks would take business away from local restaurants and organizations that were serving food as fundraisers during Stir-Up. However, she said that because they were expecting a larger turnout than usual, the Chamber committee felt it was warranted.
In fact, several local organizations either ran out of food or came very close to it, despite the presence of food trucks. And the local businesses actually worked together with the food trucks, Walsh reported. In one case, Breadeaux Pizza provided water a food truck operated by Chris Linder of Ashland.
"There was a lot of support between the food trucks and local establishments," she added.
There were long lines at the trucks and booths that may have prompted some complaints, Walsh said, which the Chamber will use as constructive criticism as they plan next year's Stir-Up.
In an event that had more than 100 scheduled activities, a few hiccups can be expected. One food truck did not show up, and the VFW Steak Fry was canceled due to a lack of volunteers, Walsh said. The helicopter company that was hired to provide rides over Ashland on Saturday and Sunday could not make it because of a family medical emergency. And it took the ride operators longer than expected to set up on Saturday.
All in all, attendance set record numbers when compared to the Stir-Up of recent decades. Spectators during the Grand Parade lined Silver Street in numbers not seen in recent years. Parade announcer Jim Anderson estimated it was the biggest crowd since Ashland celebrated its centennial in 1957.. And with over 400 automobiles in the car show on Sunday and mild temperatures, the streets were packed.
Everyone who participated in Stir-Up events from Friday to Sunday were really enjoying themselves, Walsh said.
"For the most part, everybody that I talked to had an amazing time," she added.