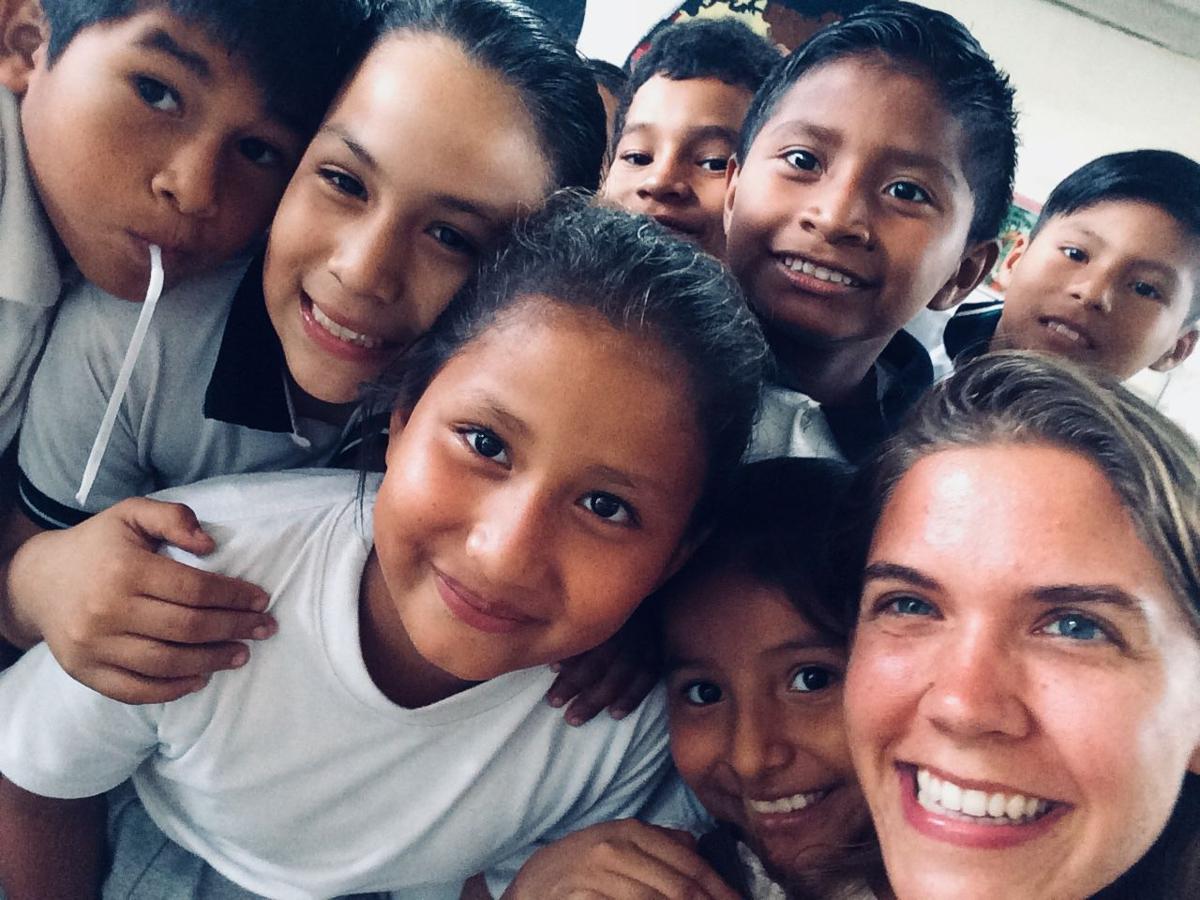 ASHLAND – After growing up in Ashland and attending a small Iowa college, Amanda Sliva was ready to see the world.
So she joined the Peace Corps and went to the other side of the world to work with children as a youth and family development volunteer.
Sliva spent 27 months in Ecuador, using her Spanish and psychology major to work with children at the Fundacion Tercer Milenio, a facility in the small city of Ballenita that offers classes in music, art, dance, language and computers to promote healthy activities for youth. She returned to Ashland in August.
Following her graduation from Northwestern College in Orange City, Iowa, Sliva worked with youth and families at Boys Town and Carol Joy Holling Camp, but had yet to find her place in the world. She turned to the Peace Corps.
"I wanted to do a cultural immersion experience where I could go live and serve," she said.
The Peace Corps gave Sliva an opportunity to travel and a place to call home.
"I love to travel, but I also love to have a sense of home," she said.
Her home for two years was Ballenita, a small coastal Ecuadorian town that is known for shrimp fishing, beaches and whale watching. It has a population of about 4,000 people, a little larger than Sliva's hometown.
She lived with a host family that consisted of a mother, father and two adult sons. For the last six months of her stay in Ballenita, Sliva rented a small cottage on the beach that was owned by her host family.
The parents were successful business owners, with a hardware store and a business that built reproduction labs for shrimp farming.
"Shrimping is one of the biggest exports on the coast of Ecuador," Sliva said.
Both of her homes were within walking distance of the beach. Sliva enjoyed the ocean, learning to scuba dive while she was there. She also went on a tour to see the whales as they migrated off the coast of Ecuador.
It was not all sunbathing and sight-seeing while Sliva was in Ecuador. At the Fundacion, she spent afternoons in the after school program. She taught the children basic English grammar and conversation skills, promoted good study habits, encouraged the children to stay clear of risky behavior and helped support positive activity.
"We were preparing the next generation of professionals," she said.
The director, Guadalupe Leon Rodriguez, loves music and uses it to teach many of the skills, Sliva said. There were guitars and drums in the band room for students to practice on, and Rodriguez taught classical dance in the dance hall.
Sliva became very close to Rodriguez as they collaborated on projects.
"She made me lunch every day," she said.
While Sliva was in Ecuador, she began writing a blog she called "Finding Lionheart." One of her entries described Ecuadorian cuisine. She fell in love with plantains, the starchy, savory cousin of the banana. She liked them fried, with slightly burned edges and gooey on the inside, or made into bolones, a breakfast dish. She also learned to enjoy a fish soup that is the typical breakfast in Ecuador.
Her job as youth and family development volunteer also included planning two-day leadership conferences for middle and high school aged youth that focused on values, leadership skills and involvement in community projects. She led sessions with other Peace Corps volunteers and worked with local organizations like the Red Cross.
She also helped facilitate a 10-week course called Girls Leading Our World (GLOW) and Boys Respecting Others (BRO) for high school students where they talked about building healthy self-esteem, healthy relationships and healthy bodies, she said.
Sliva was also trained in a 10-week alcohol and drug abuse prevention program called Rainbow Days, where she worked with local elementary schools and area nonprofits. The main theme of the program focuses around these five themes – I am, I can, I have, I will and I believe.
Teaching youth was the best part about Sliva's stay in Ecuador.
"To be the encourager, the motivator to kids to let their learning happen I think is my favorite part of working with kids," she said.
Sometimes they had to cover difficult topics, like drug abuse. Some of the children came from impoverished backgrounds, while others grew up in homes that were very stable.
Like most of the world, Ballenita has a diverse range of income levels, Sliva said. No matter what background the children came from, the center was a safe place to learn.
"The Fundacion is a rich resource for these kids," she said.
The goals of the Peace Corps volunteers in Ecuador are to build positive life skills in the students, help establish professional skills that will help them in the corporate world, and to engage youth as active citizens and volunteers who are involved in the community. That way the adults in the community will see the youth as active citizens, Sliva said.
Sliva also worked with adults. One day a week she taught English at a biological research laboratory in Ballenita. Her students were highly-educated professionals, but English was not their first language, which created a problem when they needed to write research papers.
The local Rotary Club is also working with youth in Ballenita, so Sliva got to meet the men and women who are members.
"They also just had a heart for what we were doing," she said.
This week she shared her story with the Ashland Rotary Club, showing them that their good work goes on all over the world.
Spanish was the primary language Sliva used while in Ecuador. As such, she sharpened her skills in the language through the immersion process.
"I feel like that's how you can learn the language," she
While she is more self-assured in her ability to speak Spanish now, Sliva is still open to learning more.
"In the conversational side, I felt confident," she said. "In the professional side, I still want to grow even more."
Later this month, Sliva is returning to Ecuador to tutor English for six months. She is not working with the Peace Corps this time around.
Sliva will continue working on her Spanish even more as she attends graduate school next fall to study social work. She is still in the application phase and has not chosen a school yet.
After earning her masters degree, Sliva wants to work with marginalized areas.
"I really love community development work and working in communities," she said.