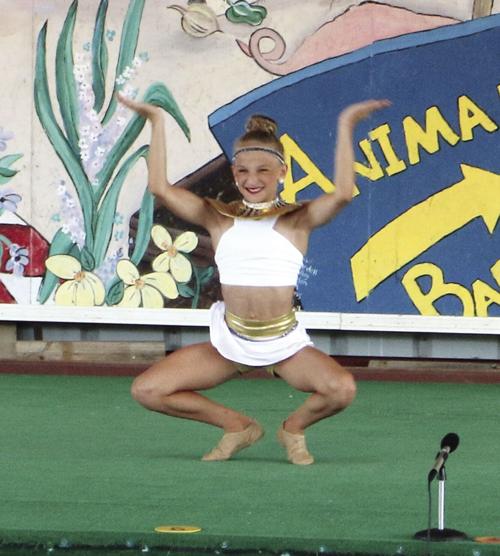 ASHLAND – Megan Reisen, director of Wahoo Dance Academy, is expanding her business to include a space in Ashland called Studio 531.
"It will be a sister studio that provides the same technique, same teachers and same expectations that Wahoo Dance Academy already provides," said Reisen.
Studio 531 got its name because it is the additional area code for the east end of the state.
"Over the years we've had an expressed interest from kids in Ashland about joining us at WDA. For many the only drawback was the travel," Reisen said.
Reisen said she has not made a decision about buying space in Ashland, so will be using the VFW Hall for Studio 531 in the meantime.
She is grateful that VFW Post 9776, which operates the building, is allowing her to utilize their space.
"We will keep our options open based on enrollment and growth. We also want to make sure we are good neighbors to the properties around us and that the studio fits the student's needs," said Reisen.
Reisen starting dancing at five years old as she grew up in Ashland. She studied included ballet, pointe, tap, jazz, lyrical, pom and hip hop, her favorite being tap. She danced competitively in and around Omaha and Lincoln and across the Midwest.
She was a member of the Ashland-Greenwood High School Dance Team all four years in high school and was voted captain her senior year. She went to Midland University and made the Dance Team.
Reisen received the Howard Hanson Award in 2017 from the Wahoo Chamber of Commerce in recognition of her commitment to culture and performing arts.
Reisen has coached the Wahoo High School Dance Team for the past decade. The team has been very successful under her leadership, winning several championships and runner up titles in the Pom and Jazz divisions.
Reisen began teaching at Wahoo Dance Academy 13 years ago and took over as owner and director shortly after.
Reisen earned a bachelor of science degree in chemistry from Midland and has a full time job.
"Teaching (dance) is what I do for fun," she added.
The new studio in Ashland offers a variety of classes for all ages including ballet, jazz, tap, musical theater, pre pointe, pointe, pom, lyrical, hip hop, a LTL (legs, turns, leaps) class as well as an acrobatics class that teaches students the tumbling aspects involved in dance to add an extra layer to the performance.
Operating the Wahoo Dance Academy was a challenge this spring and summer due to the COVID 19 pandemic. Reisen and her staff had to re-evaluate classes, while maintaining the health directives put into place by Three Rivers Public Health Department.
They took temperatures, before students could enter class, as well as put a plan into place that let students out of class five minutes early in order to sanitize in between sessions. The staff has also been required to wear masks.
Reisen is very technique-focused and conscientious, making sure her students are achieving their personal goals but doing so in a safe way and at the right time. When she evaluates a student, they don't necessarily move up by age. She places them where they will be challenged, but won't injure themselves by moving up levels too soon.
"Each student is special and all students are treated and evaluated equally," she said.
Reisen also has students that are interested in competitive dance, which offers them access to the professional side of dance in case they choose to pursue dance as a career. The students enroll in performance company classes and travel to three or four in state competitions, with one out-of-state competition being optional.
"Competition is an added bonus and a privilege that teaches kids responsibility as well as accountability because they dance as a team unit," Reisen said.
Reisen has been awarded many accolades for choreography as well as studio spirit, costume choice and technique during dance competitions. Team numbers have received awards based on performance and individuals shine under Reisen's, firm, structured, caring studio atmosphere.
"Awards are nice. It's not the award that matters, it is the pride the student feels knowing that they earned it," said Reisen
Class registration is open for Studio 531 on the websites through the end of October. Classes will start in Ashland the week of Sept. 21.
Be the first to know
Get local news delivered to your inbox!