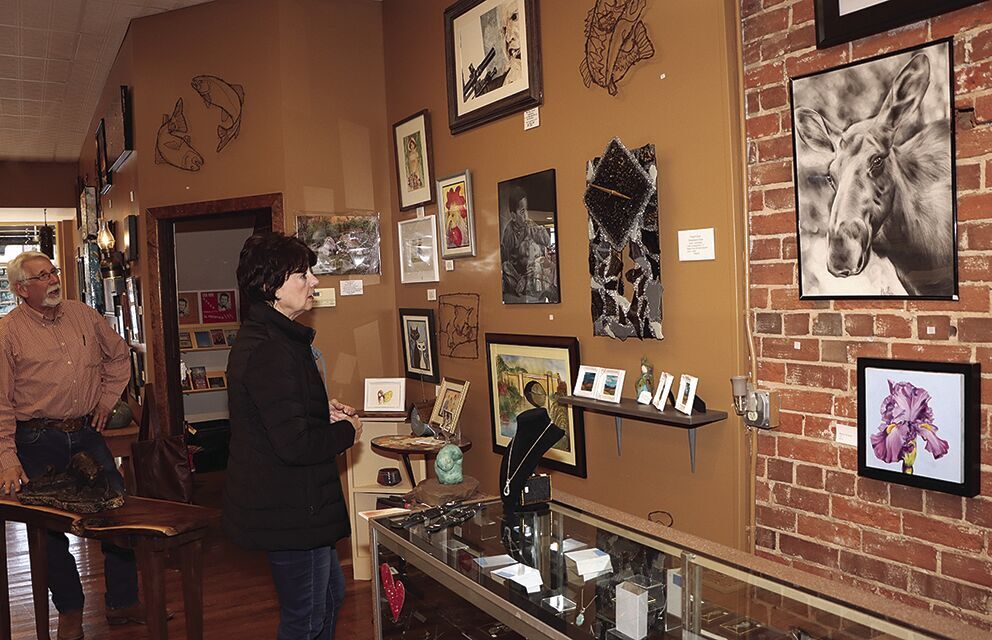 ASHLAND – Steve Nabity had his heart set on opening a gallery Ashland well before he actually became a member of the local business community.
More than a year before he opened Turtle Creek Gallery in downtown Ashland, Nabity joined the local Chamber of Commerce. He drove from his home in Gretna to attend meetings and events. He got to know the community.
It was Ashland's historic downtown area that drew Nabity to the community. He loved the other art galleries and shops and urgently wanted to be a member of the emerging community.
"Ashland was the spot," he said. "If it wasn't going to be Ashland, I wasn't going to do it."
Nabity wanted to open a gallery that would provide an outlet for talented artists to show their work and a place where shoppers could purchase that art.
"I wanted to create a showplace for artists and create a place for people to find the work from those artists," he said.
Nabity is not unfamiliar with Ashland, living just a few miles away in Gretna. His wife, Doris, was raised in Millard but her father, Jack Proctor, grew up in Ashland and she had uncles and aunts that she would visit here.
Nabity soon learned that finding a vacant building to rent or buy in downtown Ashland was nearly impossible, as there are few to none vacant spaces. The only building that wasn't occupied had an owner that didn't seem eager to let the property go.
"It took me one year and 10 months to get this building," Nabity said as he sat in his gallery last Friday afternoon.
The previous owner was difficult to contact and when they did respond it was very slowly. That turned away several potential buyers or renters. But not Nabity.
"I persisted and I wore them down," he said.
He purchased the building on May 15 and spent the next few months cleaning and painting. The upstairs was filled with remnants from previous tenants.
"I filled a couple of Dumpsters with junk," he said.
When the work was done, Nabity filled the exposed brick walls of the ground floor with art from dozens of artists. Even though the country was in the throes of the COVID-19 pandemic and many businesses were closing as a result, Nabity pressed on.
"There was no option to wait," he said. "It was now or never with the building."
The gallery opened in August and business has been good so far, despite the timing.
"It's been well received and pretty successful for starting a new small retail in the middle of COVID," said Nabity.
Nabity spent most of his adult life as a general contractor working on commercial and residential renovations. He moved to Omaha from Grand Island in the mid-1980s as the construction market slowed in central Nebraska. After quitting the construction business, he spent eight years as a self-employed cabinet maker before he retired to open the gallery owner.
He uses his business background to operate the gallery. But he uses his creative side to not only add a few pieces of his own to the gallery, but to choose the other artists as well.
Creativity has always been a part of his life, starting with his days growing up in Grand Island.
"Even when we were kids we would make things," he said.
While he was making cabinets using precise measurements, he was also creating free form furniture from slabs of wood with bark, knots and other imperfections that make each piece unique. At any given time, a handful of his pieces can be found in the gallery.
With no formal art background, Nabity chooses the art he features in the gallery by instinct.
"If it is presented well, the subject matter really isn't a factor," he said.
Sometimes subject matter is a factor, however. Nabity said he recently turned down an artist who used nude models because it wasn't the right thing for downtown Ashland.
Many of artists featured in Turtle Creek Gallery have local ties. Ashland resident Carol McCall, Ashland native Theresa Rhodus and Jon Sundermeier of Greenwood are among the artists who have their artwork for sale in the gallery.
Cindy Wagner of Ashland not only sells textile art at the gallery, she has a studio upstairs where she creates much of her art. She also operates a career coaching business remotely from a small office located in the second floor.
Sometimes it is fate that brings an artist to Turtle Creek Gallery. Nabity was recently visiting with a customer who was there to see some photographs by her granddaughter, Maggie Headley, that are for sale at the gallery. The woman showed him drawings done by another one of her grandchildren. Nabity was so impressed he asked the young artist, 17-year-old Alexander Prime of Plattsmouth, to bring some pieces to sell.
A handful of artists were suggested to Nabity by another gallery owner in Ashland. Nabity said Kim Cooper, owner and featured artist at Cooper Gallery and Studio, told Nabity about Sundermeier and Joe Gustafson, an artist from Fremont.
Nabity has a good relationship with Cooper and with the owners of the other art gallery in Ashland, Willow Point Gallery, Gene and Mary Roncka.
"I talked to the other gallery (owners) to make sure I wasn't intruding," he said.
The rest of the business community was equally as welcoming.
"Being a new person to the community, I do not feel like a new person," he said.
Along with selling paintings, drawings, photography, carvings, pottery, handmade glass and sculpture, Nabity also has leather bags, turned wood bowls, clocks and note cards for sale. Handmade jewelry is also a big part of the gallery, accounting for 25% of all gallery sales, he said.
He recently added framing services, which were a natural fit with his background in woodworking. It is also a much-needed service, as many of Nabity's artists don't have the means to frame their own work in a professional manner.
"It was always in the plan, but I'm just getting started now," Nabity said.
Although it is an art form itself, polka music doesn't necessarily fit in with an art gallery. But Nabity is making it work. He has a large inventory of recorded vintage polka music for sale that he acquired from a friend who was dealing with health issues.
"I decided to add it as another feature for the gallery," he said.
The vast collection of more than 20,000 albums, CDs, DVDs and cassettes of music by various musicians, including polka pioneer Al Grebnick and recordings of episodes of Big Joe's Polka Show.
He said being a businessman rather than an artist can be an advantage when running an art gallery.
"I'm coming in as a business person, so I have no preconceived good thoughts or bad thoughts. I treat (the artists) all the same," he said. "That has probably been an asset."
The artists involved in the gallery are part of the reason things have gone well so far for Nabity. They help him display the artwork on the walls and promote the gallery on their social media platforms, he said.
"A lot of the artists are very vested in making this gallery a success," he said.
When the pandemic dies down and groups can again safely gather, Nabity plans to hold public events. First up will be art classes. Three of his artists are interested in teaching art in the gallery, he said.
"That is another one of the ways the artists are helping make this a success," he added.
For more information, go to the Turtle Creek Gallery Facebook page or call 402-944-6027.