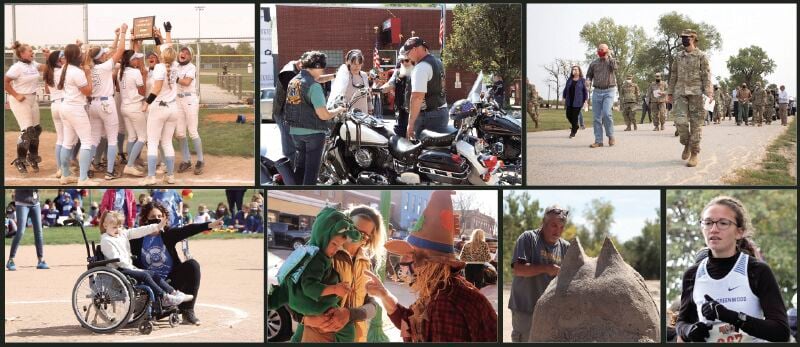 ASHLAND – The Ashland Gazette continues a review of 2020 with the second half of the year.
The COVID-19 pandemic continued to affect everyday life, with escalating positivity rates and deaths in Saunders and Cass counties cancelling activities like Stir-Up and the Silver Street Flea Market among others.
On a positive note, area schools reopened their doors to students at the start of the school year in August, despite having been closed from March through the end of the previous school year. It took a lot of planning on the part of Ashland-Greenwood administrators, staff and students to pull off this achievement.
The Ashland farmers market has been has been cancelled for the summer due to the numerous regulations put in place by the state for the COVID-19 pandemic.
The Ashland City Council approved Ordinance 1180 to lower the speed limit from 35 to 25 miles per hour on a stretch of Silver Street from Seventh to 13th streets during the July 2 meeting.
Four sixth graders from Ashland-Greenwood Middle School won prestigious awards at the recent Nebraska Junior Academy of Science State Science Fair Competition. Gracie Hofmeister won the Special Award United States Agriculture Award for her project, "Disco Coop." The Midlands Society of Physiological Science was awarded to Joseph Greise for his project "Video Games vs. Blood Pressure." He also received a $100 cash award from Novozyines Industry and a free pass to Lauritzen Garden and the Engineered Equipment Solutions Award and a Medallion Award. Caleb Kasper and Cael Smith won a Medallion Award for "Fire Away," and "Going, Going, Gone," respectively.
The Ashland Public Library Foundation received a donation of $1,000 on July 6 from the Direct Your Dollars program at No Frills Supermarket. The program was coordinated for Library Employee Tanya McVay.
State Sen. Mike McDonnel of Omaha sat down with representatives from the City of Ashland and the Ashland Area Chamber of Commerce on July 9 to discuss LR333, which would conduct an interim study to examine the idea of placing one or more reservoirs on the Platte River and its tributaries. Ashland Area Chamber of Commerce President Bradley Pfeiffer invited McDonnell to Ashland to discuss the issue with local representatives and business owners. District 23 State Sen. Bruce Bostelman, Ashland Mayor Rick Grauerholz, City Council Member Chuck Niemeyer and other interested parties described the disastrous consequences the dam would cause for Ashland.
Jacob Ludwig helped the South team notch a 30-6 win the 2020 Shrine Bowl on July 11 in Kearney. Ludwig was named the Defensive Most Valuable Player for wreaking havoc on the North line and backfield. He had 10 tackles (four solos, six assists), 1.5 sacks for minus-11 yards and two tackles behind the line of scrimmage for 14 yards loss.
The Ashland Senior Legion baseball team earned the Sam Crawford Invitational tournament title with a 7-5 victory over Springfield on July 12 in Wahoo.
On July 13 to 15, the officers of the Ashland-Greenwood FFA chapter met in Wahoo for officer training. As a team, the officers met up with the Saint Edwards FFA officer team at the NRD Educational building at Lake Wanahoo.
The Ashland-Greenwood Board of Education heard a report on the district's Return to School Plan during the school board meeting on July 20. A task force was formed to develop the plan, which includes three tiers.
The Ashland 18 and under girls softball team won their league championship July 23 in a shutout against Falls City.
The Hazel Dillon Lodge project was blessed during a ceremony on July 24. The facility will replace the former Holling House on the TrailHead site at Carol Joy Holling Camp near Ashland.
The Ashland Senior Legion baseball team saw their 2020 senior Legion season come to an end in Bennington on Aug. 1 at the COVID-19 State Tournament. The Seniors ended their season on an exciting note, however, finishing in second place in the state tournament to the heavily favored Hickman Titans.
Platte Valley Wranglers 4-H Club member Maddie Spreeman won two championships, one reserve championship and several ribbons during the state horse show, which was held online rather than in person this year.
The Ashland-Greenwood Board of Education approved a resolution to put a $59 million bond issue on the ballot during the Aug. 17 meeting.
A dozen teachers joined the staff at Ashland-Greenwood Public Schools this fall. They include Elsielynn Busenitz, fourth grade; Lindsay Kellams, fifth grade; Amber Holz, kindergarten; Brandy Drueke, third grade; Darcy Carey, early childhood special education teacher and preschool coordinator; Nick Kaiser, elementary media specialist; Abra Prescott, elementary intervention; Tyler Craven, middle school/high school special education; Jordan Scheil, middle school/high school STEM (science, technology, engineering and math); Jacob Jensen, chemistry and physics; Ryan Keller; secondary industrial arts and SkillsUSA advisor and Logan Morris, seventh grade English.
The Ashland City Council gave resident Mike Lesley 60 days to demolish the house on his property that was determined a nuisance. Lesley told the council on Aug. 19 that he had gotten a bid from two contractors to do the work. The council has been working with Lesley for over a year to clean up his property.
World champion sand castle master Ted Siebert visited the Sandy Pointe area near Ashland to build a special sand castle and judge a competition between employees of Dr. Luke Nordquist's Urology Cancer Center on Aug. 29. Nordquist is a resident of Sandy Pointe.
Special Olympics declared Ashland-Greenwood an official Special Olympics national banner Unified Champion School for the district's effort to bring unified sports to its students.
The total tax levy for the Ashland-Greenwood School District went down more than originally expected for the 2020-21 budget year. The Board of Education passed the budget during a meeting on Sept. 14. There it was revealed that the total levy will be $0.924 per $100 of valuation, seven cents lower than the 2019-20 total levy, which was $0.9954.
On Sept. 15, Amanda Baldwin of Lincoln led state troopers on a pursuit from the Interstate into Ashland and was arrested after stopping for a bite to eat at BW's Pub and Grill in downtown Ashland. The stolen vehicle used in the pursuit was abandoned near 13th and Clay streets. Baldwin was arrested for flight to avoid arrest, willful reckless driving, unlawful use of a motor vehicle and driving under suspension.
Retired astronaut and Ashland native's second children's book, "Letters from Space," debuted on Sept. 15 during an online book premiere party. The star of the book is "Astro Clay," an animated version of Anderson drawn by illustrator Susan Batori.
The Ashland City Council set the tax levy during the Sept. 17 meeting. It is the same amount as it has been for the past 10 years. The overall tax levy is $0.701999 per $100 of assessed valuation. The amount the city is asking for from property taxes is $740,486 for the general fund and $414,672 for the debt fund.
The Ashland-Greenwood Board of Education moved forward with land acquisition for proposed new facilities. On Sept. 24 the board voted to authorize the filing of a petition of condemnation and take any other action necessary to acquire property by eminent domain. The property in question is 50 acres of farm ground in section 35, township 13 north, range 9 east. There are no residences on this property. The property will be used to build new facilities for the district.
More than two dozen cases of COVID-19 have been linked to residents and employees of Azria Health Ashland.
Camp Ashland broke ground on Sept. 25 on a $35 million training site project to repair damage caused by the 2019 flood. The project will replace 28 buildings that were damaged and add seven elevated buildings.
The Ashland-Greenwood softball team won the Capitol Conference Softball Tournament on their home field on Sept. 26 by beating Raymond Central 5-4 in the championship game.
On Sept. 28, State Sens. Bruce Bostelman (District 23) and Robert Clements (District 2) presented Ashland Fire Chief Mike Meyer with a copy of a Legislative Resolution they introduced in the Nebraska Legislature to acknowledge Meyer's 35 years of service as a firefighter and rescue member in Ashland and 30 years working for Lincoln Fire and Rescue, from which he recently retired.
The Ashland-Greenwood Bluejay volleyball team finished with a 3-1 record while competing at the annual home Ashland-Greenwood Invitational held in Ashland on Sept. 24 and 26.
Ashland-Greenwood Public Schools held the first unified t-ball game in school history on Oct. 1 at Jack Anderson Ball Park in Ashland. Intellectually challenged students worked together with their peers and teachers to hit, run and field during the enthusiastic game.
The Ashland City Council approved an ordinance to address the issue of unlicensed and inoperable vehicles within city limits on Oct. 1. Under Ordinance 1185, residents of Ashland are not allowed to have vehicles that are partially dismantled, wrecked or need repair and unlicensed vehicles on their property for more than 30 days unless they are enclosed in a building.
U.S. Bank and the Nebraska School Activities Association (NSAA) announced the 2020-2021 Believers and Achievers. Local recipients include Kiara Libal, Nick Starns and Elandra Johnson of Ashland-Greenwood High School.
The Ashland-Greenwood Bluejay softball team saw their season come to an end on Oct. 6 in Elkhorn with a 4-2 loss to Elkhorn in the Class B-4 sub-district tournament.
The Ashland-Greenwood girls cross country team finished runner-up at the Capitol Conference Cross Country Meet held in Omaha at Walnut Grove Park on Oct. 8.
The third-ranked Ashland-Greenwood football team ruined homecoming for the seventh-ranked Wahoo Warriors on Oct. 9 with a 47-22 road victory.
The Ashland-Greenwood girls cross country team made history on Oct. 15, becoming the first team in school history to qualify for the state cross country meet. The accomplishment took place at the Class C-3 district meet held at Branched Oak, where Jaiden Tweton led the team with a third place finish, followed by Darby Walsh in sixth place. Dayna Wilson and Trinity Rowley ran together and held off scoring runners from other teams. They finished just out of medal contention in 18th and 19th place, respectively. Mollie Konen and Jasmina Khalil also competed.
At the Ashland City Council meeting Oct. 15, the vote was 3-0 (one member was absent) to approve vacating Fifth Street between Dale and Elm streets. Building Inspector/Zoning Administrator Bill Krejci said there are no water or sewer lines running through the area.
The Ashland-Greenwood High School marching band earned a superior (Division 1) rating at the 13th annual Oxbow Marching Band Invitational, held Oct. 17 at Ashland's Memorial Stadium.
The sixth-ranked Ashland-Greenwood volleyball team earned their first Capitol Conference championship in 35 years and improved to 20-5 on the season after rolling to three straight wins in the conference tournament. The Bluejays defeated DC West 25-14, 23-25, 25-21, 25-14 in the championship game on Oct. 17.
On a frigid afternoon in Kearney at the Nebraska State Cross Country Championships the Ashland-Greenwood girls cross country team got the chance to compete against the best athletes in the state in Class C. The Jays ended up in 14th place after combining for 174 team points on Oct. 23. Jaiden Tweton placed 19th with a time of 20:48 minutes.
At the Saunders County Supervisors' Oct. 27 meeting, the Board of Equalization approved the correction of the tax levies that were previously approved on Oct. 13. The only correction that needed to be made, according to Saunders County Clerk Patti Lindgren, was the removal of a tax levy for the Village of Memphis because no budget was provided by the village clerk.
The Bluejay volleyball team qualified for state for the first time since 2015 with a win over Beatrice at home in the Class B-5 district final on Oct. 31.
Ashland-Greenwood FFA member Bryce Kjar finished in sixth place out of 150 participants in the state dairy judging contest, held virtually this year. Kjar was also a member of the AGHS team that placed 14th overall. Other team members were Cody Grauerholz, Ellie Stohlmann and Ethan Hegwood.
Library Director Karen Frank announced her retirement after 20 years. The search for a new library director led to Dani Rein. Frank began training Rein in October. Along with her degree in library sciences from University of Nebraska at Omaha, experience at Do Space and Plattsmouth Public Library, Rein is also armed with many plans for the library.
The third-ranked undefeated Ashland-Greenwood Bluejay football team was dealt its first loss of the season at home on Nov. 6 to Adams Central in the quarterfinals of the Class C-1 state football playoffs.
Unofficial election results show the $59.9 million school bond issue for Ashland-Greenwood Public Schools passed with an estimated 59% of the vote.
Chuck Niemeyer, who was appointed to the Ashland City Council last February to fill a vacancy, will retain his seat. He received 396 votes for Ward 1 in the Nov. 3 election. His opponent, Amanda Roe, received 199 votes.
Incumbents David Nygren, Suzanne Sapp and Eric Beranek will remain on the Ashland-Greenwood Board of Education, having won the Nov. 3 election.
State Sen. Bruce Bostelman defeated challenger Helen Raikes of Ashland in the District 23 election on Nov. 3.
Ashland-Greenwood senior Kiara Libal and junior Kaelyn Fisher were named to the Capitol Conference First Team after solid campaigns on the diamond.
The fifth-ranked Ashland-Greenwood volleyball team recorded the first state tournament win in school history. They defeated Waverly in four sets in Class B's opening round on Nov. 4. It was sweet revenge for the Bluejays, who lost to Waverly just a week earlier in sub-districts. The semifinals were not as kind to the Bluejays, as they ran into powerhouse and eventual champion Skutt Catholic. Skutt won in straight sets on Nov. 5.
On Nov. 5 the Ashland City Council approved a new roof for the Ashland History Museum, formerly the Ashland Public Library. The council approved a bid from Apple Roofing to replace the original clay tiles with a composite Spanish-style tile.
The Ashland Rescue Department received certification from the Nebraska Emergency Medical Services for Children as a pediatric-ready ambulance program through the Nebraska Pediatric Decal Recognition Program.
Ashland-Greenwood softball players Kiara Libal and Kaelyn Fischer were named to the 2020 Wahoo Newspaper All-Area Softball First Team. Devin Rodgerson and Abby Fischer were named to the Second Team.
Business owners Cheri and Dennis O'Kelly asked the Ashland City Council to consider adopting a mask mandate requiring people to wear masks in public during the council meeting on Nov. 19. Mayor Rick Grauerholz said the majority of businesses in Ashland were not in favor of a mandate and other council members stated they would not vote for a mandate. No action was taken.
Laune Sales and Service has closed its doors after 74 years in the Ashland community. The business was founded in 1946 by Charles "CB" Laune in downtown Ashland and moved to the present location in the 1970s after Laune's son, Dean, took over.
Former Ashland City Council Member Paul Gossin received the Charlston-Ptak Planning Advocate award during the Ashland City Council meeting on Nov. 19. Gossin was recognized for his work on a city annexation package completed at the end of 2019.
Jasmine Greve started as the new Greenwood Village Clerk on Nov. 30. The Council Bluffs native moved to Greenwood six years ago with her husband, Brent and daughter, Lily.
Ashland resident Dean Curtis was appointed to the Saunders County Planning Commission on Dec. 1.
Caleb Fjone has taken the reins as the executive director of the Ashland Area Economic Development Corporation. He is the first full-time executive director for the organization, which was formed in 2015.
Ashland-Greenwood sen-ior Saige Craven was named to the 2020 Wahoo Newspaper All-Area Volleyball Team. Second Team honors went to Jessica Stander and Carly vonRentzell. Alexa Edmisten, Brynn Glock and Layne Whaley earned honorable mention status.
The 2020 Wahoo Newspaper All-Area Football Offensive Team includes Matthew Schuster, Lane Zimmerman and Cale Jacobsen on its First Team. Braxton Buck and Chase Craven were named to the Second Team. The Defensive First Team includes Logan Sobota and the Second Team has Owen Jacobs and Cinch Beetison.
The Ashland City Council passed a resolution that strongly encourages citizens to wear masks to prevent the spread of COVID-19, but falls short of an actual mandate. During the Dec. 3 meeting, the council voted 4-0 in favor of Resolution 2020-19, which urges, but does not require, Ashland residents over the age of five to maintain six feet of social distance and when that is not possible, to wear face coverings in areas that are open to the general public.
The Ashland Volunteer Fire Department recently recognized two longtime members for their years of service and dedication to the Ashland community. Brian Whitehead joined the Ashland Fire Department in 1985 and retired in 2020 after 35 years of volunteer service. Claude Hurst for joined the Ashland Fire Department in 1954 and retired in 2015.
The first COVID-19 vaccines were administered in Ashland last week to first responders. Ashland Pharmacy administered the vaccine to members of the Ashland fire and rescue departments as well as pharmacy staff on Dec. 23.