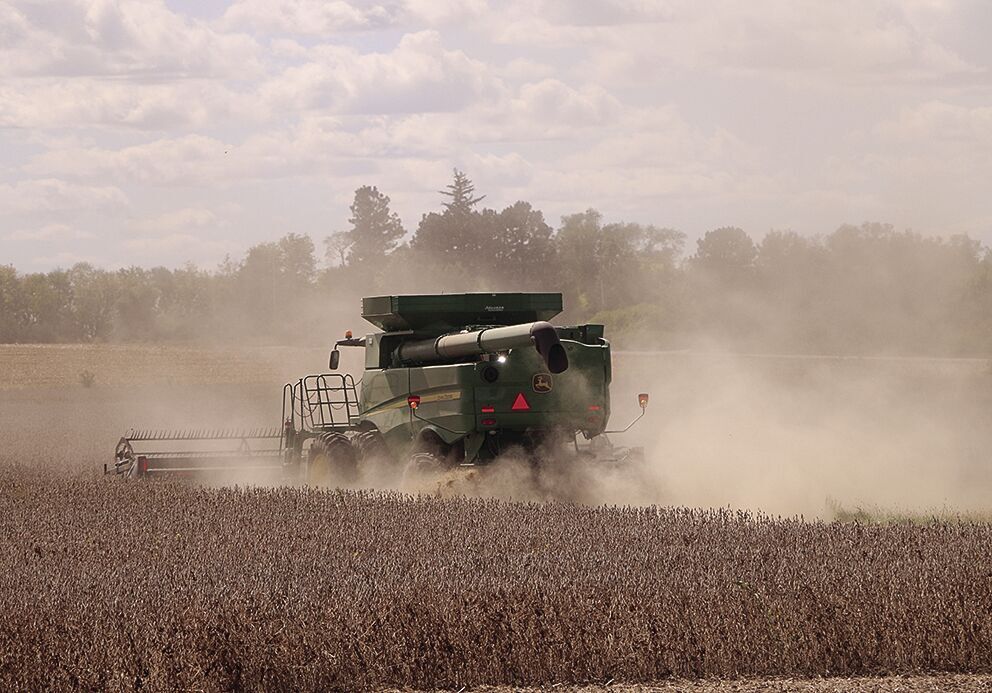 WAHOO – Wahoo farmer Doug Bartek tries to stay off the highway as much as possible.
But with five of his fields located on highways, it's pretty much impossible to not drive his large farm equipment along highways during harvest season. Bartek stays off highways because of the impatience and aggression of other drives. 
"As far as motorists in general, people are in such a hurry that it seems like common sense kind of goes out the window," Bartek said.
According to data from the Nebraska Department of Roads, in 2019 there were a total of 67 farm equipment-related accidents leading to 26 injuries and three fatalities. Sheriff Kevin Stukenholtz said that in Saunders County on average there is at least one serious farm equipment-related accident per year. 
Encroaching on the peak of harvest season, Stukenholtz said that in a normal, non-COVID-19 season there would be more patrol cars out. He said that this helps keep drivers and farmers safe while on the highway or busier roads. 
Certain conditions like increased traffic on football Saturdays, driving in low light situations or a driver not familiar with the area are all aspects that both the general public and farmers need to be aware of, Stukenholtz said. 
"I think the farmers are generally pretty aware that the motoring public is maybe not used to that slow of a vehicle, wide of a vehicle that tends to slow traffic down," Stukenholtz said. "(Farmers) being aware that somebody is maybe not as familiar with the rural community, and farm equipment, and they should anticipate the lack of maybe information in that area, and be extra careful." 
According to Aaron Yoder, University of Nebraska Medical Center associate professor of environmental, agricultural and occupational health, planting season and harvest season are two times of the year where there is an increase in farm equipment related accidents. 
Yoder has spent the last 20-plus years educating farmers and workers on safety and health. He said that many farm-related vehicle crashes are caused by not recognizing hazards like a slower moving farm vehicle that the general public learns when they start to drive. Yoder said patience is key. 
"Realizing that (farmers) can't always see us, and they have lots of other things that they're watching at the same time," he said. "Making sure that we don't approach them too quickly, that we stay back and that if we are passing then we pass where we're supposed to and in the right areas so we have good visibility."
Yoder said that this type of education is important for both the general public and farmers because it not only prevents injuries or deaths, it prevents large time and financial losses for farmers. 
"Both avoiding the crashes but also having the crashes or the extra stress when (farmers) already have enough stressors on (them) right now," Yoder said. "To prevent that extra layer of stress, it's important that we all see the issue, see what the hazards are and try to prevent the crashes from happening."
Saunders County Extension Educator Keith Glewen works to educate farmers about agriculture and safety. He said that with technological advances, there aren't as many farm-related accidents but that the Extension Office reemphasizes farmers still need to be alert and defensive while driving large equipment because of distracted drivers.
"You got people that are texting and talking on their phones and they're not paying attention to that vehicle that might be that tractor, or combine that might be going 25 miles an hour in front of them," Glewen said. "Suddenly they're on top of them before they know it."
For Bartek, it can be frustrating when other motorists react in a negative way toward farm vehicles. 
"If it wasn't for us, you wouldn't have food to eat," Bartek said. "It's very hurtful at times to know what we go through as farmers and to get treated like, you know, you're scum."
In the end, Bartek said that being aware and cautious while driving on highways and busy roads goes both ways. 
"It's not just the public," Bartek said. "It's not like, 'Hey, I'm on the road you need to watch out for me,' well now we need to watch out for each other."
Be the first to know
Get local news delivered to your inbox!