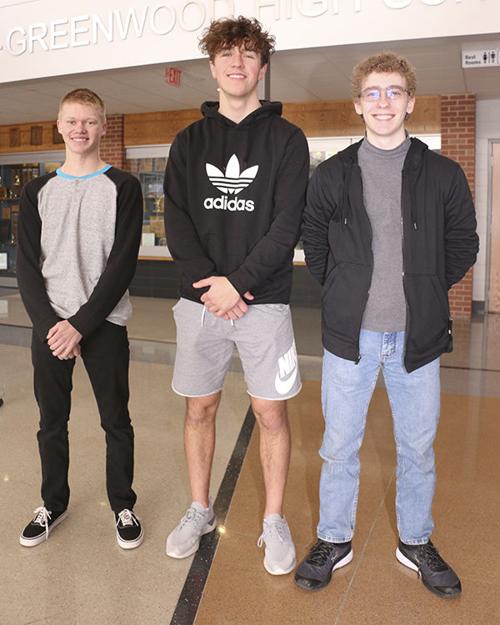 ASHLAND – Through an assignment outside of the classroom that required students to engage in the community, three Ashland-Greenwood High School seniors learned the true definition of civics.
Seth Novak, Archer Vogt and Joel Schrader drew different assignments from their teacher Brian Petermann.
Petermann, who has taught civics at AGHS since 2004, said that learning about civics requires being a citizen who interacts with the community.
"Students learn to see the world as a group, and not so much as individuals," he said.
This exercise allows them to do something in public they may not have done before, he explained. Students also learn responsibility and activism along the way.
By requiring his students to attend a public meeting, volunteer with a community group or express an informed opinion by writing a letter to the editor in the Ashland Gazette, Petermann said they are learning how to be a responsible citizen in society.
"The point is to get them to stand on issues they believe in and defend themselves before others who might have a different opinion," he said.
Based on a spreadsheet he has developed over the last five years, Petermann randomly assigns his students to three different community activities.
One option was to research and write a letter to the editor taking a stand on a controversial issue. Another option was to do volunteer work at Oxbow Living Center, Camp Carol Jay Holling or Ashland Care Center. The third was to attend a city council meeting and report on the proceedings.
Archer attended a city council meeting on Nov. 11 with his friend Micah Judds. The city council that night discussed nuisance properties and sidewalk expansion. Archer said action on both issues was tabled until a later date but the debate was interesting.
"It was a cool experience," Archer said. "It made me want to be politically active."
Archer, who will attend the University of Nebraska-Lincoln and study medicine this fall, said he liked learning how important it is for a small town to budget its resources properly.
After attending Boys State last year, Archer said he has become more aware of how community governance can relate to matters at a state and national level.
Novak's community engagement assignment was to volunteer at Oxbow Living Center on two separate occasions. For an hour and a half each time, Novak was tasked with helping load residents onto a bus for a shopping trip to No Frills Supermarket.
"I helped them find the groceries they wanted and then helped them pay for them at the checkout," he said. "It was funny what some of them bought, a lot of candy and alcohol."
Novak, who plays football and basketball at AGHS, said the second outing with the Oxbow group was even more fun.
He said he helped make and serve root beer floats with the residents, their families and grandkids.
"I learned that even though the world seems so busy, it's important to slow down and take the time to talk to people and listen to their stories," he said. "They shared so many funny stories."
Schrader's assignment was to pick a topic debated in society today, research both sides, and write a letter to the editor advocating one side of the argument. Schrader said he choose to write about his views against abortion.
"I was a pre-mee baby," he said. "I see conflicts in the logic and sense of the pro-abortion side."
Schrader, who will attend Nebraska Wesleyan University in the fall and study biotech genetics, said he tried to keep religion and politics out of his argument.
"I learned not to focus on the reaction the letter would get, but in expressing my own belief," he said. "It felt good taking a stand and putting myself out there."
All three students said they were glad for the opportunity to be part of the community in a different way.
"I want to go back to Oxbow," Novak said. "I had so much fun."