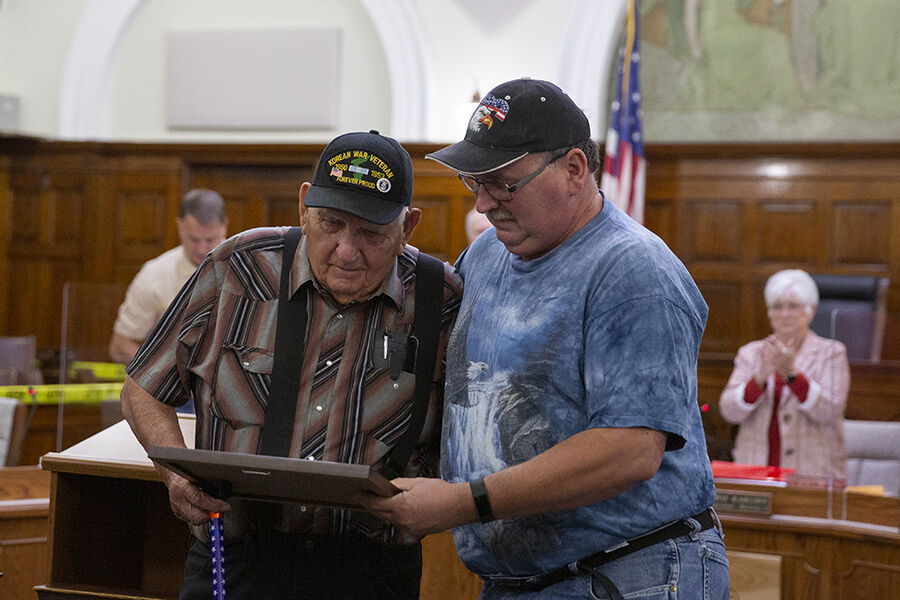 WAHOO – Thomas Deleski of Ashland was honored for his service to our country by the Saunders County Board of Supervisors on Sept. 14 by being named Veteran of the Month for September.
Deleski was born at home in Gretna in 1930. Sadly, his mother died after giving birth. For two years he was cared for by his aunt (his mother's sister). His dad road the train every day to Omaha to go to his job at Swift. When his grandmother wanted to take Deleski to her home and raise him, his aunt said no. Later she married Deleski's father and kept the family together.
The family lived in Omaha and moved to Ashland halfway through Deleski's freshman year of high school in 1945. He played football in high school and graduated in 1948. He worked in the packing house industry until 1951.
In December 1951, Deleski enlisted in the US Air Force to serve during the Korean War. His first 10 days of orientation were in San Antonio, Texas, then he went to Wichita Falls, Texas. Next phase of training was in Denver, Colo. He was a turret system mechanic and graduated top of his class.
After training he was assigned to Randolph Air Base in Texas where the Air Force assembled a crew consisting of airman from all parts of the United States. This newly-formed crew headed to Topeka, Kan. for survival training. As a crew they scored at the top of their class in every defying situation the survival training challenge presented. Only the top 10% qualified to be combat ready.
They also trained in Japan and scored at the top of all of the Far East. The crew then went to Korea for two years and again were considered top of their class.
When the peace treaty was signed, Deleski left the service and went back to civilian life. However, he did put the uniform on in order to impress his future wife, Patricia, on their first date. They married in 1956 and had four children – two girls and two boys. They now have eight grandchildren and two step grandchildren.