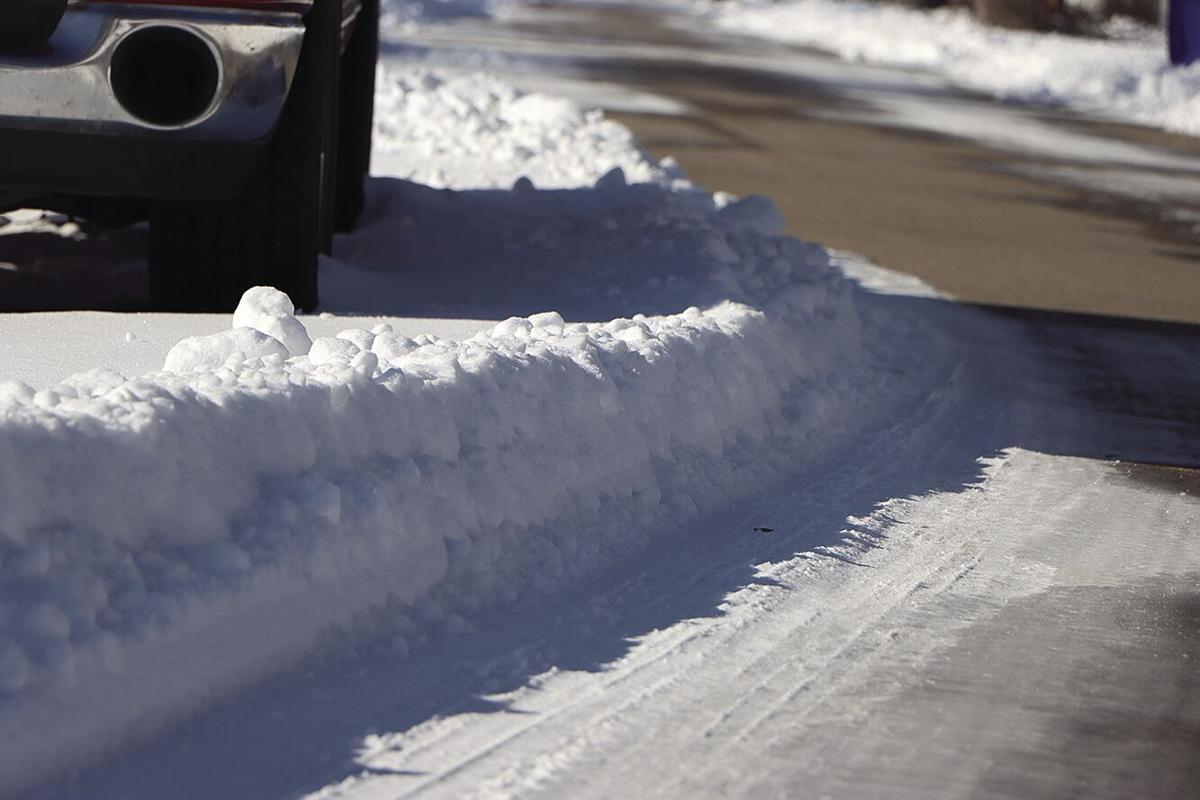 ASHLAND – Clearing the streets and sidewalks in Ashland after the most recent snow storm went well, according to city officials. But there are ways to make things go even smoother when future snow falls.
During the Dec. 28 snowstorm, Ashland received around seven inches of snow. But snow removal was not as difficult as has been in the past, according to Public Works Director Shane Larsen.
"During the last storm, I really thought that there were plenty of people that had moved their vehicles off the streets," said Larsen.
Parking cars and trucks on the streets can be an issue as Larsen's crew works to remove snow from the roadways. When cars and trucks clog the streets, it makes it difficult to maneuver snow plows around the parked vehicles.
"It makes it harder to clear streets efficiently," said City Administrator Jessica Quady.
Larsen said safety is also an issue when it comes to clearing snow on streets where vehicles are parked – not only for his plow operators, but also for the citizens of Ashland.
"Of course it's a safety concern, so we make sure we can get around the vehicles safely," Larsen said.
Perhaps because people heeded the weather forecasters' predictions that the snow would pile up, they seemed to be ready, Larsen said.
"I felt like everyone moved their vehicles the night before or during the day," he said.
There were even times when vehicle owners kept an eye out for the plows, and after they had cleared one side of the street, the owners moved their cars to the clean side so the plows could come through and clear the other side, Larsen said.
"They see us coming and they try and get out of the way," he said.
Because residents moved their vehicles in a timely manner and the fact that the storm happened mainly during daylight hours, Larsen and Quady made the decision not to announce a snow emergency.
"The residents are a big reason why we didn't need to call a snow emergency," Larsen said.
When a snow emergency is designated, no cars or trucks are allowed to park on city streets. If they do, the vehicles can be towed.
"They don't have to move their cars unless we call a snow emergency," said Quady. "But it's helpful that they do."
Even if a snow emergency is not called, Ashland's municipal code has other regulations regarding parking during a snow storm. According to Municipal Code 5-441, vehicles parked on a city street or alley cannot obstruct the removal of snow. If they do, they can be removed by the police.
Even when there is no snow on the ground, vehicles are not allowed to be parked on Ashland city streets for more than 24 hours at a time, Quady said. When it snows, it is easy to tell when a vehicle has been on the street for more than the allotted time. City officials have used this method to alert police to illegal parking.
Larsen said there are times when his crew has contacted the police about a vehicle that hasn't moved for a couple of days during and after a snowstorm. But in most cases, they attempt to do everything they can to avoid having the car ticketed or towed.
"We try and have as much understanding as we can and we appreciate everyone's understanding when it's time to plow snow," he said.
In both cases, the vehicles are towed at the owner's expense. There can also be additional fees if the vehicle is not claimed within five days, the code states.
"They can, and they have in years past, towed cars when we had a snow storm and people didn't move their cars," said Quady.
This time around, no cars were towed, Quady said. However, a handful of vehicle owners were cited.
"The next day or two the police did go out and give warnings or tickets," she added.
For a day or two after a snow storm, drivers should also avoid parking on the streets if possible. Larsen said they generally run the snow plows during and immediately after a storm, but also go out during following days to hit areas they could not get to before. They also use that time to clean up the corners and remove piles of snow from the downtown area.
Snow on sidewalks can also be an issue after a storm. Municipal Code 8-201 states it is unlawful to allow snow, sleet, mud, ice or other substances to accumulate or remain on city sidewalks.
In the business district, sidewalks must be cleared within five hours from the end of a snow storm, unless it happens overnight. Then the deadline is 10 a.m. In residential areas, homeowners have 24 hours to clear their sidewalks.
How the snow is cleared is also specified in the municipal code. Snow and ice, along with other things like grass clippings, leaves and tree branches, can't be thrown onto a city street, alley or any other type of public way, according to Code 8-318.
There are some exceptions to this code that pertain only to the downtown business district. There, snow and ice can be placed in the public way temporarily as long as it does not impede travel and is removed within 12 hours. Downtown business owners can also put snow and ice on the street adjacent to their sidewalk as long as it doesn't obstruct the street or create hazardous conditions.
Larsen said most downtown business owners hire contractors to handle snow removal. The city crews try to coordinate efforts with the contractors during snow events, he added.
"We try and work together," he said. "They've been great to work with for the last few years."