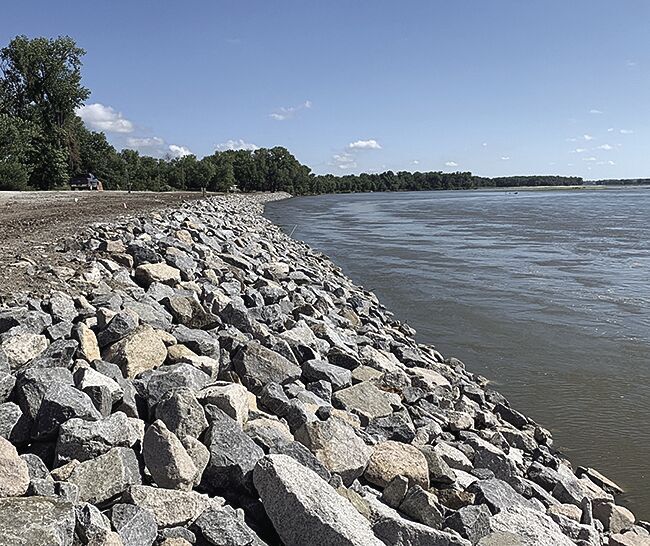 ASHLAND – When the Clear Creek levee system had a breach on its northern embankment in March 2019, Lake Allure Homeowners Association President Dick Stephenson did not think he would be delivering his kids to the school bus via boat. 
"It's something we'll remember for the rest of our lives," Stephenson said.
Now, the 10 and one-half mile long levee is nearly liberated from an estimated $9.2 million in damages it experienced during the 2019 floods, according to Lower Platte North Natural Resources District General Manager Eric Gottschalk. 
The LPNNRD and the US Army Corps of Engineers will meet to conduct a final walkthrough at an estimated end up August, said Justin Ketelson, the Clear Creek Levee project manager for the Corps of Engineers. 
Ketelson also said that the Corps of Engineers might not even schedule said final walkthrough due to the minor list of final touches left to complete. 
The final touches include right-of-way markers, fencing and seeding, Gottschalk said. 
According to Ketelson, there were about 26 portions of the levee that were damaged with the breach in the northern region of the levee. The breach near Camp Ashland contained the more major aspects of the damage. 
Young's Contracting Group out of Poplar Bluff, Mo. began work on the levee immediately after the March 2019 floods, starting with those breaches. The initial repairs to the breaches cost $1.37 million, according to Corps of Engineers website. 
Community members like Stephenson feel they can now be better prepared if a flood were to happen in the future. 
"I think everyone in the area feels more secure now," Stephenson said.
Be the first to know
Get local news delivered to your inbox!