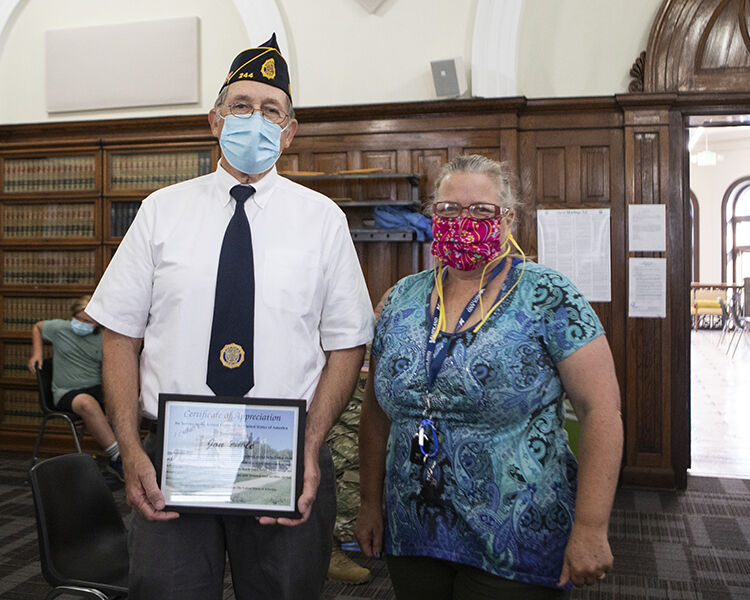 CERESCO – Jon Bible of Ceresco was named the Saunders County Veteran of the Month for July.
Bible joined the Navy after graduation from Officer Candidate School in Newport, R.I. in May 1969. He was commissioned as a lieutenant.
In the fall of 1969 Bible's journey began around the world. He flew to Rota, Spain, then to Naples, Italy to meet up with his ship, which had already deployed. Once in Naples, Bible was to wait for his ship, but instead he was flown to an aircraft carrier, then to Athens, Greece, where his ship was located.
While in the Mediterranean, Bible was assigned to the Sixth Fleet. His duties included, but were not limited to, bridge watches, officer of the deck on port and on the way, line officer and electrical officer.
After traveling to such places at Turkey, Malta, Tunisia, Greece, Italy and Spain, Bible left active duty and joined the Navy Reserves, retiring in 1985.
Returning to civilian life in Richmond, Va., Bible managed a restaurant. After a few years he moved his family back to Nebraska. With a degree in biology, he went back to school to expand on that and received training and qualification as a medical technician. This allowed him the opportunity to work with pathologists in all the Lincoln-area hospitals.
Bible is a dedicated veteran and active member of Ceresco American Legion Poast 244. He currently serves as vice commander. He is a volunteer for many activities, including the post's monthly steak feed. He also keeps the post operational by doing repairs when needed and continues to help with community efforts.
Bible was nominated by Lonnie Rech of Ceresco.
The certificate presented to Bible by the Saunders County Board of Supervisors on Aug. 4 reads: "The Saunders County Supervisors wish to recognize your military service to the United States of America. Throughout our nation's history, it is the efforts of men and women such as yourself that have provided the freedoms we, as Americans, dearly enjoy today. Please accept our deepest gratitude and appreciation. Let us never forget your demonstrated sacrifice, service, love and commitment to your country. Signed by County Board Chairperson Doris Karloff and Veterans Service Officer Mary Pace.
Be the first to know
Get local news delivered to your inbox!