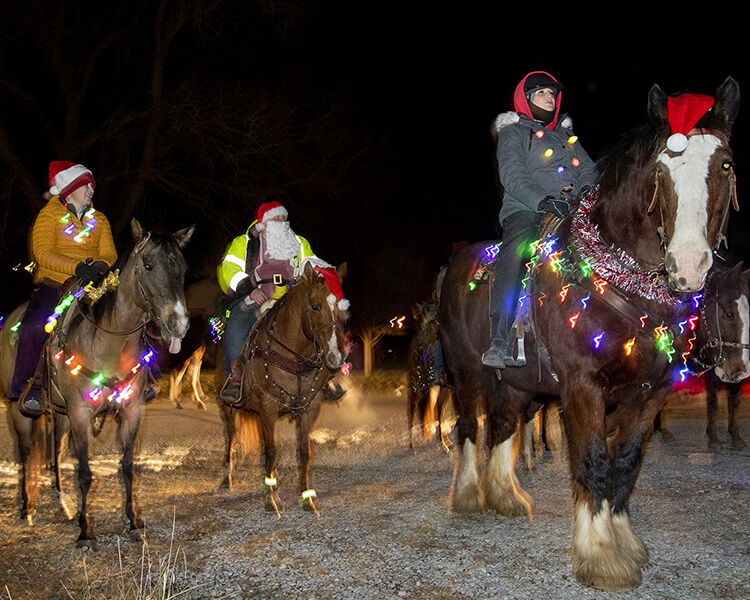 RAYMOND – Adorned with Christmas lights, jingle bells and silly hats, Fran Smith and her group of carolers have roamed the small-town streets and gravel roads in southeast Nebraska since 2008 to spread cheer. 
The ahead-of-the-trend crew's annual tradition fits perfectly into the category of car parades or drive-throughs that have become popular alternatives to celebrating during the peculiar year of 2020. Essentially, they did drive-throughs before it was cool. 
However, for this congregation, parading the streets isn't by car. 
On Saturday, Smith and her unofficial bunch continued their custom and rode through the streets of Raymond armed with Christmas carols and their trusty steeds. Smith said they had 12 horseback riders and eight people walking or in vehicles. 
With the event being outside and mostly on horseback, it is helpful for social distancing. 
"On horseback, you almost are six feet apart," Smith said.
The group has caroled in Raymond for at least five years. Smith said they do not have a set schedule for where or when they visit each year, but it usually depends on the weather and if anyone is able to plan a trip out. 
"We are totally fly by the seat of your pants," Smith said. 
Lincoln's Sheila Carroll has been a part of the group since 2016. Many members of the group trail ride together throughout the year, but when winter comes it's difficult for them to still meet. With caroling, they get to reconnect, as well as give back. 
"It really gets tough because you don't see the people that you've pretty much seen every weekend, multiple times during the week," Carroll said. "This is kind of one way that we can kind of give back to the community and bring a little bit of joy to the community."
Carroll brought three out of her four horses for other riders to use, but she rode her "baby" Gypsy. The horses all were decorated with lights and bells so they can be seen in the dark. 
Ashland's Sally Shedlock rode her horse Carolina Joy. Shedlock, who has been with the group since 2013, said that it was her horse's first time riding with the carolers and being decorated. 
Shedlock and Smith have been good friends since 2010 and Shedlock has watched the group grow in size and organization. The crew started with five carolers and over the past 12 years has expanded to around 15 riders, plus those that walk, and drive cars or golf carts. 
Shedlock also said the gang has become more focused on caroling in towns so that the group can go to dinner after caroling to hang out with each other. And in the end, Shedlock said they get to blend everything that they love together. 
"We just want to get together and bring Christmas cheer and share horses and decorate them," Shedlock said. "(We get to) blend the balance that we have between the horse crazy, and the singing and the shenanigans and extravaganza that you can have that is widely accepted during the holiday season." 
Carroll could not agree more. 
"It brings out the Christmas spirit and overlays that love for horses," Carroll said. 
Smith said while there are always some scrooges they interact with, many people participate in the singing and even follow along. It brings the carolers joy, but ultimately it's not about the group. 
"That makes us feel great, but you know it's not about how it makes us feel," Smith said. "We want to make other people feel good."