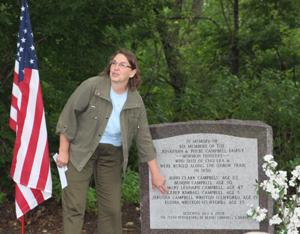 ASHLAND – Descendants of a Mormon pioneer family and community members gathered Saturday for a dedication ceremony marking the establishment of a new historical marker in Ashland.
 Six members of the John Campbell family died of cholera while making their way west across the Oxbow Trail to Utah in 1850 along with other Mormon pioneers. Mary Leonard Campbell is believed to have died in Ashland at the Salt Creek crossing, leading family members to choose Ashland as the location for the historical marker. Mary's husband, Benoni Campbell, died a few days later near Wahoo on July 4, 1850. The dedication ceremony was held on the 159th anniversary of his death.
 Melanie Tew, a Campbell family descendent, said the six family members were cousins, uncles, nieces and nephews who rode in the same wagon train on their way to Utah.
 The marker lists all six Campbell family members who died, ranging in age from 5 to 50. They are all identified as descendents of Jonathan and Phebe Campbell, who joined Church of Jesus Christ of Latter-day Saints in 1832 and headed west to Utah with the exodus of Mormon pioneers who traveled west between 1847 and 1868. They were in their 60s and both died in Iowa. Their children and grandchildren continued the journey, according to Tew.
 Along with Benoni and Mary Campbell, the others who died and were buried along the Oxbow Trail included John Clark Campbell, age 25; Heber Kimball Campbell, age 5; Jerusha Campbell Wriston (Clifford), age 19; and Elisha Wriston (Clifford), age 33.
 Along with Tew, a great-great-great-granddaughter of John Campbell, nearly two dozen members of her extended family from across the United States stopped to honor their ancestors on Saturday. Tew and her sister, Becky Olson, both from Wyoming, worked with Ashland's City Council and members of the Saline Ford  Historical Preservation Society to find an appropriate site for the monument.
 The monument is located on the north side of Seventh and Silver Streets. The Belnap marker, also commemorating a Mormon pioneer who died along the Oxbow Trail, will be moved to the site at a later date. It is currently located on a bank overlooking Salt Creek.
Jonathan & Phebe Campbell family
were buried along the oxbow trail
John Clark Campbell, age 25
Mary Leonard Campbell, age 47
Heber Kimball Campbell, age 5
Jerusha Campbell Wriston (Clifford), age 19
Elisha Wriston (Clifford), age 33
the 159th anniversary of benoni Campbell's death
The back of the monument says:
Jonathan & Phebe Campbell were among the earliest members of the.  Over 40 of their children, grandchildren,
great-grandchildren & spouses were part of
the great exodus of Mormon Pioneers between 1847 and 1868.